2013 Eastern Spring Meet Car Show Attendees Should Visit the Trailer Superstore, Right Next Door
May 16, 2013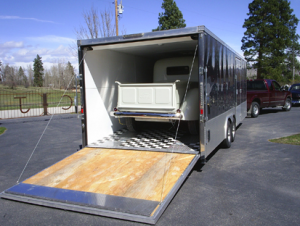 The 2013 Eastern Spring Meet car show is taking place this year from May 30-June 1, hosted by the Antique Automobile Club of America. The event is in Carlisle, PA, which places the Trailer Superstore right next door, in a prime spot for attendees and participants on their way in and out of town. All of the wonderful antique autos at the event need to be protected and cared for in the right way, and our huge selection of car hauler trailers provides the solution. We're just a few miles and minutes away in Mechanicsburg, so we're a frequent annual destination for car show attendees. When you're thinking about making a purchase, you already have, or you need a better transportation solution than the one you came with, the Trailer Superstore will come to the rescue.
Enclosed Car Trailers at Trailer Superstore
At the Trailer Superstore, we have hundreds of trailers for sale in stock at all-times, including all of the best enclosed car trailers on the market. We carry all of the biggest and most well respected brands, and enclosed trailers for sale to match every budget, need or specification.
Just a few of the brands we work with include Car Mate, Carry-On, ATC and American Hauler. From affordable 16-foot enclosed trailers for sale, to 26-foot, or 32-foot gooseneck car hauler trailers, we have it all. We also carry both new and used enclosed car trailers, and a variety of special hot deals, which offer unbeatable instant savings.
Of course, when you have that perfect vintage ride you've always wanted, then regular car hauler trailers may not be up to snuff, either. Your antique auto makes a statement, so why shouldn't it be transported in a equally eye-catching trailer?
Car Trailer Customization Services
At the Trailer Superstore, we provide complete customization services on all of our enclosed trailers for sale. We can equip your trailer with special floors, features and amenities, from toolboxes, tie downs and storage, to lighting, creature comforts, special paint jobs and aesthetic finishing touches, and much more. In addition to customization work, be sure to ask us about our trailer financing, our driver's pickup discount, and all of our other services and options.
Shop Car Trailers at Trailer Superstore
When you're in town for the 2013 Eastern Spring Meet car show, be sure to swing by the Trailer Superstore as well. We'll be looking forward to seeing all of the attendees as we do every year, along with their picture perfect antique automobiles, and we'll have all of our best enclosed trailers for sale available, so that those beautiful vehicles can be taken home safe and sound.
Contact us today to learn more about our full line of trailers for sale or stop by our facility while your in town.