All Pro Trailer Superstore Announces New Storage Facility for Trailers and More
Dec 19, 2015
All Pro Trailer Superstore, a dealership that sells trailers nationwide, has announced a new on-site storage facility at their location for the storage of trailers, RVs and more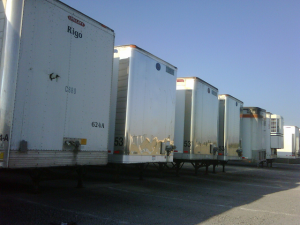 Mechanicsburg, PA (PRWEB) December 18, 2015
All Pro Trailer Superstore, a dealership that sells trailers nationwide, has announced a new on-site storage facility for trailers, RVs, vehicles, boats, equipment and more. The new storage offering stems from the recent property expansion at their Mechanicsburg location that is ideal for big or small parking solutions.
All Pro Trailer Superstore recently acquired a property next to their dealership that is located at 6799 Carlisle Pike in Mechanicsburg, PA. The property expansion features a 10 acre parking/storage facility that is monitored 24/7 by video surveillance. It includes a fully fenced-in area for smaller equipment, personal vehicles and more that is accessible by an electronic keypad and code. Additionally, All Pro Trailer Superstore has storage representatives on-site 6 days per week for added convenience.
Two options for parking /storage needs:
Fleet, semi, flatbed & tractor-trailer storage
o Includes containers, car-transporters, reefer trailers, moving vans, flat beds, dump trucks and more.
Personal vehicles, trailers, RVs, recreation storageStorage benefits:
o Includes campers, boats, jet skis, ATVs, motorcycles and more
No administration fees
No security deposits
Parking can be rented month-to-month or annually
Available discount for annual storage if paid up frontAbout All Pro Trailer Superstore:  All Pro Trailer Superstore, located in Mechanicsburg, Pennsylvania, has been selling and servicing new and used trailers since 1985. Family owned and operated, All Pro Trailer Superstore provides customers with high quality trailers at low prices throughout the Continental US, Hawaii, Alaska, Europe, South America and the Caribbean Islands. With the wide variety of trailers and services available, All Pro can also design custom trailers, provide trailer accessories, offer financing and more.
The dealership is offering free storage quotes and is open to all customers, even if they did not make a purchase at All Pro Trailer Superstore.
Please call All Pro Trailer Superstore for more information about the new storage facility at (800)622-7003.