Are We a Local or National Dealer?
Jul 16, 2012
Trailer Superstore has been in the business of selling, servicing, and buying trailers since 1985. Even though we started out as a small "mom and pop" retail establishment, we have grown into the national spotlight over the last few years.
National Trailer Dealer Located in Mechanicsburg, PA
In case you don't know where Mechanicsburg, Pennsylvania is, here is a map of our location and the surrounding cities to give you a feel for our destination.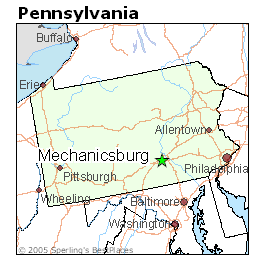 We are within a 70-mile radius of the following Pennsylvania cities and attractions:
5 Miles from Camp Hill
9 Miles from Harrisburg
10 Miles from Carlisle
12 Miles from Enola
20 Miles from Hershey
28 Miles from York
32 Miles from Gettysburg National Military Park
45 Miles from Lancaster and
69 Miles from Reading
Our Service Area
In addition, we sell and service a much larger area, which is represented by this map:
Trailer Superstore services customers with car, dump, landscape, and equipment trailer needs all over the United States.
How to Order a Trailer at Trailer Superstore
To our national customers, we offer a something called the "Call Ahead Trailer Package". This process is as easy as 1-2-3-4!
Purchase your new trailer online. We offer telephone and online chat support until 11 pm every day of the week for questions about your trailer order!
Customize your trailer by adding accessories.
Receive on-the-spot trailer financing. We have a trailer loan calculator for easy calculation of your loan and we offer competitive financing rates.
You can schedule your new trailer for delivery or pick it up at our dealership in Mechanicsburg.
If you are out of state, we offer a traveler's discount for you to pick up the trailer at our location.
Convenient Trailer Delivery for Out-of-State Customers
We have 400+ trailers for sale and in stock at any given time and they are ready for immediate delivery.
Are we a local or national dealer? The answer is we are both! We have a local retail feel and welcome anyone to stop by our store, especially if they are visiting Gettysburg or Hershey! We are a national dealer too and stake our reputation on delivering to you a great trailer at a great price — no matter where you are! So, don't delay! Visit our website or call 1-800-622-7003 to get started on your trailer purchase.