Should You Purchase a Gooseneck Trailer?
Jul 19, 2017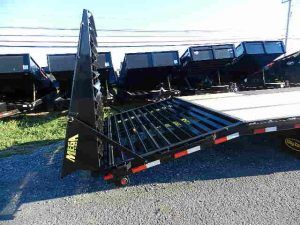 If you are looking for a trailer for industrial or agricultural applications, you might want to consider purchasing a gooseneck trailer. A gooseneck trailer is designed to handle loads up to 30,000 lbs. and is very maneuverable in comparison to other heavy load trailers like a fifth wheel trailer. Gooseneck trailers connect to a pickup truck through a ball hitch on the bed of the truck.  This is also different from a fifth wheel trailer as fifth wheel trailers use a hinged plate hitch. As most pickup trucks don't have a preinstalled ball hitch on their beds, you might need to have a mechanic install it for you.
Gooseneck trailers are used for heavy duty hauls – we're talking about several horses or large pieces of machinery. Some people even camp out on their gooseneck trailer. Because of this, they are large so you will need to figure out where you're going to store your gooseneck trailer beforehand. You may also need to obtain a special license if it exceeds 10,000 lbs. However, as this post from Featherlite Trailer that compares gooseneck trailers with fifth wheel trailers points out, gooseneck trailers are much more stable and handle tight turns better than other heavy-duty trailers, so you should keep this in mind as well.
I Decided to Buy a Gooseneck Trailer. Now What?
Well, this question is actually very easy to answer. You should come down to All Pro Trailer Superstore in Mechanicsburg, PA where you can find a wide variety of gooseneck trailers. We carry brands from the biggest names in the industry, including Big Tex and Car Mate. In addition to that, we offer various options for customization, so you can buy the exact gooseneck trailer you want that matches your needs.
Want to learn more? We encourage you to visit our site and see what's available. Here, you can reserve the trailer and color you want. A word to the wise: there is a high turnover rate on gooseneck trailers, so reserving one is the best way to ensure you get the one you want when you want it. We offer financing options on all gooseneck trailers, and we accept trade-ins as well.
If you have decided that you need a gooseneck trailer for your business or hobby, All Pro Trailer Superstore has the right trailer for you. We hope to see you soon.