Steps to Sell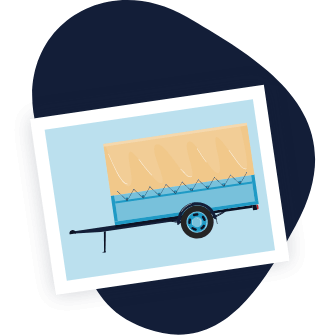 Step 1
Send All Pro images of your trailer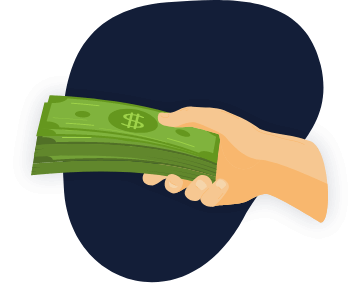 Step 2
All Pro then sends an estimate
Perks of Selling to All Pro:
Payment on the spot (check)
Able to handle all applicable title transfers
Fair offers
Quick turnaround time from the time of form completion
Hassle free process
Trusted, safe meetup

Selling a Trailer
When it's time to sell your trailer, you want to feel confident that you know how the process works and are getting a fair deal. Between completing paperwork and finding the right buyer, the selling experience can be confusing if you're handling it all on your own. Before you post your trailer onto sites like Craigslist or tape a sign on it that says "for sale," consider working with a trailer dealer that can streamline the process from start to finish.
From cargo trailers to dump trailers, the team at All Pro Trailer Superstore accepts any make or model at our Central Pennsylvania location. We can simplify the transfer to help you feel confident you're getting a fair price from a trusted dealer. Keep reading to learn about the full process of selling to our full-service trailer destination.
What to Consider When Selling a Trailer
Before selling your trailer, you need to know what the sale will require and what steps will help expedite the process. From inspections to paperwork, some necessary things need completing to ensure your trailer is ready to be put on the market.
Below, we break down exactly what you should consider when selling your trailer and what steps to take at the beginning.
Interior and Exterior Check
After deciding to sell your trailer, it's necessary to inspect both its interior and exterior no matter what make or model you own. You will want to do this step to get a good sense of any cosmetic or structural imperfections that may affect the selling price. We suggest making notes of any issues you find.
Making minor repairs before selling can help boost your trailer's worth, allowing you to get a better final price for it. Examples of small repairs you can do include:
Fixing flat tires.
Replacing rusted or broken parts.
Lubricating moving parts.
Replacing bulbs or broken lights.
Images
Next, you will want to take pictures of your trailer. All Pro Trailer Superstore offers online estimates, and our team requires quality images of your trailer to give an accurate assessment of its value.
Before snapping shots, you will want to clean your trailer's interior as best you can. Get rid of any dirt, dead bugs or other grime that may be present. Once the interior is clean, you'll want to wash your trailer's exterior. Doing so will increase the shine and leave a polished finish that will make your trailer look and feel fresher and more enticing for buyers.
You will want to take at least a dozen images from various angles to get the full picture of your trailer. We suggest taking these pictures during daylight to enhance the shots and get the highest quality photos.
Paperwork
When selling a vehicle, specifically a trailer, it is important to collect the proper paperwork. Owners will need to gather the following information and documents:
The trailer title
The trailer's vehicle identification number (VIN)
Receipts of repairs
Identification
Bill of sale

FAQs About Selling a Trailer
When you want to sell your trailer, a few questions will likely cross your mind. You will want to be as prepared as possible before transferring the title to ensure you get a great deal and the process runs as smoothly as possible.
The following list items are frequently asked questions concerning how to sell a trailer and the best practices to follow when doing so. Learn the ins and outs of selling to a dealership and how to approach the process so you can walk away feeling confident you made the right selling decisions.
Can You Sell a Trailer Without a Title?
In short, the answer is no. Rules and regulations may vary from state to state, but in Pennsylvania, you will need a title to sell a vehicle. Because All Pro Trailer Superstore operates out of Central Pennsylvania, we abide by Pennsylvania's Department of Motor Vehicles (DMV) requirements. It does not matter if the trailer was passed down from a family member without a title or you have another similar situation on your hands.
A duplicate title should be requested from the DMV before the selling process if the trailer was previously registered. Otherwise, it would be impossible to verify that the trailer is not stolen and has been inspected for safety.
When Is the Best Time to Sell a Trailer?
When selling a trailer, it is always best to avoid doing so at the end of summer or during the holiday season. The best time to sell a trailer is typically at the end of winter and the beginning of spring. People are often interested in investing in a new trailer right before the warmer months because this time of year is more conducive to traveling.
Trailer dealerships will often offer less for trailers at the conclusion of summer and during the holidays because fewer people are buying them at those times of the year. In comparison, our team always prides itself on fair offers. When doing business with us, you can be less concerned about when the best time to sell is and more interested in selling to a fair dealer.
Where Can You Sell Your Trailer?
If you are wondering where to sell a trailer, look no further. Avoid complicating the process by doing the posting and selling on your own. If this is your first time selling a vehicle, you may not get the most benefit from the process if you go it alone. Instead, let our team of professionals help you through every step.
At All Pro Trailer Superstore, we handle everything from the initial posting to the title transfer so you don't have to. Sell your trailer to us and forget about weeks of dead-end inquiries and potential buyers trying to cheat you into selling at a lower price.
Who Buys Used Trailers?
You may be wondering if anyone will buy your used trailer, especially if you don't know of many potential buyers in your area. However, when you work with us, you don't have to spend precious time searching for interested people or potential buyers. Avoid the hassles of online classifieds and sell your trailer to a reputable dealership that understands the process from start to finish. We buy your trailer and give you the money upfront to save you valuable time.
Steps to Selling a Trailer
Before selling your trailer, consider if you are interested in trading it in for something new or if you solely want to get it off your hands. With our extensive line of new trailers, we make it easy for you to sell your used trailer and get a new one in any category. Whether you need a dump, cargo, utility and landscape or ATV trailer — or something else from our lineup — we've got you covered.
Our team of professionals will walk you through the entire procedure to ensure an easy process and complete understanding of what it entails. With trade-ins, you can exchange your trailer for credit toward a different model in our inventory. You can also enjoy the convenience of receiving payment on the spot when selling your trailer — no need to travel back and forth between a notary location and a DMV facility.
Whether you are looking to trade in or just sell, All Pro asks you to take some simple steps to keep the sales process as manageable as possible. Here are some straightforward steps for selling your trailer:
1. Gather Your Information
Before you sell your trailer, make sure you have information such as the trailer's title paperwork, original purchase date and price, trailer make and model and the trailer's current condition. Once you have this information, you can document the visuals and be well on your way to receiving your estimate.
2. Share Images of Your Trailer
Images of your trailer should include both the interior and exterior. If you have an open trailer, take photos of all four sides. If your trailer is enclosed, take some shots of all four sides and provide two interior shots.
Be sure to document any damages that might affect the estimate we develop for you. In addition to images of the trailer itself, take some shots of your trailer title and the VIN sticker. The VIN is an important detail for insurance purposes, accident reporting and salvaged titles. VIN decoders can be helpful for piecing out the specific details of your vehicle, such as its make and model.
Once you have high-quality images of your trailer and the necessary information to sell it, send the photos to us and our team will begin putting together an estimate for you. You can use our trailer trade-in form if you're looking to swap your current model for a new one, or simply email us the information if you're only selling.

3. Get Your Estimate
Once we receive your information and images, you will then get an online estimate. If you are happy with your estimate, the next step is an in-person meeting to make things official. An important disclaimer to keep in mind — online trailer estimates are subject to change upon final inspection.
4. Receive the Final Inspection
When you are ready to sign over your trailer, a final inspection will take place to ensure the trailer is in good shape, the proper paperwork is provided and there are no unnoted issues.
During the inspection, All Pro requires the following:
You, the owner, must be present at the time of sale to sign the title over with proper identification.
You must provide a clean, clear title that can be easily read.
The VIN sticker/plate must be legible.
Pennsylvania requires dealers to follow a set of inspection guidelines for any trailers with a gross weight of more than 3,000 pounds, which includes:
Inspection underneath the trailer to ensure the correct tires are installed and are in good condition
Interior inspection to ensure the flooring and floor beds can support cargo
Verification of trailer ownership and legality
Inspection of the suspension, brakes and frame
Exterior inspection to ensure the tailgate, lights, window glazing, door and other trailer components are in good working condition and the VIN plate/sticker is securely fastened
Disclaimer: All Pro holds the right to deny any trailer purchase due to its final condition upon this inspection.
5. Complete the Sale
Once the trailer is properly inspected and all the necessary paperwork and information are present, the final sale can proceed. You will sign over your title and receive payment for the trailer immediately. If you've chosen the trade-in option, you will receive credit toward another trailer of your choice.
The Perks of Selling to All Pro Trailer Superstore
When selling to All Pro Trailer Superstore, you can feel confident that you'll get a fair offer and the sales process will be straightforward. The following points are just some of the perks of working with us for all your trailer needs:
On-the-spot payments: Once your trailer passes the final inspection, you will receive an upfront payment. You can eliminate the stress and hassle of waiting a long time for your well-deserved money and instead have it in your hand right away. The sooner you get your money, the sooner you can use it however you please.
No need to handle the title transfers: When selling your trailer by using classified advertisement sites or putting a for sale sign on your trailer, the title transfer process requires a third-party notary. All Pro is an authorized full agent of PennDOT and can complete all documentation, taking this step off your hands for your peace of mind.
Fair offers: Our team prides itself on fair, competitive offers so you can feel confident we are paying you what your trailer is worth. Plus, our team has experience buying thousands of trailers of all different makes, models and kinds.
Quick turnaround: Our process is quick and simple. Since we handle documentation on-site, the title transfer is streamlined and takes a lot less time than selling on your own.
Hassle-free process: When we buy trailers, our process serves to be as easy as possible for the seller. We provide transparency from inquiry to sale and walk you through the process every step of the way.
Safe meetups: You no longer have to worry about meeting up with strangers to sell your trailer. We offer a safe space for inspections and transfers you can trust.
Contact All Pro Trailer Superstore to Learn More About Selling Your Used Trailer
If you are considering selling your trailer, All Pro Trailer Superstore can help. With our extensive experience as a full-service trailer destination, our team of professionals has the necessary knowledge to meet any of your needs and make buying, selling or trading in a trailer stress-free for you.
Beyond buying your used trailer, we offer an impressive inventory of all kinds of models — from race car trailers to horse trailers. When you choose a trade-in, we will help with affordable financing, delivery and more.
Contact All Pro Trailer Superstore today for more information on how we can help or to begin the selling process.