Should You Buy a New or Used Trailer?
Dec 12, 2013
Last Updated on September 14, 2023 by allprotrailersuperstore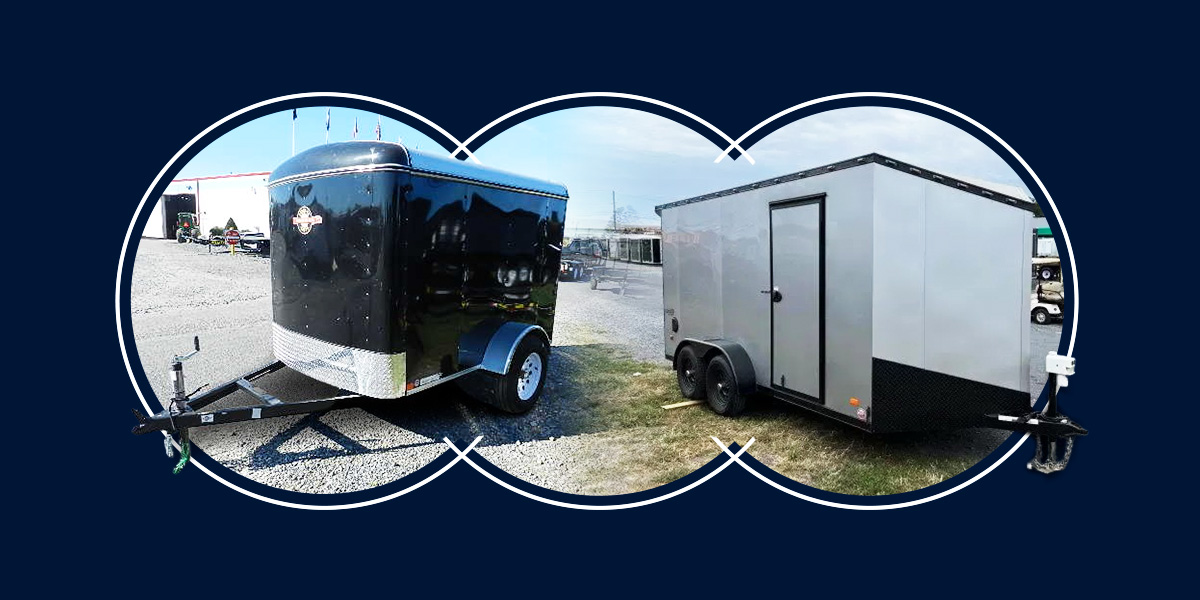 Should You Buy a New or Used Trailer?
Many people start shopping without any idea of what they want, but buying a trailer isn't something you should do on a whim. A trailer is a major investment that will affect you for years, so spend some time finding the right one for you.
One of the first questions you'll want to answer when buying a trailer is whether to get a new or used model. Let's explore the differences between new and used trailers so you can find the best one for your situation.
Used Trailers
A used trailer is usually slightly older with a bit of wear and tear. It may need extra attention for maintenance and repairs, but you'll typically get a more affordable price on it. If you have a smaller budget, a used trailer is a great way to get the equipment you need.
Advantages of Buying a Used Trailer
Perhaps the biggest benefit of buying a used trailer is the cost savings, as you'll see monetary benefits on multiple fronts. Here's what you can usually expect when buying used:
A lower upfront cost
Immediate availability
The possibility of customizations performed by the previous owner
Less depreciation over time, letting you get more of your investment back if you decide to resell
Though the lower price is the biggest plus of buying your trailer used, it's a considerable one, especially if you're on a tight budget. If you buy from a reliable reseller that inspects and services their products, you can take advantage of this benefit with minimal risk.
Disadvantages of Buying a Used Trailer
To realize those cost savings, you'll need to be okay with the following disadvantages of buying used trailers:
Older models with more wear and tear and fewer modern features
A potentially unknown history
No warranties, as many manufacturer coverage plans can't be transferred
A complicated and risky process when buying from a private seller
To mitigate these risks, always buy a used trailer from a dealer. While you'll still have to contend with wear and tear and a lack of a warranty, you know a professional has inspected the trailer. You also know the dealership is a legitimate business and has all the required documentation.
New Trailers
New trailers come straight from the dealership or manufacturer, who will typically offer extra perks like an included warranty and financing options. They cost a bit more upfront, but the lack of wear could help you avoid maintenance and repair costs in the future.
Advantages of Buying a New Trailer
Although the cost might be higher, the advantages of buying a new trailer are significant. They include:
A clean history with no existing damage or wear and tear
An included manufacturer's warranty
Modern features and components
Possible discounts or deals
Disadvantages of Buying a New Trailer
Of course, no solution is perfect. A new trailer also comes with these disadvantages:
A higher initial price point
Fast depreciation
Possibility of waiting if you request a custom model
Still, if a new trailer is within your budget, many buyers find that the extra cost is well worth the benefits.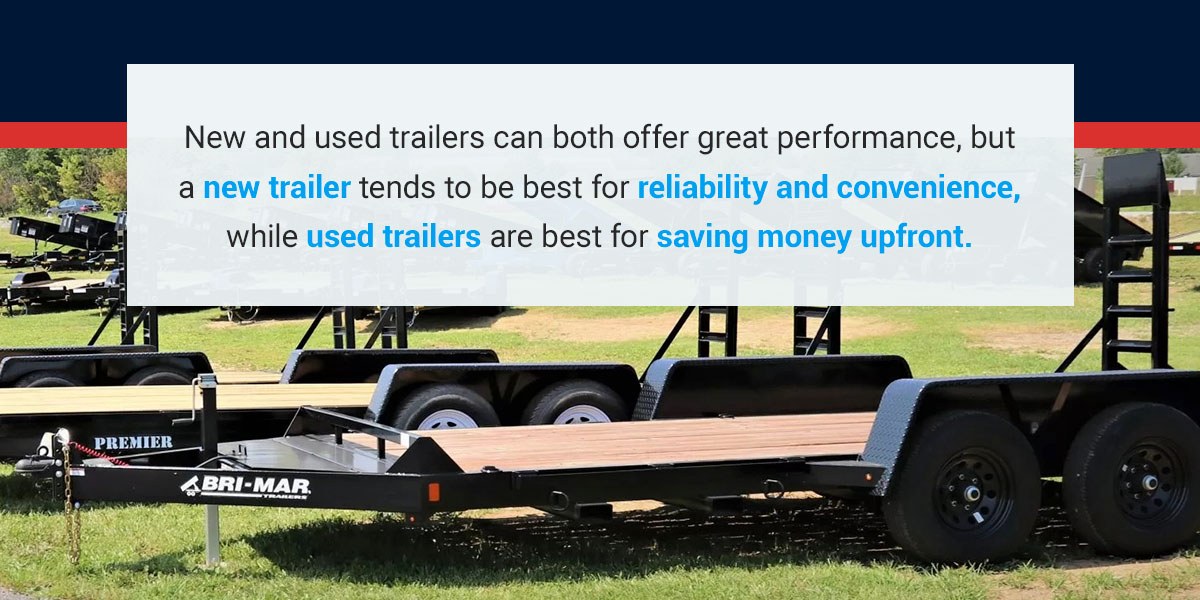 New vs. Used Trailers
New and used trailers can both offer great performance, but a new trailer tends to be best for reliability and convenience, while used trailers are best for saving money upfront. Choosing the right type of trailer is essential for meeting your needs at the time of purchase and in the future.
When you buy from a dealer, you can usually expect financing options and support for the title and registration process for both used and new trailers. At All Pro Trailer Superstore, you can also get customization and trade-in options.
What to Consider Before Choosing a New or Used Trailer
At All Pro Trailer Superstore, we have both kinds of trailers, but which one is right for you? The answer will depend on many different factors. Here are some things to consider so you can narrow your search for your next trailer:
Budget: A new trailer will obviously cost more than a used one, so the first thing you should consider is how much you're willing to spend. You can find great prices on new enclosed trailers and utility trailers at the Trailer Superstore, but you should have a figure in mind to know if it's within your budget.
Financing requirements: How are you going to finance your purchase? In most cases, you won't be purchasing the trailer with cash, and you'll need some sort of financing. If you have a trailer that you're looking to trade in, its value could go a long way in reducing your final price for the new model, whether you buy it used or new. If you need financing, our friendly staff can help.
Modern technology: Are you looking for the latest and most sustainable trailer? When finding a trailer with the most up-to-date technology, going new will obviously be in your best interest. However, it should be noted that our used trailers are tested to our standards and deliver excellent performance and durability.
Warranty: A new trailer will offer a longer warranty with more protection options than a used trailer. If you need extensive protection, it might make sense to go new.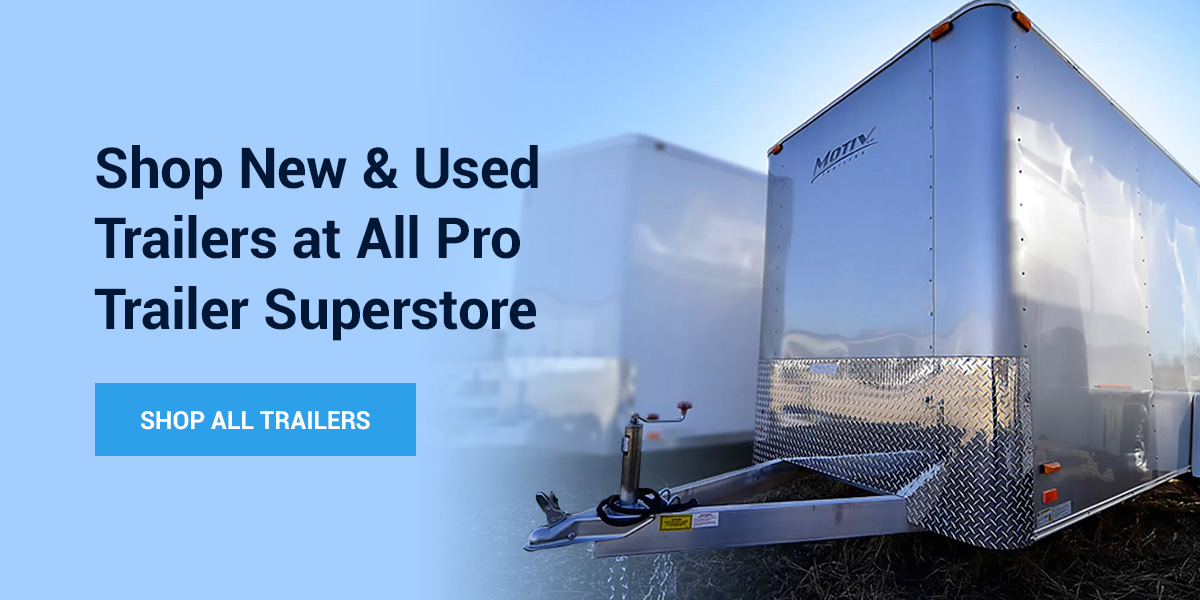 Shop New & Used Trailers at All Pro Trailer Superstore
For the best suggestions on which trailer to buy, visit All Pro Trailer Superstore, where a knowledgeable staff member can help you find the best trailer for you. We constantly receive new and used trailers each day in our inventory, so we offer a large and diverse selection.
Explore our new trailers or our used trailer selection to get a head start, or contact us today if you have more questions!