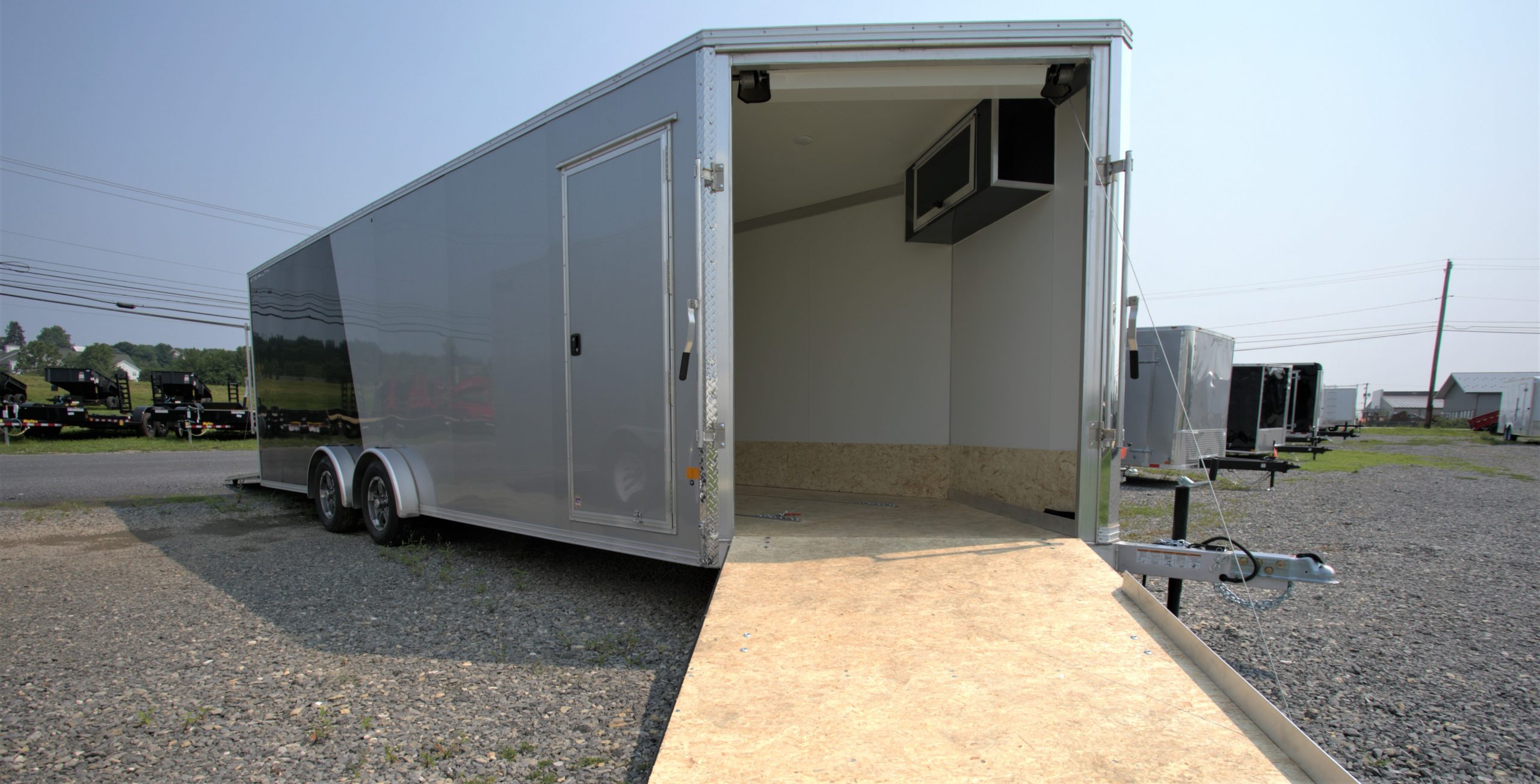 Snowmobile Trailers for Sale
Owning a snowmobile guarantees a life of adventure, but Mother Nature can often be unpredictable. When snow conditions are light, a snowmobile trailer from All Pro Trailer Superstore is the perfect way to protect your investment and avoid getting stranded. Whether your snowmobile is for work or leisure activities, we'll keep you ready to travel to trails and terrains far away from home.
A snowmobile trailer is an attachment designed specifically for snow motor vehicles. It allows drivers to fasten equipment during transit. Keep your snowmobile secure from outdoor elements and potential thieves with your choice of enclosed or open-back styles.
Questions? Contact Us Today!
(717) 795-9116 LIVE CHAT CONTACT US
New Snowmobile Trailers
At All Pro Trailer Superstore, we have a selection of snowmobile trailers to accommodate various needs.
Cargo Pro 8.5 x 22
The Cargo Pro enclosed snowmobile trailer is made of aluminum, ensuring your equipment stays protected while in storage and throughout transport. This trailer also features two ramp doors and a side door for convenient access to your equipment.
Sno Pro 7.5 x 14
This aluminum trailer features wide ramp doors in the front and back, allowing for easy drive-on and -off access. The Advantech flooring offers a durable surface for storing up to two snowmobiles, and the electric brakes help maintain control over cargo.
Sno Pro 7.5 x 18
When you want all of the benefits of the 14-foot Sno Pro trailer with a little more space, this 18-foot trailer is for you. It also features two ramp doors, aluminum components and Advantech flooring to help you access and protect your equipment.
Sno Pro 7.5 x 24
The largest of the Sno Pro snowmobile trailers, the 7.5 x 24 trailer can hold four snowmobiles while ensuring their safety. It features all the benefits of the other Sno Pro trailers, including electric brakes, ramp doors and a spacious interior.
Sno Pro 8.5 x 12
When you need to transport one snowmobile, the Sno Pro 8.5 x 12 is a secure option. It features ski tie-downs and sliding D-rings to ensure your equipment is safe while traveling.
Trailers for Sale
Having the right trailer makes life so much easier, whether you need a trailer for work or for leisure. But what type fits your needs? At Trailer Superstore, we have a huge selection of trailers for sale, one that gives you options and lets you identify the perfect solution.
We offer a wide range of different types of trailers for sale, and you'll find new, used and customized options available as well. We also want to ensure our customers always get the quality they want and expect from an investment in a trailer, which is why we offer products made by the best trailer manufacturers in the world.
When you value selection and when you want only the best equipment, choose to buy trailers online from Trailer Superstore, where you'll find only the best options to meet your requirements.
The Best Snowmobile Trailers for Your Applications
Before making a purchase, you need to consider several key factors surrounding a new or used trailer. What are the dimensions of your snowmobile, and will you be hauling anything else on long trips? Trailer Superstore enables drivers to select models in various shapes and sizes from industry-leading manufacturers including Sport Haven, SnoPro and ATC.
We understand that snow motor vehicles can be expensive, so we offer enclosed options for maximum protection from mud, dirt and oncoming cars. Depending on your hauling requirements, you may benefit from styles capable of storing more than one vehicle — our sales representatives can steer you in the right direction.
Benefits of Shopping for Snowmobile Trailers Online
All Pro Trailer Superstore is your one-stop shop for new and pre-owned trailers, and we connect customers to incredible deals that exceed your storage expectations. A number of our snowmobile trailer listings showcase ramp doors for easy access to enclosed areas. The days of struggling to get your snow machine on a loading truck are over as attachments are available with Drive On and Drive Off capabilities.
Purchasing a snowmobile trailer guarantees you have a year-round storage spot for your motor vehicle. Instead of taking up space in garages, your snowmobiles can have a permanent home in one of our detachable mobile units. You can even use these trailers for hauling skis, snowboards, jackets and other cold-weather gear.
Aluminum builds are light in weight for aerodynamic benefits, and steel enclosures stand strong against bumps, dents and minor collisions.
Buying the Right Snowmobile Trailer Online
Selecting the right snowmobile trailer will depend on your ideal level of protection and security. Enclosed trailers create a snug fit for your investment and keep out road salt and slush for a clean sled. These attachments also allow you to carry outdoor equipment such as lawn mowers, power tools, edgers and trimmers during warmer months.
Open trailer designs are cost-friendly alternatives to enclosed listings. Your sled will be exposed to winds and cold temperatures, so we recommend these units when traveling shorter distances.
Snowmobile Trailer Maintenance and Accessories for Sale
A snowmobile trailer from Trailer Superstore will last you many years with proper maintenance. Between uses, clear out any snow accumulation inside and out of the bed area. Pay close attention to tire pressure before embarking on long trips, and be sure to have any exterior damage repaired if necessary.
A new or used trailer is a blank canvas, so customize your storage space with accessories like shelving and cabinets for personal belongings. We'll even introduce you to D-Ring tie downs and straps for assuring your snowmobile stays locked in place when driving over bumps and uneven surfaces.
Buy a Snowmobile Trailer Today
All Pro Trailer Super Store has a number of snowmobile trailers to choose from including enclosed and open styles as well as aluminum and steel builds. Drive On and Drive Off models are available by special order, so be sure to call 800-622-7003 for availability. For more information about any of our listings, feel free to fill out a contact form at your earliest convenience!