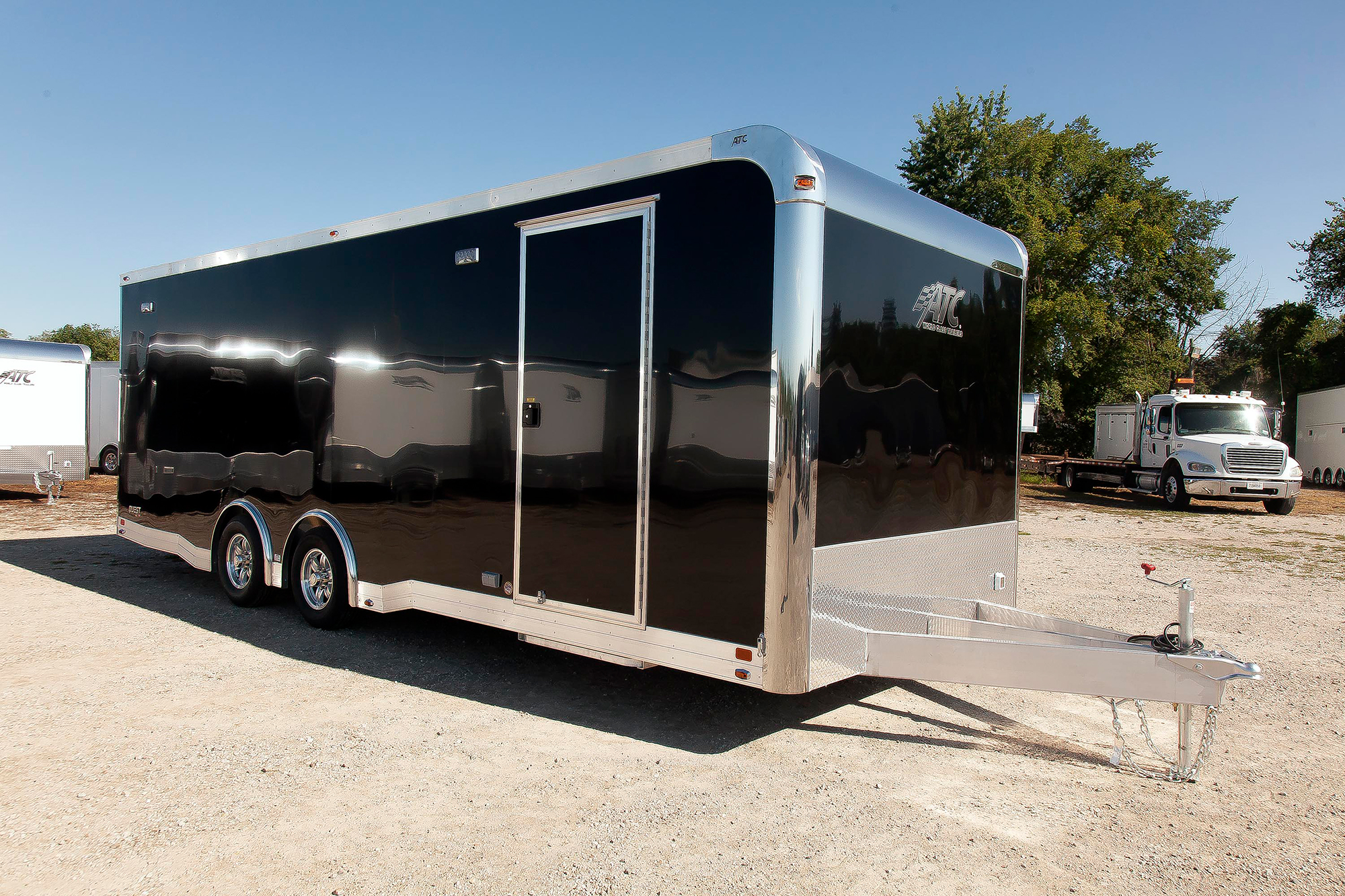 All Pro Trailer Superstore stocks hundreds of enclosed trailers to fit every need and budget. We believe that each of our customers deserves the perfect trailer for their specific applications, and our vast selection helps ensure that you can always find what you're looking for. Find plenty of options when you're searching for the best enclosed trailers for sale, as well as other types of trailers, too. If you're curious about what you can use your enclosed trailer for, here are a few ideas!
Our custom enclosed haulers can be outfitted with flooring, cabinets, aluminum wheels and much more to fit your needs. You have a specific vision for what your future trailer should look like and what it should be able to do, and customized options let you take control and create the exact trailer you want. We also stock enclosed utility and contractor tool trailers as well as enclosed motorcycle, ATV and snowmobile trailers — all which can be custom-ordered.
What type of doors do you need when looking to buy enclosed trailers online? Our units are available with rear ramp doors or double barn doors, side man doors, GET OUT Doors, RV-style trailer doors and trailer organizing systems. And what do you need an enclosed trailer to do? Trailer Superstore stocks 6′ luggage trailers for pulling behind cars or wheelchair trailers to haul wheelchairs and equipment with ease.
Many of our customers are searching for enclosed trailers for sale, but they are unsure about the financing to make a purchase. That's not an issue when you choose Trailer Superstore. We offer trailer financing and affordable used trailers that can fit any budget. Few buyers can afford to pay cash for the best enclosed trailers for sale, nor should they be expected to pay full cash up front. Whatever your needs may be, we are confident you can find a great enclosed trailer at All Pro Trailer Superstore.
Look below at our hundreds of enclosed trailers for sale and keep in mind that you can take advantage of on-site pickup or schedule delivery. If you have any questions as you search options from the best enclosed trailer manufacturers, don't hesitate to get in touch with our team.
Trailers for Sale
Having the right trailer makes life so much easier, whether you need a trailer for work or for leisure. But what type fits your needs? At Trailer Superstore, we have a huge selection of trailers for sale, one that gives you options and lets you identify the perfect solution.
We offer a wide range of different types of trailers for sale, and you'll find new, used and customized options available as well. We also want to ensure our customers always get the quality they want and expect from an investment in a trailer, which is why we offer products made by the best trailer manufacturers in the world.
When you value selection and when you want only the best equipment, choose to buy trailers online from Trailer Superstore, where you'll find only the best options to meet your requirements.
Enclosed Trailers for Sale
Are you looking for an enclosed trailer for a specific hauling job? Do you want to customize or design an enclosed trailer to fit your needs?
Whatever you're hauling and however far, All Pro Trailer Superstore is your one-stop shop for finding affordable and high-quality enclosed cargo and car trailers from top-tier brands to meet your exact hauling applications and budget.
At All Pro Trailer Superstore, we have a wide selection of new enclosed trailers for sale. Trust us to help you find exactly what you need.
Complete Guide to Enclosed Trailers>>
Benefits of Enclosed Trailers in Winter>>
Creative Ways to Use an Enclosed Trailer>>
What Are Enclosed Trailers Used For?
Enclosed trailers can be used for several reasons, from traditional hauling to more unique projects. Whatever you need it for, our enclosed trailers are here to help you reach your goals.
Moving Furniture and Household Items
One of the most obvious uses for enclosed trailers is to move furniture or other large household items. If you are moving houses, apartments or office spaces, having your own enclosed trailer — instead of renting — can come in handy to do things on your own schedule. With the trailer's sturdy enclosure, you can ensure your beloved items stay safe from inclement weather overnight or while you are on the move.
Handling Heavier Materials
An enclosed trailer can handle your heavy materials. Transport your dirt bikes, four-wheelers, snowmobiles or motorcycles and all your needed equipment in one place. If you work in construction or are doing a home renovation project, pick up your wood, metal, tools or whatever you need to get the job done. Our enclosed car trailers are large enough to carry enough weight or equal space to a car, with an average gross vehicle weight rating (GVWR) of 7,000 pounds.
Starting a Business
For a unique option, purchase a large enclosed trailer to start up a food truck business! Whether you already have an established restaurant or are looking for a fun side gig, food trucks are growing in popularity, and renovating an enclosed car trailer gives you ample space for an ideal setup.
Enclosed trailers can also be used for several other business ideas, especially those that require mobility. Thinking about getting an enclosed trailer for a landscaping business? Learn about what to consider for your landscaping trailer.
Enclosed Car Trailers for Sale at Trailer Superstore
We carry new and used enclosed cargo trailers for sale at Trailer Superstore. Whether you're interested in purchasing a used enclosed trailer for hauling your motorcycles, snowmobiles or sports vehicles or want a new, comfortable enclosed hauler for traveling with horses, we'll guide you in finding what you're after for the right price.
Learn About Our Enclosed Cargo Trailers for Sale
Different towing jobs have various hauling requirements, and finding the right trailer is crucial to safely load, unload and transport your cargo from one destination to another. If you need a trailer with a ramp door to carefully roll items onto your trailer's platform or prefer single or double barn doors, we have your solution at Trailer Superstore.
Plus, our extensive selection of 1,000+ enclosed trailers and customization possibilities makes the chances of finding — and customizing or designing — your perfect trailer highly likely. Our selection of enclosed trailers includes:
Car trailers
Snowmobile trailers
Motorcycle trailers
Contractor trailers
Horse trailers
Stacker trailers
Aluminum trailers
ATV trailers
Race car trailers
Cargo trailers
Luggage trailers
Need help finding the best enclosed trailer for your needs? We created an enclosed trailer buyer's guide!
Shop Our Selection of Cargo Trailers for Sale
We keep enclosed trailers from all the top-of-the-line brands you love and are familiar with, including American Hauler, Homesteader, US Cargo and many more. If you can't find the right trailer off the lot, all our trailers can be designed or customized to fit your towing needs. Various options for our trailers include the following:
Models
Sizes
Applications
Towing capacities
Door types
Couplers
Organizing systems
Interiors
Why Buy Enclosed Trailers From Trailer Superstore?
Finding the right cargo hauler is essential. Working with a team of experts to cut through the noise and find your trailer more quickly is time- and cost-effective. Learn more about what it's like to work with our team at All Pro Trailer Superstore:
One-stop shop: At All Pro Trailer Superstore, we handle everything from financing and repairs to inspections and customization. Our friendly team will help you find and customize your trailer and complete your title and tag registration in-house. Or, we can conduct your purchase by phone and deliver your trailer straight to your door.
Customization: We can specially customize your unit to meet your needs and specifications. From interior design elements like the cabinetry, flooring and lighting to the exterior features like wheels, ground clearance and couplers, we can deck out your trailer to your heart's content.
Superb service: As experts committed to product knowledge and customer-focused service, we'll guide you through finding and purchasing the right enclosed cargo trailer for a hassle-free and enjoyable buying experience.
Visit All Pro Trailer Superstore Today!
Trailer Superstore is your number-one source for your trailer and towing needs. Visit us in person to purchase and take home your custom enclosed trailer from Trailer Superstore.
You can also contact us online or call 717-795-9116 to check the availability of a specific trailer or ask any questions.