Pennsylvania State Trailer Inspection Station
All Pro Trailer Superstore is an official Pennsylvania State Trailer Inspection Station
Do you need your trailer inspected? With this service we will check tire pressure, inspect tires & wheels, inspect safety chains, adjust all brakes, grease all grease fittings, torque wheel lug nuts, inspect breakaway system, inspect coupler, inspect lights system, inspect brake magnets, inspect suspension parts, inspect brake lines, inspect brake cylinders, inspect brake linings, inspect brake wiring, inspect hub/drum and issue a PA state inspection sticker. Any trailer with a GVWR over 3000lb must be inspected on an annual basis in Pennsylvania.
If you have any questions, please feel free to call us at (717) 795-9116.
Important Please note:
We will need your ORIGINAL and CURRENT owners/registration card in order to perform your trailer inspection. Your trailer must also have a LEGIBLE VIN PLATE or STICKER attached.
Additional Repairs:
If you trailer would need any additional service/repair to pass inspection, we will create an estimate and call you for approval prior to completing inspection.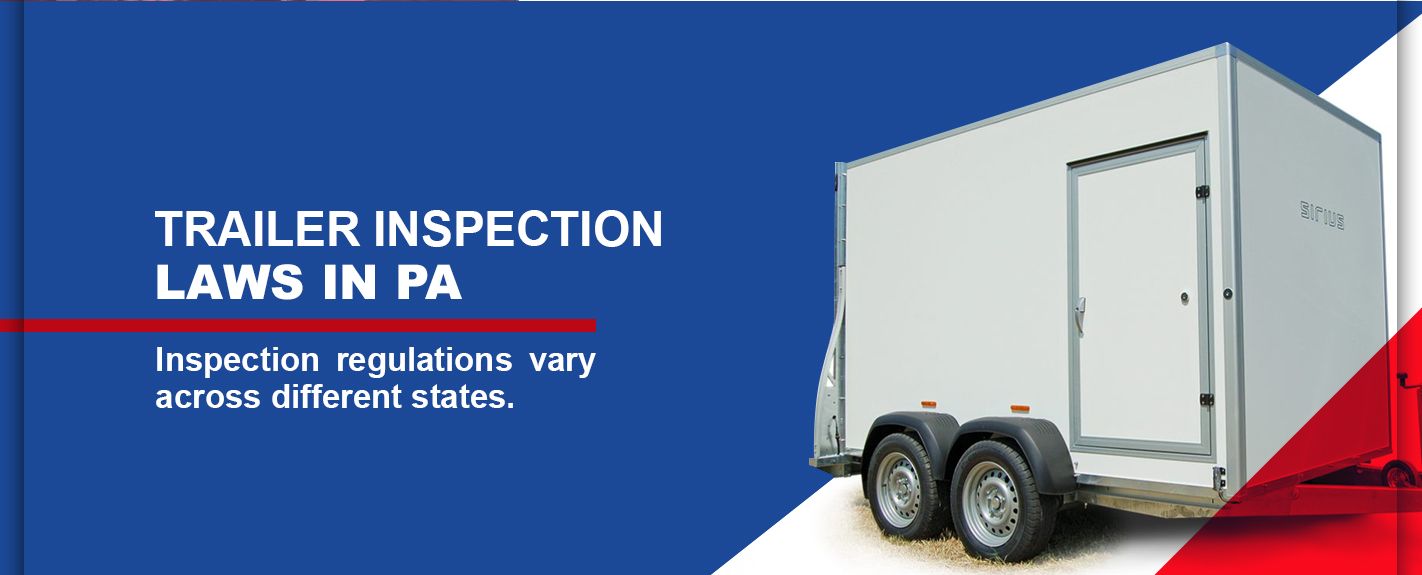 PA Trailer Inspection Requirements
Pennsylvania's inspection requirements cover any trailer with a gross weight of over 3,000 pounds. The process involves:
Verifying the ownership and legality of the trailer
Performing an exterior inspection to confirm that the lights, window glazing, door, tailgate and other components are in good working order and that the license and VIN plate are securely fastened
Performing an interior inspection to confirm that the flooring and floor beds will support cargo and that other related components are in good working order
Inspecting underneath the vehicle to verify that the correct tires are installed and that they are in good condition
Examining the frame, braking system and suspension
If the inspection identifies any issues, you will need to have them fixed before we can validate your registration. Our technicians may also point out other issues that, while not enough to merit a failed inspection, could be a problem down the line if not taken care of soon.
When Should I Schedule a Trailer Inspection?
Every registration sticker has an expiry date — after that time, you can't legally use your trailer on a public road. Pennsylvania law allows you to complete an inspection up to three months before your current registration expires. It's often best to get the inspection done early on the off chance we need to order parts or make more extensive repairs.
Avoid Issues With Service From All Pro Trailer Superstore
Passing a trailer inspection isn't hard if you've kept your trailer well-maintained. A small investment in regular checkups and service from an authorized technician can reduce the risk of surprises when it's time to update your registration. Preventative maintenance also extends the life of your trailer and ultimately saves you money in the long run by keeping your trailer running its best.
All Pro Trailer Superstore can recommend a suitable preventative maintenance schedule based on the age, model and usage of your trailer. Often, we can take care of maintenance and perform your official PA trailer inspection in the same visit, saving you time and money.
Looking for a Trailer Inspection Near You?
All Pro Trailer Superstore is based in Mechanicsburg and offers state trailer inspections for customers throughout Central PA. Whether you bought your trailer from us initially or not, we can take care of everything you need to stay on the road. We have the team, the tools and the parts necessary to ensure you never have to wait long to get your trailer inspected. If you're looking for a PA trailer inspection sticker location, trust our expert trailer technicians to get the job done!
We work with all types of trailers and know all major manufacturers' products inside and out. Visit our Repair and Service page to learn more, or contact us directly to book an appointment.
Trailer Inspection Guides
What to Know About Trailer Inspections
Importance of Annual Trailer Inspections