Trailer Delivery
We will design your enclosed cargo trailer or custom car trailer and have it custom built, or you may choose from any of the hundreds of enclosed trailers in stock at our Trailer Superstore. Trailer Superstore offers hundreds of trailers for sale and in stock, ready for immediate delivery or shipment.
What Is Trailer Delivery?
You might commonly associate delivery services with big-box stores that deal in home electronics, clothes, books and food, but that's just scratching the surface. What if we told you that you could order full-scale cargo trailers and have them delivered to your doorstep, precisely as you envisioned? That's a reality when buying from All Pro Trailer Superstore, as we aim to serve clients throughout the globe.
When making purchases on new trailers over $4,000, our trailer shipping rates will fluctuate slightly depending on the location, fuel costs, and the trailer's size, but our team will work diligently to ensure you receive the best deal.
You choose where you'd like the trailer to be delivered, or you could opt for a pickup at our facility in Pennsylvania.
VIEW TRAILER OPTIONS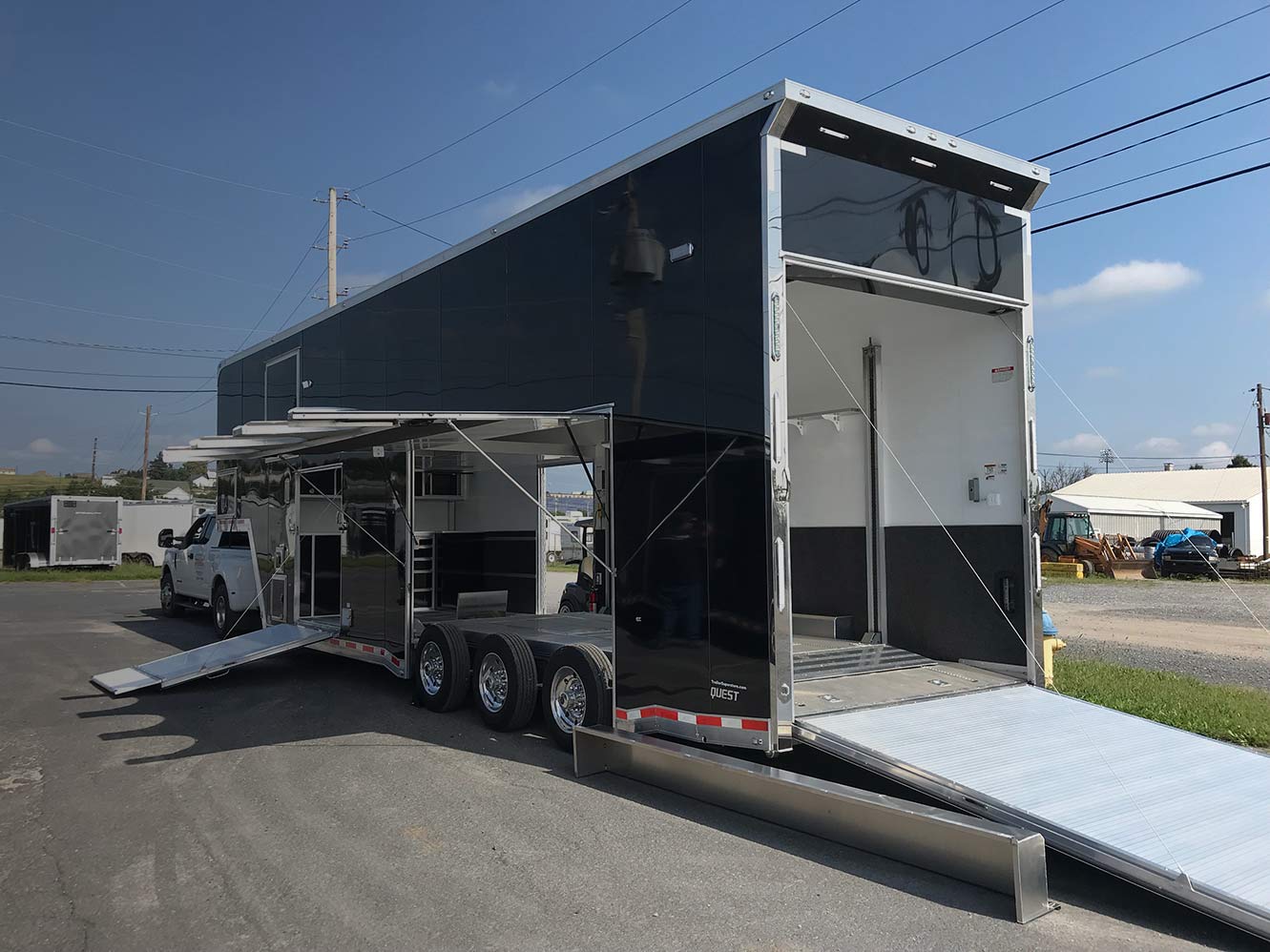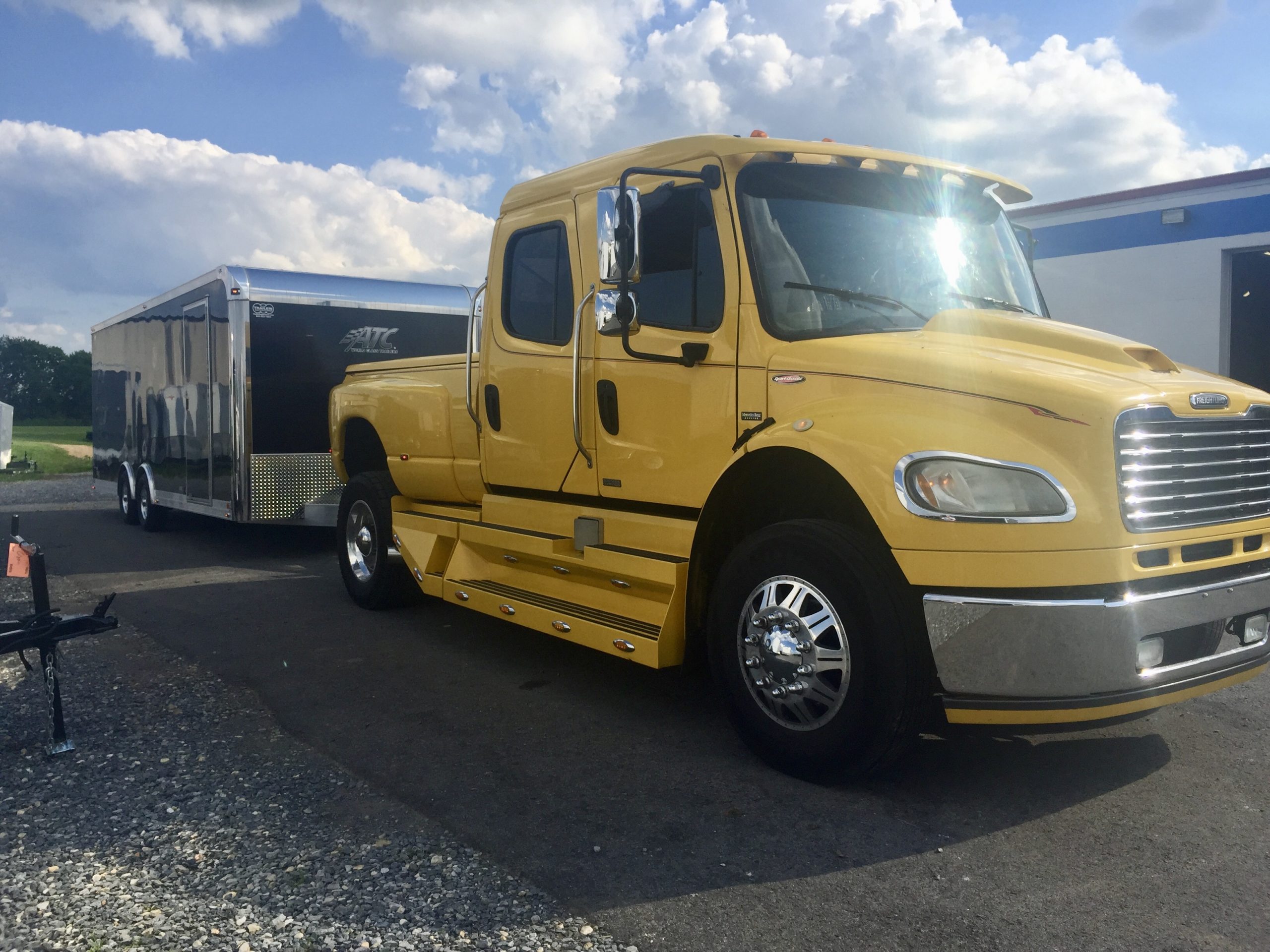 What are the Benefits of Trailer Delivery?
When visiting dealerships and stockyards, it's nice to check out trailers in person and gain a better understanding of their characteristics before closing the book on a major investment.
Save time by shopping at Trailer Superstore online. We stock upwards of 1,000 types of trailers at any given time. Our selection and pricing will allow you to save time and money by finding exactly what you need at the price you desire without having to travel from dealer to dealer. Our team can handle all your customization, financing, and delivery needs right over the phone. We will drop your new trailer right at your home or business. It's that easy!
If you do not reside in the state of Pennsylvania, you will not draw a charge for sales tax from All Pro Trailer Superstore. Our out of state customers can purchase an in-transit plate from us for $90, which is valid for 60 days. You must then register your trailer in your state and then pay the applicable sales tax within that 60 days.
view trailer options
Why Take Advantage of Trailer Delivery?
Ordering from us and opting for trailer delivery also eliminates hassle from your end, since going to pick up trailers expends valuable time, money and energy.
Rather than trucking across state lines, settle in after a long day with your laptop displaying the All Pro Trailer Superstore website. We'll make buying and delivery more convenient than you ever thought possible.
We can deliver right to your doorstep, home or business.
Trailer Pickup
You also have the option to pick up your new trailer at our Trailer Superstore facility in Pennsylvania. Trailer Superstore is located in Mechanicsburg, just outside of Harrisburg. We offer a traveler's discount to consumers traveling to our facility to purchase their new trailer. Trailer Superstore is easily accessible from the surrounding states, such as Maryland, Delaware, Virginia, West Virginia, Ohio, New Jersey and New York
Call Ahead Trailer Package
When you choose us, you will get to customize almost every aspect of your order to meet your specifications. First, choose your new trailer online. Then, add additional trailer accessories if needed. You'll receive on-the-spot trailer financing, and we will work tirelessly to prepare your new trailer to be ready for pickup or scheduled delivery. Again, we go the extra miles to make delivery available to any destination in the United States and can arrange delivery to ports of call for shipments overseas.
If you have any questions about our trailer delivery service, contact our customer service team today!