Buyer's Guide to Choosing the Perfect Enclosed Trailer
Sep 24, 2014
Are you looking into enclosed trailers for sale but don't know exactly what to look for? Our buyer's guide is here to help. To make sure that you are purchasing the right trailer for your exact needs, there are a variety of things to consider.
What Size Enclosed Trailer Do You Need?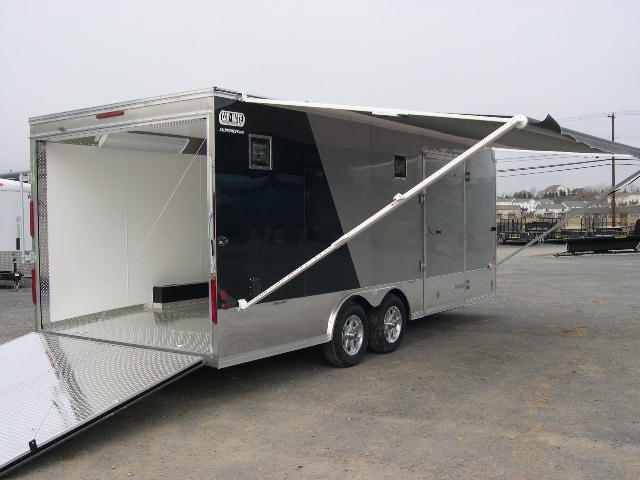 First, you need to figure out how large of an enclosed trailer you need. The most common trailer widths are 5', 6', 7', and 8.5'. As far as length, most commonly they are purchased between 8' and 32'. If you need a trailer to be custom built, you can only add height in 6" increments. Naturally, you will be asked to pay an additional fee for custom building.
What Color Enclosed Trailer Should You Choose?
It might not be something you thought you would have to even consider, but it's the little things that count. White and black are the most common trailer colors but they can come into a variety of different colors if you want to have them custom painted.
How Many Axles Does Your Enclosed Trailer Need?
Before you choose whether to get a single axle or tandem axle trailer, you need to figure out how much you are willing to spend, the height of the items you will putting inside the trailer, and what kind of roads you will be driving on. In general, tandem axle trailers will be a bit more expensive than a single axle, but with the price comes the advantage of hauling heavier loads. They are also considered to be more stable.
What Type of Axles Does Your Enclosed Trailer Need?
There are two main designs for axles. These are the leaf spring and the torsion axles. The difference between the two is that leaf spring axles use metal springs while the torsion axles used rubber springs. Leaf spring axles take up more space and are heavier. However, if something were to happen, they could be repaired while torsion axles cannot. If you are carrying a light load, then you should choose a torsion axle.
Others Uses for Enclosed Trailers
If you plan to buy an enclosed trailer for sale and want to use it for more than just moving items, then consider how you want to customize it. There are many things you can do. Some people use their trailers as an office while others use it as a concession trailer to sell food and drinks. The options are endless, so be sure to choose wisely as this is a long term investment.