The Perfect Enclosed Trailer Buyer's Guide
Sep 24, 2014
Last Updated on August 24, 2022 by allprotrailersuperstore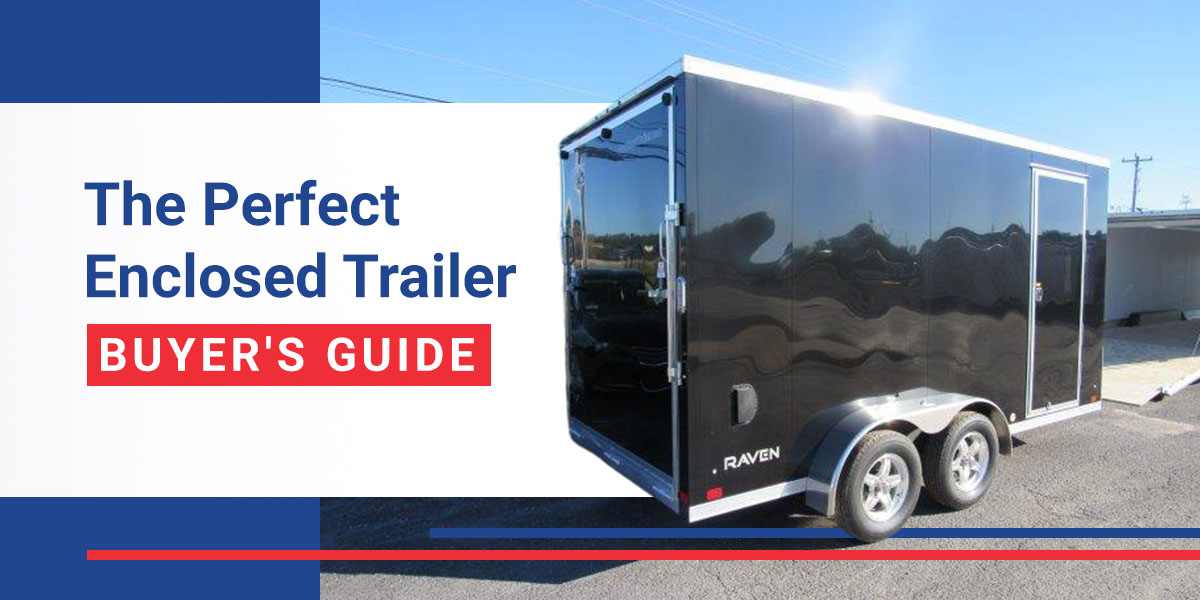 The Perfect Enclosed Trailer Buyer's Guide
Are you looking into enclosed trailers for sale but don't know exactly what to look for? Our buyer's guide is here to help. To make sure that you are purchasing the right trailer for your exact needs, there are a variety of things to consider.
What Size Enclosed Trailer Do You Need?
First, you need to figure out how large of an enclosed trailer you need. The most common trailer widths are 5', 6', 7', and 8.5'. As far as length, most commonly they are purchased between 8' and 32'. If you need a trailer to be custom-built, you can only add height in 6" increments. Naturally, you will be asked to pay an additional fee for custom building.
What Color Enclosed Trailer Should You Choose?
It might not be something you thought you would have to even consider, but it's the little things that count. White and black are the most common trailer colors but they can come into a variety of different colors if you want to have them custom painted.
How Many Axles Does Your Enclosed Trailer Need?
Before you choose whether to get a single axle or tandem axle trailer, you need to figure out your budget, the height of the supplies or products you will put inside the trailer, and the types and conditions of roads you'll travel on. In general, tandem axle trailers will be a bit more expensive than a single axle, but with the price comes the advantage of hauling heavier loads. They are also considered to be more stable.
What Type of Axles Does Your Enclosed Trailer Need?
There are two main designs for axles. These are the leaf spring and the torsion axles. The difference between the two is that leaf spring axles rely on metal springs while torsion axles use rubber springs. Leaf spring axles take up more space and are heavier. However, if something were to happen, they could be repaired while torsion axles cannot. If you are carrying a light load, then you should choose a torsion axle.
Should You Buy a Steel or Aluminum Trailer?
Before you commit to a new trailer, look at how the metal options might differ. Choose a trailer that best fits your needs because both types have advantages and drawbacks. Although steel is stronger and less expensive, untreated steel is also prone to rust. Aluminum is lighter in weight and resistant to the elements.
Some of the key differences that may influence you to choose one over the other include:
Steel trailers can withstand more stress than aluminum trailers.
Steel is easier and cheaper to repair than aluminum.
Steel rusts, whereas aluminum corrodes much less easily, if at all.
Aluminum trailers can be towed more easily than steel trailers of the same size.
Aluminum trailers have a higher payload capacity than steel trailers.
Aluminum trailers generally need to be cleaned with an acid wash to renew their exterior.
What Will the Trailer Be Used For?
Think about how you want to use your new trailer before committing. You can save money with a smaller trailer if you need it for small business projects and expect light hauls. If you want to haul your golf cart or riding lawn mower, you would need to buy a trailer where it can fit.
For hauling a riding mower specifically, you might want to go with an extra-wide trailer with side racks and a good amount of dismount space. You also want to make sure you have tie-down rings for safely transporting vehicles. The weight capacity is also important for this purpose.
Get a smaller trailer if you're moving equipment and feel like you can spare the space. A 6-foot-wide cargo trailer is popular as a personal trailer and typically a great option for transporting equipment to and from job sites. If you need a small amount of extra space, a 5-foot-wide trailer used with a truck or SUV might be the add-on you need.
What's Your Current Budget?
One of the most important questions when buying an enclosed trailer is how much you can afford. Create a budget based on how your income and savings stack up to your expenses. Select the size of trailer you want and your preferred features. If you're looking for a trailer to make business operations easier, having a larger budget is ideal because you will save money over time from the investment.
If you're getting a trailer as a personal tool to haul your ATV or another recreational vehicle, go with the smallest trailer that will work. Purchase the trailer with enough space for your possessions, but avoid buying a large trailer if you can currently go without one.
Other Uses for Enclosed Trailers
If you plan to buy an enclosed trailer for sale and want to use it for more than just moving items, then consider how you want to customize it. There are many things you can do. Some people use their trailer as an office while others use it as a concession trailer to sell food and drinks. The options are endless, so be sure to choose wisely, as this is a long term investment.
Find the Perfect Trailer at All Pro Trailer Superstore
Did you get an idea of what you want from our enclosed trailer buying guide? We are a full-service trailer provider that can help you find a new trailer and process trade-ins, repairs and customizations. Shop for a trailer with reliable quality at our online store, or contact us if you have questions about a trailer.