Buying vs. Renting a Trailer
Nov 06, 2018
Last Updated on December 15, 2022 by allprotrailersuperstore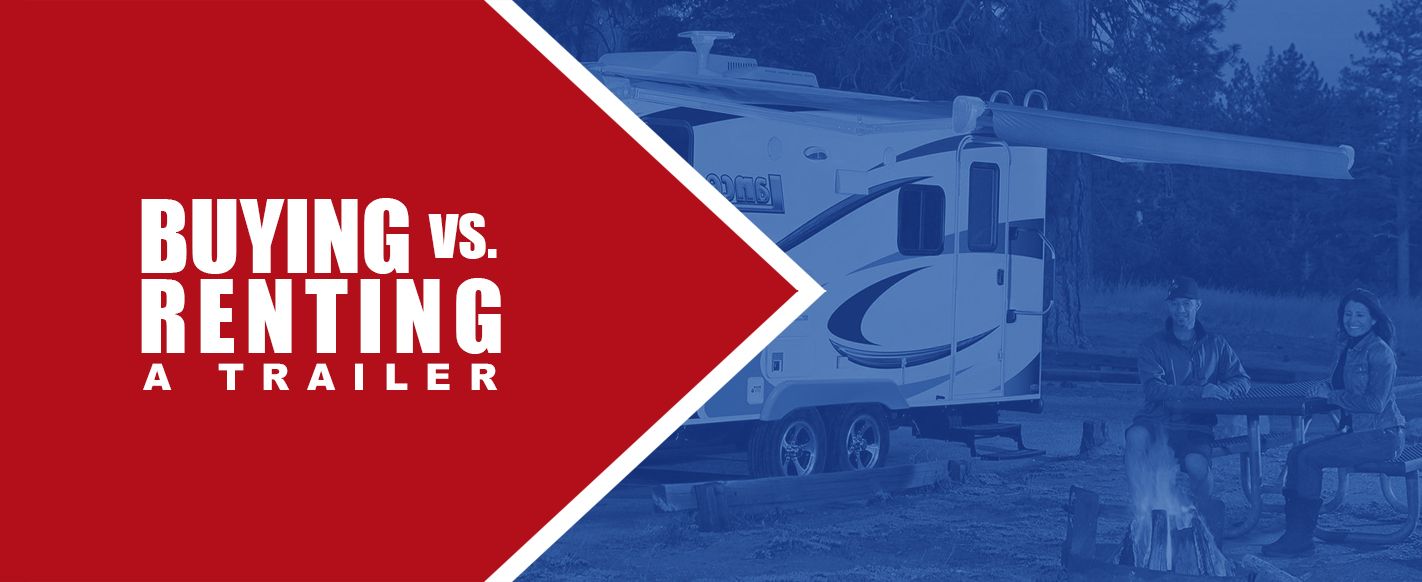 When you're in the trailer market, you're faced with a lot of options. The biggest challenge is getting exactly what you need for precisely what you can afford. The trick is to think long term — consider the entire time you'll be requiring your trailer.
Take a step back and analyze your situation. Is acquiring a trailer something you see as a capital venture and expect a return on investment? Or, are you acquiring a trailer for a short-term purpose and are prepared to look at it as a one-time expense that you're not worried about recovering?
Like most decisions, there are benefits of renting trailers and benefits of buying trailers. It comes down to making an informed and educated decision. The wise choice weighs the overall ownership cost against the rental option and then decides what the best investment is. Let's look at both avenues of renting and purchasing.
Table of Contents
Types of Trailers
Setting aside the rent vs. buy question for the moment, your first consideration will be what type of trailer you need. There are many trailer styles available. Each trailer category has a number of individual options, as well. These are the main trailer styles that you have a choice of buying or renting:
Utility trailers for small jobs like hauling renovation supplies or yard waste.
Car trailers for transporting vehicles like recreational vehicle auxiliaries.
Enclosed trailers for construction tools or show vehicles needing security.
Landscape trailers for heavy-duty hauling including dump capability.
Equipment trailers for pulling skid steers or mini-excavators and accessories.
Dual purpose trailers for hauling ATVs one day and household goods the next.
Custom trailers for any purpose you can think of or dream up.
Deciding the type of trailer you need is your first step. Once you know the trailer style you require, then it's time to pick the exact size. There are many factors you need to weigh before you can move on to the buy vs. rent choice.
As a rule of thumb, it's better to choose a larger trailer than a smaller one. While a larger trailer might cost more to purchase or lease, it'll be far more beneficial than a small trailer that won't fit your equipment. Here are the primary consideration points to take in when sizing both rental and purchased trailers:
Load weight: That includes dry or net trailer weight, which is an empty trailer, and gross weight, which is the trailer's maximum capacity.
Pulling power: This is how large and powerful a vehicle you need to pull the trailer under all conditions.
Hitch compatibility: Different trailers have different hitches, and you need to make sure your vehicle can connect to the trailer.
These are the main decisions to get out of the way before weighing the benefits of buying or leasing a trailer. Depending on your trailer type and size, this can be a big investment. You now need to have a realistic assessment of your budget and see how it applies to ownership benefits, or if you might be better off to rent your trailer short-term.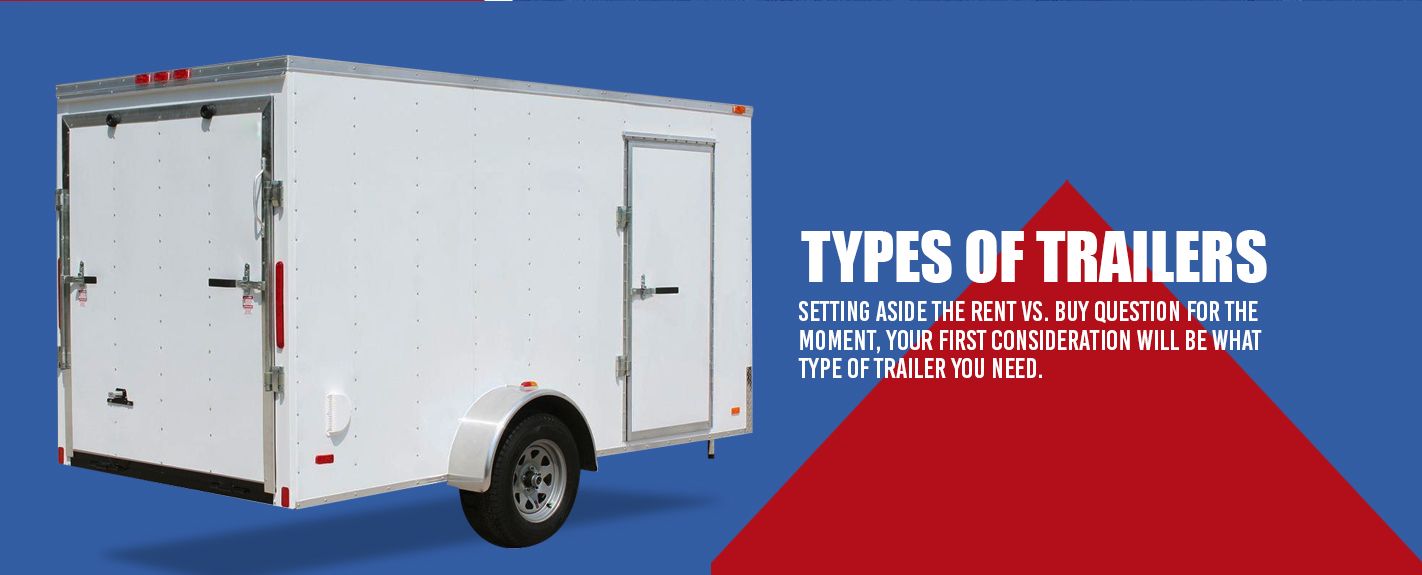 Benefits of Owning Trailers
Why buy a trailer? Trailers are an excellent asset. That's regardless if you're a professional earning your livelihood with a trailer as a business tool. Or, you might be a serious hobbyist who pulls a trailer full of recreational toys. Either way, if you plan to use your trailer often, you'll want to look into the benefits of buying a trailer.
1. Capital Investment
If you purchase a trailer rather than rent one, you have a capital investment to show for it. In other words, your money goes into a hard asset. You've acquired a tangible commodity that's yours, and you have a valuable possession that you call your own. A bought trailer becomes part of your overall portfolio whether you've made it as a business investment or consider it a personal asset.
2. Return on Investment
When you've bought and paid for a trailer, you can expect a return on your investment. Unlike a rental arrangement where your money is gone after using the trailer, purchase agreements allow you to gain a return on your investment. That can be from using your trailer as a business venture or tool where it makes you money. Or, it can be a return in the way of having a valuable commodity to your name that you can use to leverage other options like borrowing collateral.
3. No Hidden Costs
When you buy and own a trailer, you have no hidden costs. With rental trailers, you're subject to the fine print in the terms and conditions of your agreement. Many trailer companies charge by time and distance, which is a fair arrangement. But, you have to watch for hidden costs like drop-off and late fees, additional insurance and deductible charges for wear and tear on the trailer. You don't have these hidden costs when you own your trailer.
4. Availability
An owned trailer is an available trailer. It's there when and where you need it, rather than having to contact a rental company and source a trailer when necessary. Having your trailer always available is a tremendous convenience. You have little or no downtime spent traveling to a rental agency and picking up a trailer. You also have the convenience of leaving your trailer loaded between uses which saves you more time.
5. Flexibility
By buying a trailer and owning it outright, you have the flexibility to use your trailer as you see fit. You're not bound by terms and conditions that a rental company fixes. You can loan or sub-let your trailer to another party, which you can't do with a rental unit. You have the flexibility to convert your trailer into another configuration to serve a purpose you never anticipated. You also have the flexibility with ownership to sell your trailer if the right opportunity arises.
6. Taxability
If you use your purchased trailer for business, you have some attractive tax benefits available. Whereas a rented trailer is considered a one-time business expense, a purchased trailer is a business asset. You're allowed tax deductions for depreciation which offset the initial purchase cost. This adds to your return on investment and makes taxability an attractive benefit rather than something to avoid.
7. Overall Use
How many times you'll use your trailer is a critical factor in tipping the ownership benefit scale. There'll be a point where the number of times you use a trailer will make buying one the only sensible and logical option. That number of overall uses will depend on your specific situation. It also takes in the previous benefits and makes the total ownership package your only viable choice.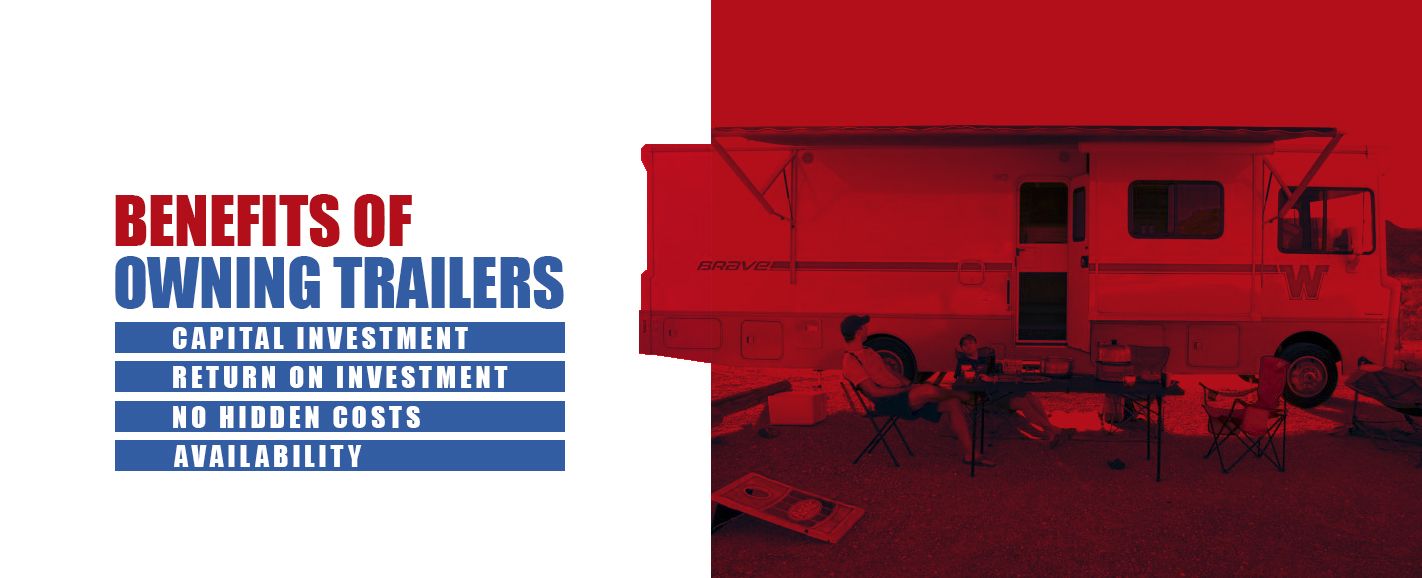 Benefits of Renting Trailers
Owning a trailer is often the best option for people. With all the attractive ownership advantages, you might wonder why people would ever rent a trailer.
There are times when renting a trailer does make sense. You have to take in the pros and cons of buying trailers vs. renting trailers to finally arrive at the right decision. Here are some of the benefits of renting a trailer:
1. Duration of Use
If you only need a trailer for a short duration or a one-time event, then yes, it makes sense to rent it. You have the convenience of getting in and out fast. You don't have the hassle of arranging for financing, and you don't have all the licensing, registration and insurance paperwork to fill out. With short-term renting, you also don't have upkeep responsibilities that you do as an owner.
2. Financial
Renting a trailer is a good idea if you have financing issues. Most financial institutes require a substantial down payment, and that dips into your cash reserves. You might also have a significant existing debt-to-service ratio which makes financing a challenge. You don't have those problems with rental trailers. But, then again, you have no retained capital asset when renting as you do with owning.
3. Storing
Where you store your trailer when not in use might be a challenge if you own it and have the trailer around permanently. Trailers take up parking room. That could be a premium, depending on your location. If you rent a trailer, you can pick it up and drop it off at the rental company rather than trying to store it where you have little or no room. However, by renting, you're sacrificing availability which turns into time spent getting a trailer and sending it back.
4. Maintenance
Rental companies have the responsibility to maintain their inventory. Reputable rental companies keep their fleet well-maintained because it makes good business sense. Regular maintenance costs money, and you can be sure it's built into your rental agreement. There's some peace of mind here. However, you're paying for it with no guarantee that you won't have problems on the road. When you own your trailer, you're in control of maintaining it. Now that can give you real peace of mind.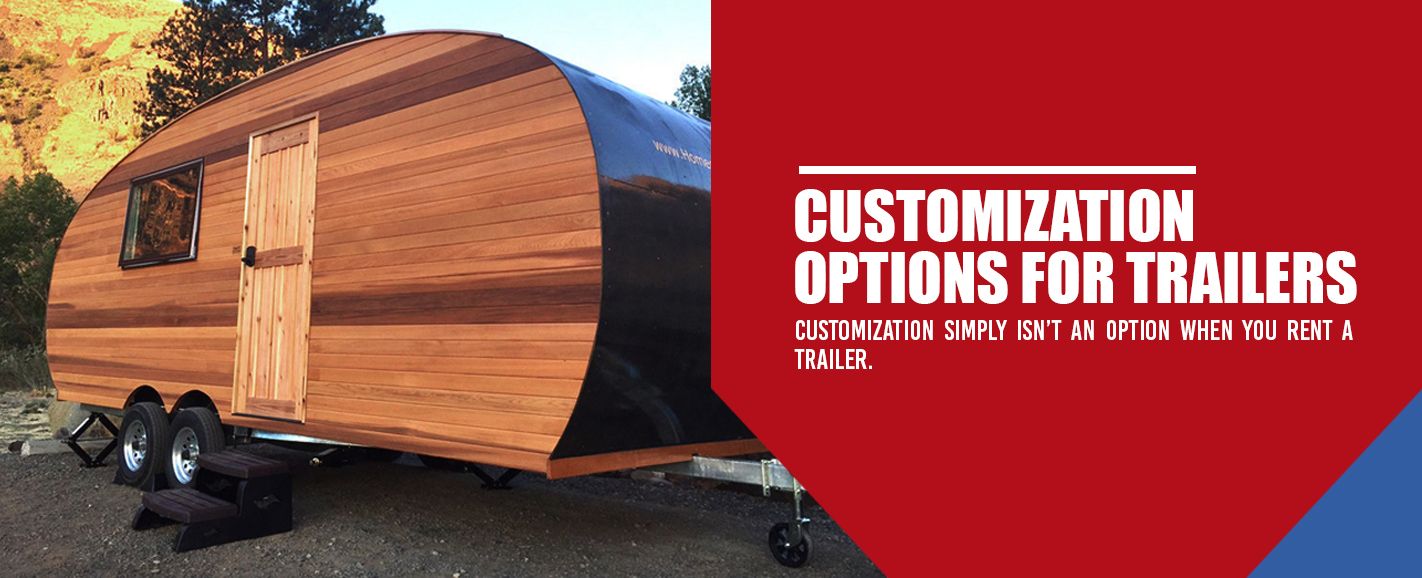 The True Cost of Trailer Ownership
When you weigh the benefits of owning your trailer compared to renting one, you need to look at the big picture. That's what the true cost of ownership is. When you add it all up, you get a real sense of value. That way you're assured you're making the right decision at your time of purchase or rental.
Total ownership costs take in every expense associated with having your own trailer. That includes your cash outlay, financing costs if you have any, licensing and insurance fees as well as your operating costs like maintenance and repairs. These all add up. It amounts to how much you're going to be using your trailer and what depreciation you experience.
Depreciation is the calculated decline or decrease in your trailer's value due to age, wear and tear, market forces and general value calculation. Fortunately for trailer owners, these assets don't depreciate anywhere near what cars, trucks and other motor-powered implements do. There's no "Blue Book" or "Black Book" standard in the trailer business. Each trailer gets assessed on its own perceived value within the marketplace.
If you keep your trailer in top shape by caring for it and maintaining it, you'll experience very little depreciation. That's provided your trailer is a popular model or if you've done some interesting and appealing custom work to it. You certainly won't experience this if you choose the rental road.
Customization Options for Trailers
Customization simply isn't an option when you rent a trailer. With rental trailers, you'll have a limited option of trailer types and sizes. That's all. You're not going to be able to modify or deck-out your trailer the way you'd truly like. You're only going to get that luxury when you buy your trailer from a dealer that specializes in customization.
Reputable trailer dealers like All Pro Trailer Superstore specialize in customizing your trailer. No matter what style or trailer size you choose, All Pro Trailer Superstore works with you to build exactly what you need and what you want. We start with top brands including:
American Hauler
ATC
Big Tex Trailers
Bri-Mar
CAM Superline
Car-Mate
Cargo-Pro
Carry-On
Homesteader
Premier
Sno-Pro
US Cargo
Then we work with you to include customized options such as:
Bike locks and wheel chocks
Cargo management systems
Checkerboard and diamond plate flooring
Custom wheels and tires
LED lighting
Open and enclosed trailer accessories
Tie-downs and mounts
Tongue toolboxes
Trailer cabinets and couches
Trailer jacks, hitches and coupler locks
Trailer shelving and racks
At All Pro Trailer Superstore, you get every customized option we offer as well as accommodation for every custom idea you have. We help you design your trailer from Point A — picking a standard trailer type and size — through to Point B — where you want to go. You're in total control when customizing, so the result reflects who you are and what you've always wanted in your own customized trailer.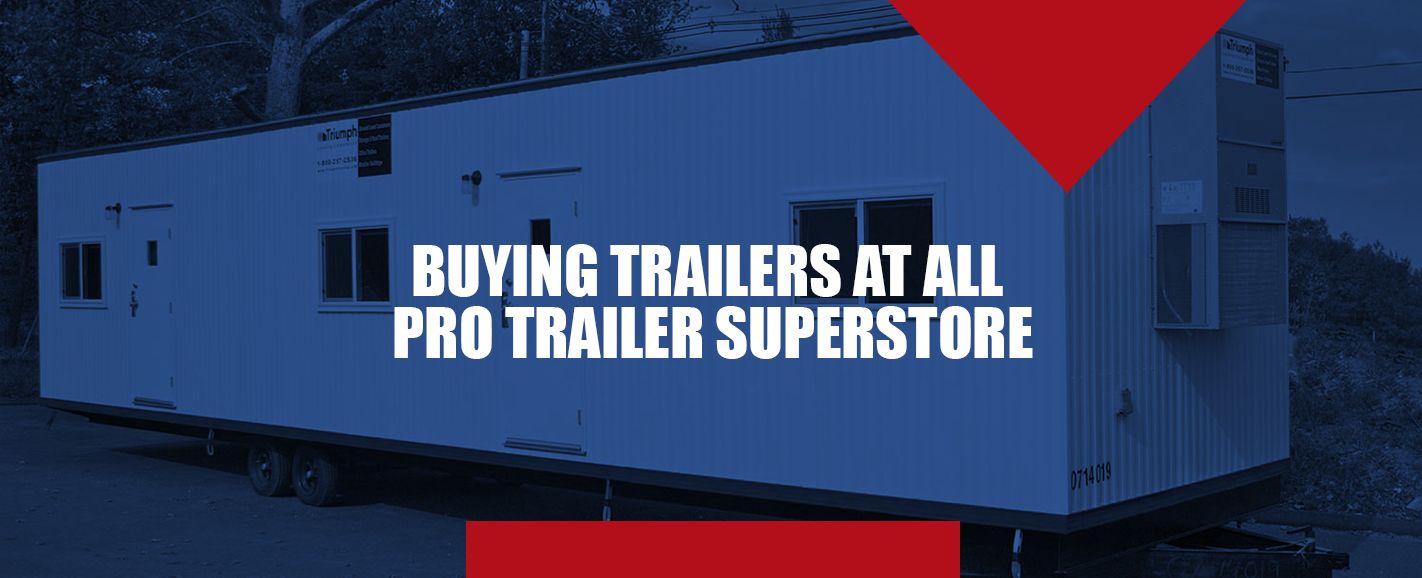 Buying Trailers at All Pro Trailer Superstore
All Pro Trailer Superstore is located in Central Pennsylvania with a 14,000 square foot sales facility situated on over 10 acres. Our massive inventory includes a vast assortment of trailer types in a wide size range. Since 1985, we've supplied new trailers and customized trailers across America. We also have an excellent selection of top-quality used trailers as well as clearance trailers for those looking to buy a trailer without breaking the bank.
Buying trailers and trailer accessories is easy at All Pro Trailer Superstore. We work within your budget to find the perfect fit, no matter what size, style and custom trailer options you want. Call All Pro Trailer Superstore today at 800-622-7003 and discuss your next purchase of a new or used trailer.