The Guide to Choosing a Quality Trailer
May 19, 2015
Last Updated on September 24, 2021 by allprotrailersuperstore
As with any other consumer product, not all trailers are created equal. Unfortunately, this isn't often learned until after the trailer is bought and thousands of dollars are invested. So how do you judge the manufacturing quality of one trailer from another? First and foremost, you might want to look at consumer reviews as well as various publications that feature trailer reviews to learn more about different experiences with a trailer you are looking at.
Check the Trailer Manufacturer
Another thing you might want to look at is whether or not the trailer manufacturer is a National Association of Trailer Manufacturers member (NATM). The NATM has very strict compliance requirement of its members in their manufacturing process and will only certify trailers that meet Federal Motor Vehicle Safety Standards (FMVSS) and industry best practices.
According to the NATM's website, members must participate in the NATM Compliance Verification Program, and NATM Compliance Consultants are required to visit the manufacturing plant every two years to ensure that the manufacturer maintains its compliance requirements. When all else is equal, it might be a good idea to choose a trailer with a NATM compliance decal.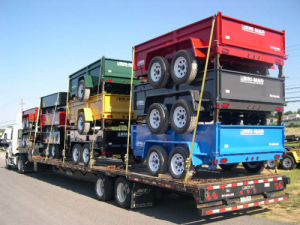 Check Out the Trailer In Person
If you are stuck and have exhausted online resources, the best thing to do is check out trailers in person. The Trailer Superstore has a large showroom with an extensive inventory of new and used cargo trailers, dump trailers for sale, and more. Our team of salesmen can listen to your concerns and requirements to help you find a trailer that matches your needs. Our inventory is constantly being updated, so you're bound to find the perfect trailer for you.
Find the Perfect Trailer at Trailer Superstore
The Trailer Superstore is located in Mechanicsburg, Pennsylvania, and we do offer trailer delivery right to your door in addition to location pick-up. Contact us today at (800) 622-7003 to speak with a Trailer Superstore staff person to learn more.