Custom Built Hunting Trailers
Mar 24, 2022
Last Updated on November 4, 2022 by allprotrailersuperstore

As a hunter, having the right equipment is one of your top priorities. With the proper equipment and supplies, you can focus on the actual hunt and put all of your energy into the main task at hand.
One way to ensure you have everything you need is to invest in a trailer. However, standard trailers often don't have all of the unique aspects a hunter needs to make their hunting experience better. As a result, many hunters are finding ways to customize their cargo trailers for hunting to offer shelter, storage and more during hunts.
With our guide, you can transform your trailer into an essential tool that you can utilize while hunting.
Table of Contents
5 Steps to Convert Your Cargo Trailer into a Hunting Trailer
Putting effort into a DIY hunter camper can be a very rewarding experience — you get to make your work easier so you can truly enjoy the hunt. The most challenging part will be knowing how to customize and transform your cargo trailer. Though you probably already have some ideas in mind that could help you improve your hunting experience, you may be missing a few key strategies that can take your trailer to the next level.
Here are five hunting camper ideas to convert your cargo trailer into a hunting trailer:
1. Choose the Right Trailer
One of the most important decisions you'll make regarding trailer customization is the base trailer. Some trailers just won't work for hunting customizations — they might be too small or don't have the right aspects related to hunting equipment. It's essential to find a trailer suited for hunting in the first place.
There are a few characteristics to keep in mind while you shop for a new trailer:
Size: Size is a crucial aspect to consider when choosing your trailer. Ensure you have enough space for things like freezers, sleeping areas, cabinets and anything else you're looking to add or customize.
Price: Be sure to think of a budget. Having a firm price range will put some frames around your process so you know exactly what you can afford — don't forget to consider customization costs.
Function: Whether you're bringing an ATV or just looking for easy access while loading equipment, it could be beneficial to look for a trailer with a ramp. A ramp will make loading up your trailer a much easier process.
Dealer: Finding the right dealer will help you get a quality trailer in your price range. With the right dealer, you'll know exactly what you're getting and have confidence knowing you can rely on the products you're going to buy. All Pro Trailer Superstore is a trusted and reliable dealer with a great selection of cargo trailers and customizable trailers.
2. Install a Freezer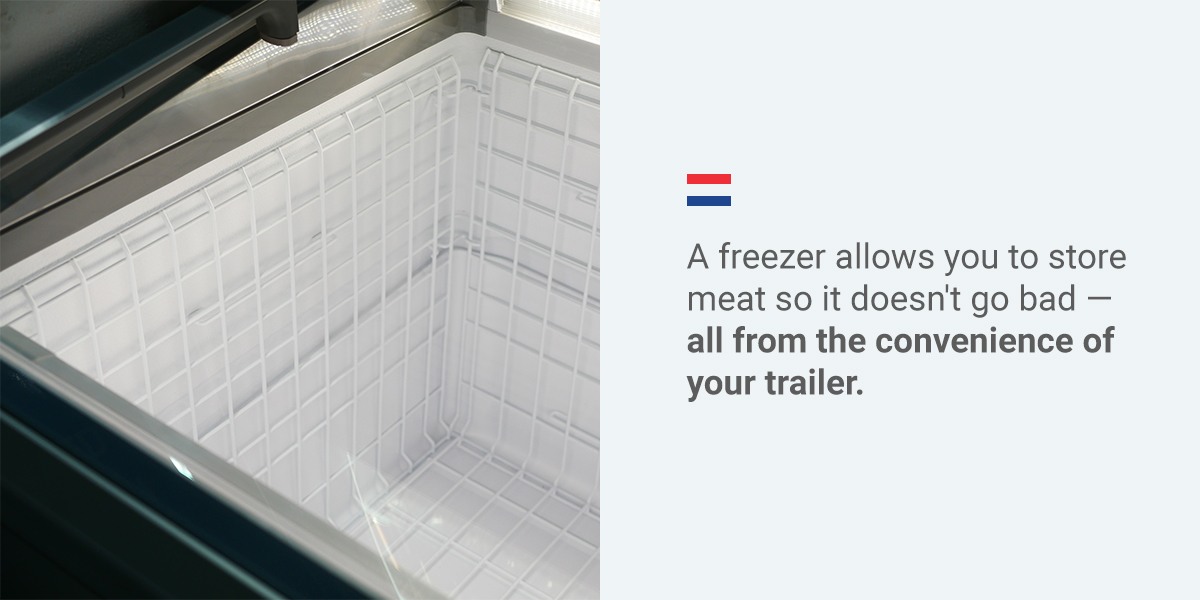 Once you find your trailer, it's time to start thinking about ways to customize it for your hunting needs. One of the most important additions hunters usually want is a freezer. A freezer allows you to store meat so it doesn't go bad — all from the convenience of your trailer. This is especially helpful when you have a successful hunt early in the trip and still have a couple of days left before heading back.
Just make sure you strap down the freezer to ensure it's stable. Some hunters even bring along a small folding table to set up for butchering the meat. Feel free to further customize your freezer as you wish so it suits your specific hunting routine.
3. Make a Sleeping Area
Aside from where to store meat, another central aspect to consider as a hunter is where to sleep. When night comes, you could be faced with either driving back to where you're staying or braving it out in the elements. A custom enclosed hunting trailer offers the perfect balance of convenience and safety.
To make a sleeping area, you'll have to focus on your hunting camper interior. Here are a few options to consider to make your trailer a little cozier:
Throw down a rug: A simple way to add some comfort to a trailer is to throw down a rug. Add a sleeping bag and you'll have a comfortable place to sleep for the night.
Add a cot: You'll likely also have some room to put a cot. These can easily fold up, so you can always clear some room to set this up when you need to sleep. Investing in an inflatable pad will make it even comfier.
Use heaters: When you're hunting, it's typical for the weather to be cold — especially at night. Adding a heater to your trailer will give you the warmth to get comfortable and get some valuable sleep for the next day. If you're using a portable heater, always make sure that you're using it properly to avoid any hazards.
4. Get Cabinets
Mounting a few cabinets in your custom hunting trailer is the perfect way to give you some essential storage space. You'll be able to keep tools, a GPS and more stowed away, so you won't have to worry about valuable items getting lost while you drive. Cabinets will give you a significant amount of storage space, and they're fairly easy to install, as well. You can also install hooks to hang portable shelves or extra clothing for hunts.
When it comes to hunting camper trailers, creating space for tools and equipment is vastly important, and installing cabinets offers an ideal solution.
5. Use Lights and Latches
Smaller items might seem tedious, but they're just as important as the big items. Installing some overhead LED lights, for example, will be very helpful when you're butchering meat. You can also install lights on the back of your trailer for some better vision while you're backing up or loading up at night.
You should also make sure your cabinets have latches — while hunting, you'll likely be crossing some bumpy terrain, and it's easy for cabinets to swing open. Adding some latches will ensure your tools and belongings stay safe.
Shop Cargo Trailers From All Pro Trailer Superstore Today
A cargo trailer converted into a hunting trailer is extremely beneficial and rewarding. As a hunter, you'll immediately start to see the benefits of this customization on your next hunting trip. While the conversion process itself can be challenging, you can make it easier by choosing the right cargo trailer.
All Pro Trailer Superstore is a trusted dealer that offers quality cargo trailers at great prices. Find the cargo trailer that suits you and even customize your own on our website. Shop our cargo trailers  & UCPs and customize yours today!