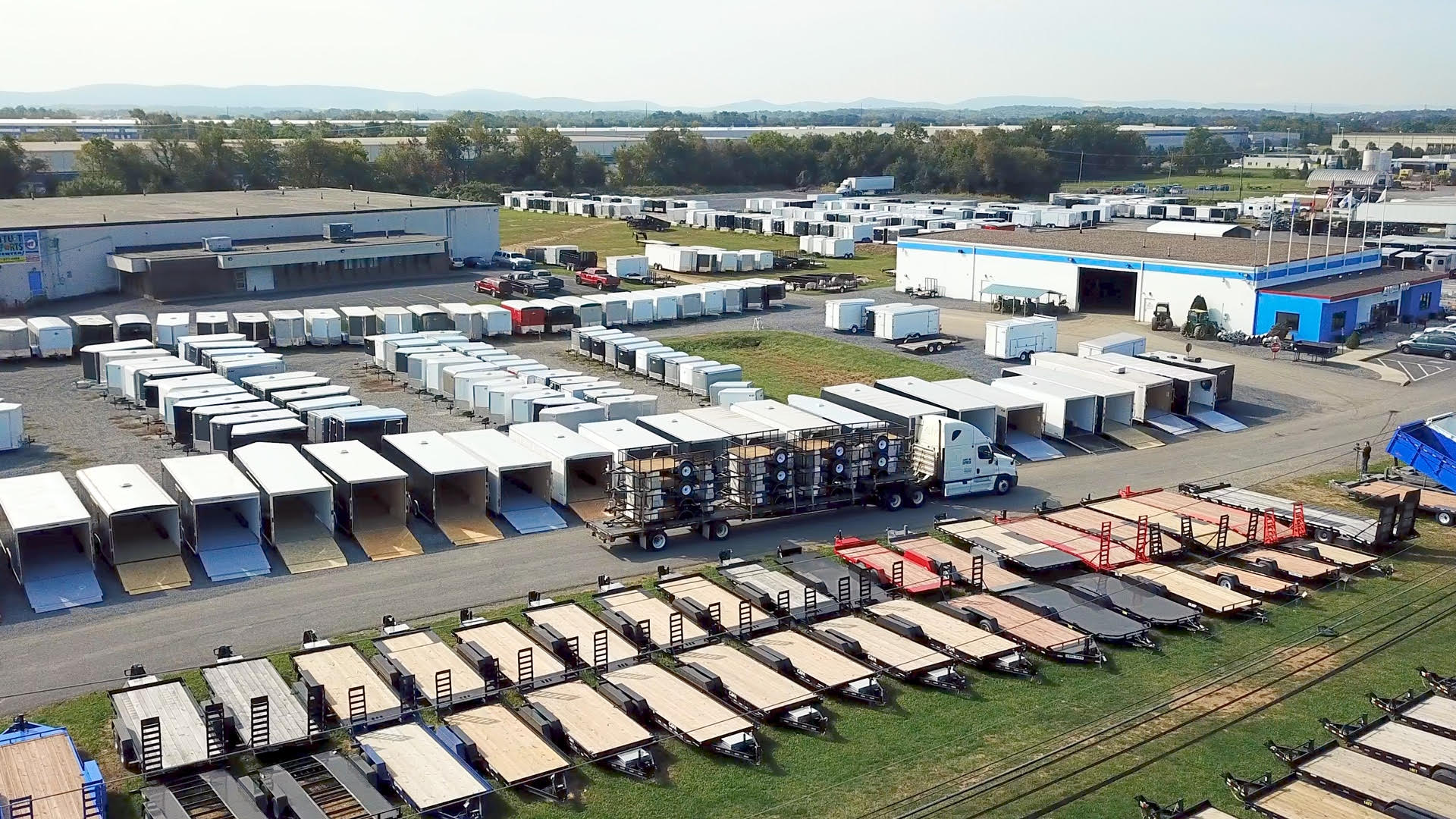 Wes Gutshall

Hello, just wanted to thank you for the excellent service we received with the purchase of our 6x10 CW trailer. Your staff was very knowledgeable and helpful with any questions even on a busy Saturday morning, I was greeted and acknowledged by any member of your team whether it was parts personnel, shop, or sales associates all were welcoming. My direct workings were with John Meyers and Eric Miller. I definitely want to mention how convenient it is that you provide the registration services and take care of the transaction A to Z! As for our trailer, it's perfect for our needs. It's just the right size to be towed behind our Saturn Vue or our pickup. For about 200 bucks, I installed E-track along the base board for low anchoring and along the mid strip for center anchoring. Also we are very happy with the ramp door for loading the 4 wheeler or the mower. Perfect combination. Thanks again!



Mark and Lee Cotugno

Our experience purchasing our 24' Aluminum ATC Quest 305 was outstanding. Eric Miller and the support team could not have been more helpful and accommodating and we also got a great value. I had been sourcing this kind of trailer across the country and All Pro Trailer Superstore provided the lowest cost and value, in ideas, solutions and delivery. This would have to be the best buying experience I have ever had. A special thanks to Eric and his whole team.



Keith Lichtenwalner
Miccah Roper
Thomas Silva

Thanks Matt McCurdy, Matt Sholly, Austin Hourh and Alex the salesman for his honesty in regards to calling me after I left and return my AMEX card. I drove over 3 1/2 hours from Westchester New York do to their online website that was extremely knowledgeable, detailed and there prices beat the competition by over a 200 mile radius. The entire staff and technicians were very helpful and shared their Tricks of the trade regarding maintaining a safe and long lasting enclosed trailer. Anyone regarding buying a trailer this is the place I would definitely refer my friends and family guys I'll see you soon regarding my next purchase have a great day thanks, Tommy

Hot water power pressure business



Ryan

I searched all over for a reasonably priced new 7x14 tandem axle enclosed trailer. David at Trailer Superstore absolutely came through. Not only did he give me a great price but he took extra time to show me several options meeting my needs, explaining the differences while applying no pressure to buy unless I was absolutely satisfied. After communicating with David via chat and email, I made my purchase and it was set up the way I wanted and delivered on time in two days. Stop wasting your time with other dealers, contact the Trailer Superstore in Mechanicsburg, PA. You'll be 100% satisfied!



Alvin Hiester

March 13th! Weather is calling for big Storm Stella to blow in with 18+ inches of snow before the end of March 14th! The morning of the 13th I go in my All Pro Trailer store and ask for a plow! Alex Bobb and his team were able to get me financed, no money down, all the hardware installed on my truck...with a new snow plow before the end of that day! THATS SERVICE!!!! Thanks again guys!!!

Als Tender Lawn Care



Robert George

I purchased a 6x12 Premier dump trailer from out of state. I had a A+ experience from the salesman and the driver delivering the trailer. The trailer itself also exceeded my expectations. I would definitely recommend buying any trailer from here.

Ackerman's Retirement Park, Inc.



Dimitriy

Best service!!!!! Ease to deal with these guys!!!!!!!!!!!!! would recommend to anyone !!!!!!!!!!!!! If you wanna buy a trailer - this is your place. ASK FOR Eric Miller !!!!!!!!!!!!!!!! HE WILL HELP YOU WITH ANY QUESTIONS. Thank you Eric!!!!!!!!!!!!!!!!!!!!



Frank Babcock

I bought a new Car Mate trailer for hauling my motorcycle in. Had checked several dealers, prices, quality. Finally made the trip to Trailer Superstore and was not disappointed. The salesman Eric was very professional and the staff in the shop excellent also. Everything was ready on quick notice and couldn't have been happier. I would defiantly take the time to give them a chance. The trip is well worth the time. Thank you