What Are Some Different Uses for Trailers?
Aug 24, 2022
Last Updated on December 13, 2022 by allprotrailersuperstore
What Are Some Different Uses for Trailers?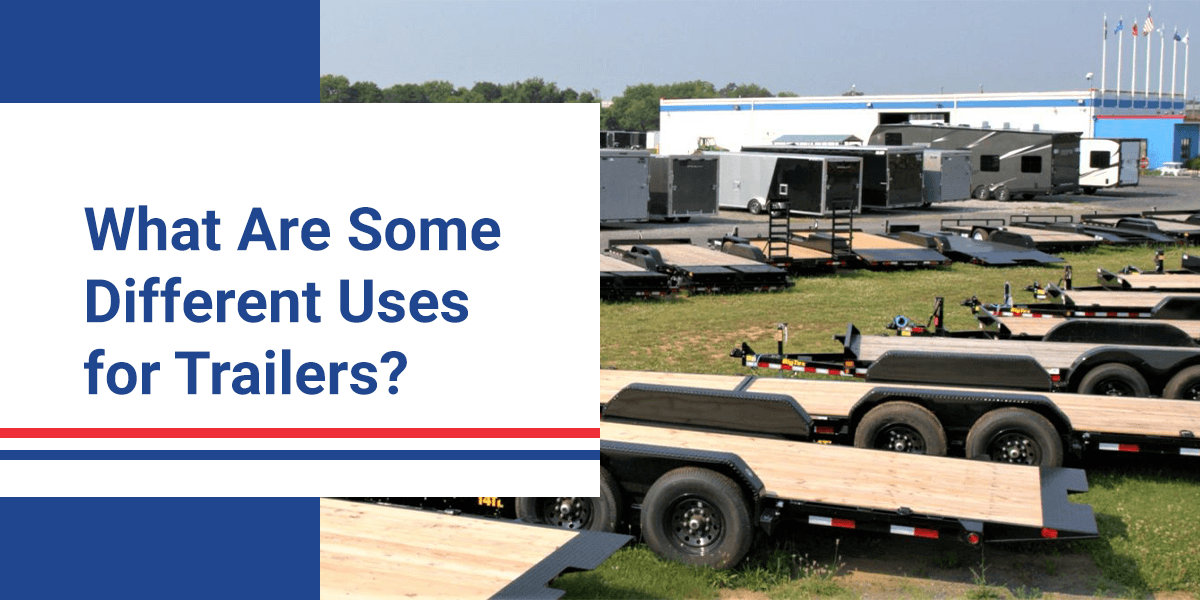 A trailer is good for hauling your supplies, commercial equipment and spare vehicles, but what else can you use one for? Keep reading to learn about the most common trailer uses.
Table of Contents
Top Uses for Trailers
Trailers are among the most practical, affordable tools for transporting, hauling and moving many things, including:
1. Lawn Care Equipment
Many people buy a trailer to haul equipment too big to fit in the back of a pickup truck. Needing to transport a lawn mower for contract work or private use is one of the most common reasons you could have for getting a trailer. Other uses of trailers in agriculture include hauling landscaping and gardening products that take up a lot of space, like string trimmers, power tools, live plants, mulch and topsoil. With a landscaping trailer and the right customizations, you can easily transport and store these items and more.
You can even organize your tools on the trailer so you can quickly retrieve them for a job. A utility trailer is less expensive than getting a work van large enough to fit a lawn mower. They are popular with landscapers who have to travel between job sites and need a convenient method for equipment storage.
If you get a trailer for lawn care purposes, it's important to consider how durable the side walls are. You want to be able to transport soils and other messy products securely to job sites. Invest in a quality trailer you can use for long-term lawn care.
2. Construction Materials
Construction supplies and tools are large and heavy — you will have a much easier time using a trailer to haul materials to your project site than you would with a pickup truck. If you work as an independent contractor, having a trailer is a necessity. Using a trailer to haul your saws and other cutting tools is efficient, fast and safe.
Construction involves working with all kinds of large products that a simple utility trailer can transport without issue. You can also save money on shipping costs if you transport your own supplies to job sites. Use your trailer to transport scrap materials away from the job site as you complete your work. A trailer that can pull double duty is preferable for this type of labor.
If you work in construction, you might use a trailer to haul:
A prefabricated building or structure
Piping
Steel beams or frames
Lumber
Plywood sheets
Drywall
Scaffolding
Rebar
Concrete
Fence posts
3. Furniture
A trailer is a good piece of equipment for moving furniture. Most furniture is large and heavy, so loading pieces onto a trailer with the help of a ramp is easier than trying to cram them into your personal vehicle. If you ever need to haul furniture and appliances, a trailer can help you save money on a move by providing enough space to transport items yourself.
You might also want to use your trailer for professional purposes. A trailer can help you stage your completed house project yourself, transport appliances to a job site or provide a moving service for customers.
4. Debris and Trash
You can use your trailer to load scrap materials, waste, debris and transportation to a landfill or recycling plant. If you need to get rid of a high quantity of trash on a regular basis, your trailer will come in handy. You might accumulate waste or debris from your job activities or from doing yard work.
A trailer can help when you're cleaning up bags of fallen leaves, weeds, compost and other organic waste. If you need to move trash or leftover scrap materials for your business, a trailer is a fast way to remove a large quantity.
5. Recreational Vehicles
Your trailer is the perfect tool for transporting a recreational vehicle, whether you have an ATV, golf cart or dirt bike. You can easily load your vehicle onto the trailer using a ramp and haul it to your destination. Going on day trips with your off-road vehicle is much easier when you have a convenient method of transportation to the trails.
6. Livestock
You can set up a stock trailer to transport live animals, feed and water containers. You can use a bumper pull or gooseneck trailer for this purpose. The bumper pull trailer attaches to a hitch on the back of your vehicle, and the gooseneck attaches to the inside of the trunk's bed. If you are hauling a high capacity, the gooseneck trailer is probably the best option.
Gooseneck trailers for livestock are larger and carry a higher weight capacity. The pumper pull trailer is generally a more affordable option, but it varies. Many trailers designed for livestock have additional compartments for storage. For example, a trailer built for horses might have a tack room or a storage compartment for the saddles.
7. Scrap Metal and Recycling Materials
Flatbed trailers are a popular choice for hauling scrap metal because they can transport unwieldy materials that fit poorly in a confined space. A heavy-duty trailer can transport old tires and other heavy recycling materials. Trailers with large beds can transport more materials, which is preferable if you need the trailer for your business.
Scrap metal can be difficult to transport because of sharp edges that make it a hazard. They are typically irregular in shape and tend to stack poorly. Some examples are cut piping, scrap from construction projects and old appliances. A trailer also lets you transport these materials with full protection from sunlight and moist air.
8. Fuel
A flatbed trailer is useful for transporting containers of fuel such as oil and gas. You can strap the fuel and other important equipment onto the trailer to keep it from tipping. You will have plenty of room on a flatbed, even if you have to work with a team to transport the fuel to job sites.
9. Oversize Loads
A trailer is good for transporting oversize loads that would fit poorly in a vehicle. An oversize load might involve a prefabricated home, machine parts or something less typical. With an oversize load, the object you are transporting hangs over the sides of the trailer. You might be required to travel with pilot cars and mark the trailer, warning other drivers that the load is oversized.
If you have to transport oversize loads, using a large flatbed trailer is the safest way to do it. These loads are too wide to legally haul another way. Consult your state's specific requirements for oversize loads before loading and transporting the product.
All Pro Trailer Superstore Is Here to Fit All Your Trailer Needs
At All Pro Trailer Superstore in Mechanicsburg, Pennsylvania, we have a range of trailer services and shopping. Contact us to ask about our products.