What Is a Gooseneck Trailer and Should I Buy One?
Apr 24, 2017
Last Updated on October 3, 2023 by allprotrailersuperstore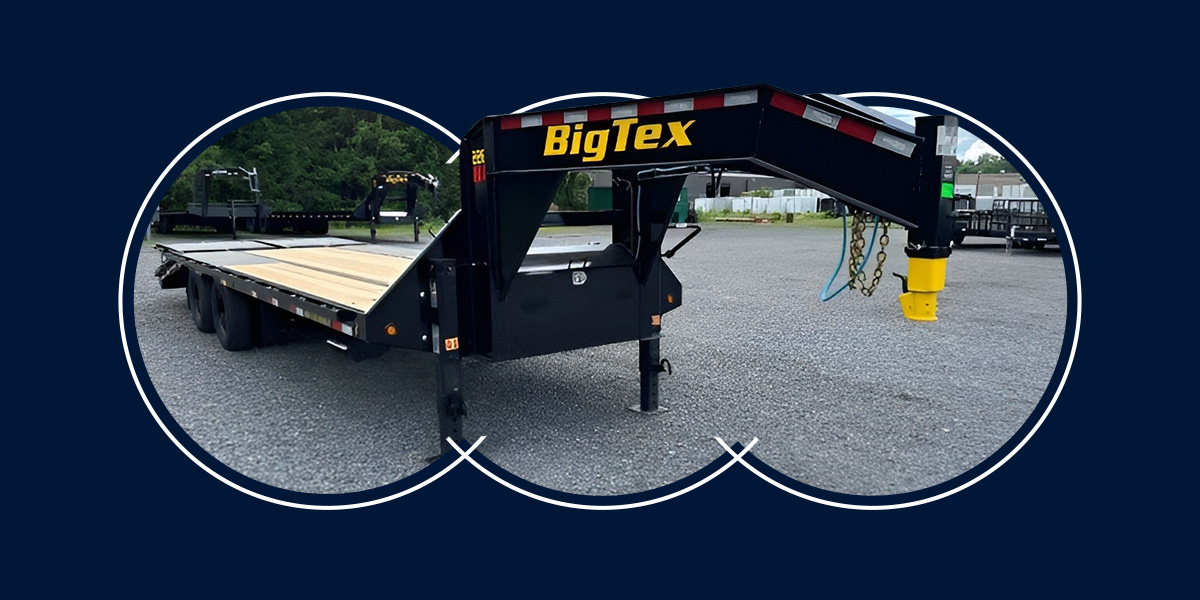 What Is a Gooseneck Trailer and Should I Buy One?
When it comes to transporting large loads across vast distances, experienced towers will know that there's really no question when it comes to choosing between traditional bumper pull and gooseneck trailers.
What Is a Gooseneck Trailer and How Does It Work?
A gooseneck trailer is a heavy-duty trailer that's built to simplify workloads, whether you want to move to a new place or pull massive hauls across the country. It's designed to handle loads up to 30,000 lbs. and is very maneuverable in comparison to other heavy load trailers like a fifth wheel trailer.
Gooseneck trailers feature a long, curved neck that connects to a pickup truck through a ball hitch on the bed of the truck. This is also different from a fifth wheel trailer because fifth wheel trailers use a hinged plate hitch. Since most pickup trucks don't have a ball hitch preinstalled on their beds, you may need to have a mechanic install this feature for you.
Benefits of Gooseneck Trailers
For most workloads, pulling a gooseneck trailer can streamline your day-to-day tasks. This trailer allows you to increase your load capacity, lowering the number of trips you take. While saving money on fuel, fewer trips also produce less wear and tear on your vehicle to lower your maintenance costs over time. Here are some top advantages of choosing this trailer for your operations.
1. Increased Stability
Gooseneck trailers are used for heavy-duty hauls – we're talking about several horses or large pieces of machinery. Some people even camp out on their gooseneck trailer. Because of this, they are large, so you will need to figure out where you're going to store your gooseneck trailer beforehand. You may also need to obtain a special license if it exceeds 10,000 lbs. However, gooseneck trailers are much more stable than other heavy-duty trailers, so you should keep this in mind as well.
The plug-and-play ease that comes with standard pull trailers, which latch on to the ball hitch on the back of a vehicle, also has some inherit limitations: namely stability and size. Drivers who can expect to move construction vehicles, livestock or multiple motorcycles, for example, should consider browsing gooseneck trailers for sale.
2. Better Weight Distribution
Designed to slide over the hitch of a vehicle, the weight of the load and the connection of the trailer itself are carried evenly over the rear axle of the vehicle.  This also means special add-ons will need to be installed on your vehicle to connect the gooseneck trailer. Contrast this to the ball hitch connection, where the trailer is lighter and more prone to movement during towing.
The weight of a gooseneck trailer typically exceeds 4,000 pounds — on the very low end — and corresponds with the fact that your loads are likely to top that figure. You'd be sorely mistaken if you expect to transport the same type of goods in a ball hitch trailer as you would in a gooseneck — there's no way an excavator is getting into the former and the latter would be underutilized if used to tow one horse or a single ATV.
3. Enhanced Maneuverability
Goosenecks are both more stable as well as maneuverable than bumper pull trailers and can often cut corners as well as the vehicle itself. Maneuver more easily in tight spaces, whether you're parking your trailer at home or taking it on a job site, thanks to its tight turn radius.
4. Greater Value
All told, we're not here to disparage ball trailers because they certainly have their perks and help drivers get accustomed to the behavior and techniques of towing around extra weight behind their vehicles. It's just that the uses of the two can't be confused and those looking to save money by purchasing a smaller trailer will be sorely mistaken in the long run.
Choosing a Gooseneck Trailer
There are many types of gooseneck trailers on the market, and choosing a design that serves your intended purposes is important. Here's an overview of some options you can select:
Flatbed gooseneck trailer: A flatbed gooseneck trailer is great for hauling large, bulky items. The models come with single or dual-wheel styles and the designs are built with a durable neck, mainframe, uprights and channel cross members.
Car hauler gooseneck trailer: Car hauler gooseneck trailers transport multiple vehicles. A design can come with a conventional frame, a channel frame or a fabricated frame model.
Landscape gooseneck trailer: A landscape gooseneck trailer is ideal for professionals who use their trailers daily. The models may feature a lockable workstation, iron top rails and uprights to carry materials or equipment and heavy-duty plater fenders.
Equipment gooseneck trailer: The equipment gooseneck trailers are designed to handle ultra heavy loads. A standard feature includes durable plate fenders, swing up loading ramps, a dovetail, stake pockets with a standard rubrail and pressure-treated flooring.
Detachable gooseneck trailer: A detachable gooseneck trailer is a type of double drop lowboy trailer designed to haul all types of heavy equipment. The models are safe and easy to use with load capabilities based on tandem or tri-axle configurations.
Next Steps With All Pro Trailer Superstore
If you'd like to find a gooseneck trailer, visit All Pro Trailer Superstore in Mechanicsburg, PA. We carry a diverse selection of gooseneck trailers from leading names in the industry, including Big Tex and Car Mate. We offer various ways to get exactly what you need with customization options.
Want to learn more? We encourage you to visit our site and see what's available. Here, you can reserve the trailer and color you want. A word to the wise: there is a high turnover rate on gooseneck trailers, so reserving one is the best way to ensure you get the one you want when you want it. We offer financing options on all gooseneck trailers, and we accept trade-ins as well.
If you have decided that you need a gooseneck trailer for your business or hobby, All Pro Trailer Superstore has the right trailer for you. We hope to see you soon.
To request more information, contact our team today!