How Can You Afford a New Trailer
Jun 27, 2019
Last Updated on December 15, 2022 by allprotrailersuperstore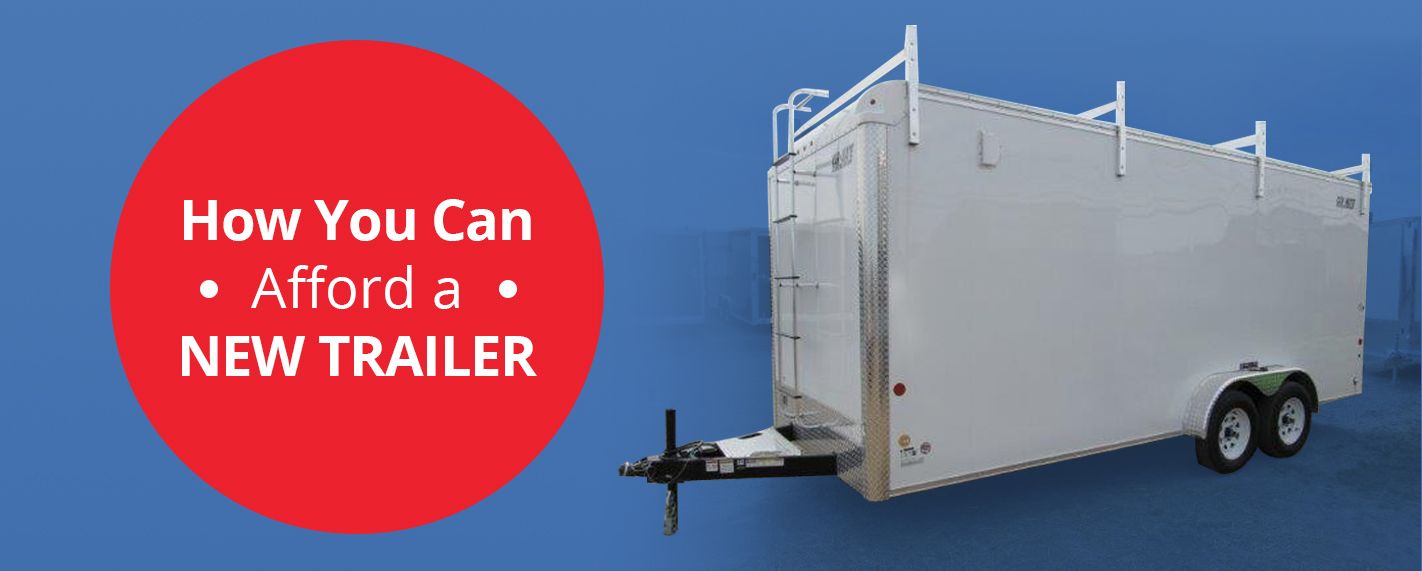 Adding a trailer to your fleet or using it for personal projects can help you transport anything from cars, sports vehicles, heavy equipment and animals to dirt, rubble and sand. If you need a new trailer, it's important to consider every aspect of the buying process. Start by determining your business demands and choosing the precise features you need, then narrow down your options to find a trailer that suits your specific job requirements.
While some people opt to pay upfront for a new trailer, All Pro Trailer Superstore partners with Sheffield Financial to support your purchase with individual and joint loans. Sheffield Financial works with you one-on-one to understand what rates will work within a determined time span. You can even expect a great return on investment and long-term benefits when buying a new trailer.
Table of Contents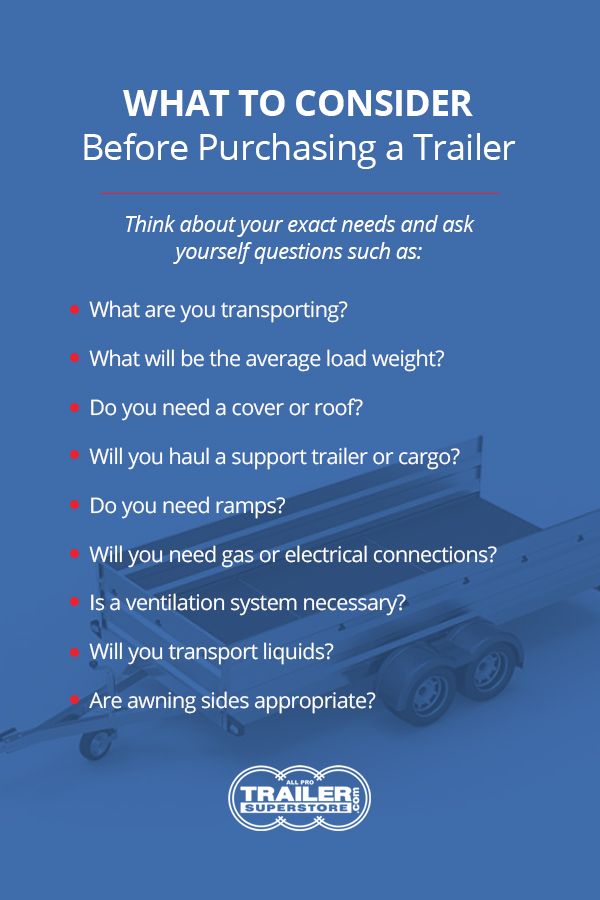 What to Consider Before Purchasing a Trailer
Because buying a new trailer is a hefty investment, it takes time and consideration to make the best acquisition. Think about your exact needs and ask yourself questions such as:
What are you transporting?
What will be the average load weight?
Do you need a cover or roof?
Will you haul a support trailer or cargo?
Do you need ramps?
Will you need gas or electrical connections?
Is a ventilation system necessary?
Will you transport liquids?
Are awning sides appropriate?
Affordable new trailers have unique features whether you're hauling a car, landscaping equipment or raw materials. It's a good starting point to ask yourself questions that can help you know the attributes you want. The best thing is to recognize the purpose of the trailer. Different types of trailers include:
Enclosed
Flatbed
Gooseneck
Landscaping
Motorcycle
Open
Stackers
Utility
Another consideration is to determine how much weight you will tow on average. To help inhibit unnecessary damage to your trailer, choose a solution that provides a payload capacity more than the weight you'll be working with to prevent overstraining. An overload can cause the trailer frame to crack as well as its axles. It's equally important to know if your towing vehicle can withstand the weight of a trailer and its cargo. You don't want to risk straining the truck engine or burning out the transmission.

Now, let's examine how you'll be attaching the trailer to your vehicle. It's not recommended to tow using a simple bumper hitch, but rather a steel frame tow package instead. Different ball and hitches can carry loads up to a certain weight. Hitch weight classes include:
Class I: 2,000 pounds
Class II: 3,500 pounds
Class III: 5,000 pounds
Class IV: 10,000 pounds
If you are transporting anything above 10,000 pounds, you will require a gooseneck hitch and a fifth wheel to carry up to 25,000 pounds. Gooseneck hitches attach to a ball and coupler in the bed of your truck to deliver better stability, while a fifth wheel connects through the hinged plate attached to the bed of a truck.
Even considering the braking power of your vehicle is a critical element in the buying process. Your truck's ability to stop while hauling a massive load is vital for safe moving. It will take longer for the entire rig to come to a complete stop, and the shifting of weight that pushes forward on the truck makes stopping more challenging compared to driving a car. Add in the scenario of transporting liquids, and braking power becomes even more critical to stopping safely.
Many trailers have an electronic braking system. When you apply pressure to the vehicle brakes, the braking system in the trailer engages as well to lighten the strain on your truck.
Further physical characteristics of a new trailer to take into account are the frame, tongue length and weight. The frame is where the trailer gets its strength. Three types are channel iron, box tubing and angle iron. When it comes to the length and weight of the tongue, both features affect maneuverability as well as the amount of strain put on a towing vehicle.
Each state also has particular towing trailer regulations. For example, if you're towing a trailer in Pennsylvania, the total length of the truck plus trailer cannot exceed 65 feet, with the trailer length no more than 53 feet. Make sure your purchase complies to your state's rules and regulations.
Regular maintenance or upkeep is the last and one of the most crucial considerations to make before purchasing a trailer. Your new equipment will have dozens of moving parts, so conducting maintenance will ensure your trailer is working safely and accurately. Always check the tires to make sure they can withstand the road — inflate, replace and rotate as needed. Confirm that the taillights function as well because faulty taillights can put you and others at risk on the road.
So, why buy a new trailer? Advantages of owning new include:
Unbeatable usefulness
High ROI when you're looking to sell years later
Freedom to choose what you want
Select features and options that meet your requirements
Find a solution that fits your unique needs and projects
After analyzing the various aspects that go into purchasing a new trailer, you can move forward in determining whether a financial plan is best for your business.
Financing a New Trailer With All Pro Trailer Superstore
If you're looking to finance a new trailer, All Pro Trailer Superstore can help you avoid the sizeable one-time payment that could put a dent in your business, especially if you're starting up. Or, if you're investing in a trailer for personal projects, we can work with you to set up a fixed monthly payment.
Securing a trailer loan is a similar concept of student loans or car financing. The professionals at Sheffield Financial will discuss various options that can work for you over a particular period. Your financial history plays a huge role in the process and will dictate how the financing plays out. It will also affect your interest rate.
One of the most significant benefits of the financing program through Sheffield Financial is that you gain full use of the trailer while paying us each month until it's paid off. Sheffield Financial offers loans on purchases over $1,500 and provide support for both new and used equipment.
New trailer financing with All Pro Trailer Superstore and our partner Sheffield Financial provides you on-the-spot funding and instant approval in 10 minutes or less. You have several options to get the process started — you can fill out a financing application, give us a call, contact us online or visit our store in Mechanicsburg, Pa. Our financing partner gives you more flexibility with a large-scale investment.
Our financing partner offer plans that encompass our entire line of trailers from enclosed, dump and cargo to equipment, landscape utility and many others. They can even help you finance custom trailers.
Benefits of financing a trailer include:
Sheffield Financial delivers the best-qualified rates and terms
You can purchase and use the equipment ASAP
The program reduces the immediate burden of a high upfront cost
It helps you balance your budget without putting yourself or operations into a hole
Sheffield Financial can assist your business in working with favorable margins
Put your trailer to good use to increase uptime of your company
Our reliable service helps you feel secure
Our team offers some of the most comprehensive financing rates on the market through our partner, and we work with Sheffield Financial to deliver convenience and flexibility. Sheffield Financial has multiple plans for you to choose from that vary in amount and length. You can elect to pay us back in one year or five. You can also adjust your payments if your situation changes.
Complete the loan application on-the-spot or in-person, via a phone call or through our online applications. You can even choose between individual or joint loans, where joint terms offer more equality between associates. We work with you to find a loan that fits within your budget and expectations.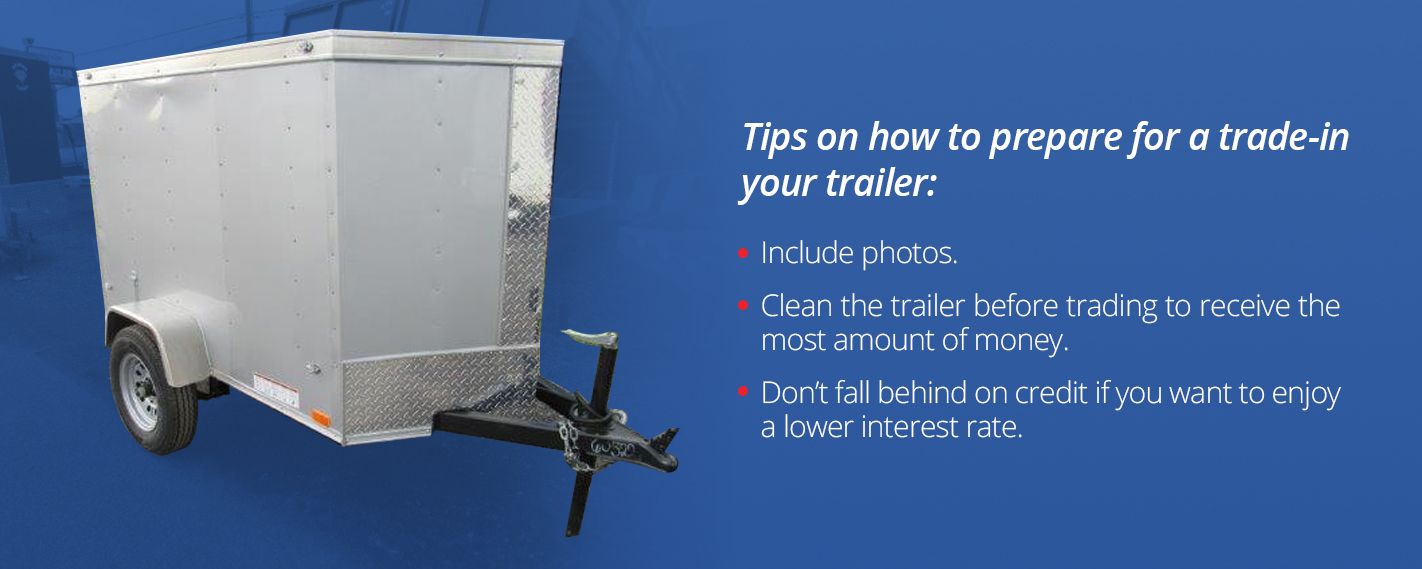 How You Can Trade-In Your Trailer
If you already have a trailer, you may be eligible to trade it in for a new version with All Pro Trailer Superstore. You can fill out a trailer trade-in form online or get a quote when you visit our store in Mechanicsburg to speak with a representative for more details.
Here are a few tips on how to prepare for a trade-in:
Include photos
Clean the trailer before trading to receive the most amount of money
Don't fall behind on credit if you want to enjoy a lower interest rate
We offer fair market value on pre-owned units and keep our inventory updated with modern trailers. We place units on clearance every week to make room for new stock. You can elect to trade-in your equipment or give it to us to sell on consignment for a fee. All Pro Trailer Superstore's trade-in program is ideal if you want to replace an old trailer or if you want to upgrade to a different version with more features.
Because trailer reliability and performance continues to improve, it's wise to opt for an upgrade if your trailer is more than 10 years old. A new trailer can deliver long-term performance and incredible value. It's an excellent solution when you no longer want to spend more money on a failing unit that may need frequent repairs.
With All Pro Trailer Superstore's trade-in service, you can receive a break in the price of a new trailer. After we inspect your equipment, basing the analysis on the model, age and condition, we will give you money to put toward a new trailer.
The first step is to contact our team to get instructions on what information you need to provide to determine trade-in value. We will give you a quote, and our experts will perform a final inspection when you bring your trailer to our location. We always go all-out to offer exceptional prices. Our goal is to help you find a new unit that will serve the best purpose for your business or DIY projects.
You can even use our trade-in system if your trailer no longer is in working condition. We accept trades for all types of trailers and will match you with one that meets your needs. We also strive to keep it within your budget.
Buying Used Is an Excellent Alternative
If you're looking to purchase a trailer, investing in a used trailer can be more affordable. New vs. used cost is straightforward — the price of a new unit will exceed that of used, but both will uphold the same performance levels.
The cost of used trailers can fluctuate based on the market and other factors like age, condition and workability. Find the trailer that fits your needs, then compare and contrast between new and used options. Used equipment is often great for short-term jobs while new is ideal for long-term. But it's not an end-all consideration. Which one will give you more value?
At All Pro Trailer Superstore, we inspect and maintain all our used units. To help you get a better idea of how to inspect a used trailer, here's what to look for:
Brake system: Check for worn or faulty brakes by testing the trailer
Roof: If the trailer has a cover or roof, check for leaks
Tow coupler: Improper care of the coupler along with age can result in a faulty tow coupler
Structure of the trailer: Cracks from prolonged use and over-loading can indicate damage
Suspension: A worn or broken suspension can result in component failure and tire wearing
Axles: Axles can bend from misuse
Electrical: Check for defective lights and electrical brakes
Deck boards: The deck boards can damage or rot
Wheels and rims: Cracked rims have the potential to fail under pressure of a heavy load
Jack: The jack can be damaged or worn
Corrosion: Corrosion can occur if not stored properly
Advantages of investing in used equipment range from a more affordable price and flexibility to avoiding depreciation and having more choices. You will also benefit from a lower cost of ownership and lower insurance rates. With a used unit, you skip the depreciation and can add the equipment to your fleet for long-term benefits.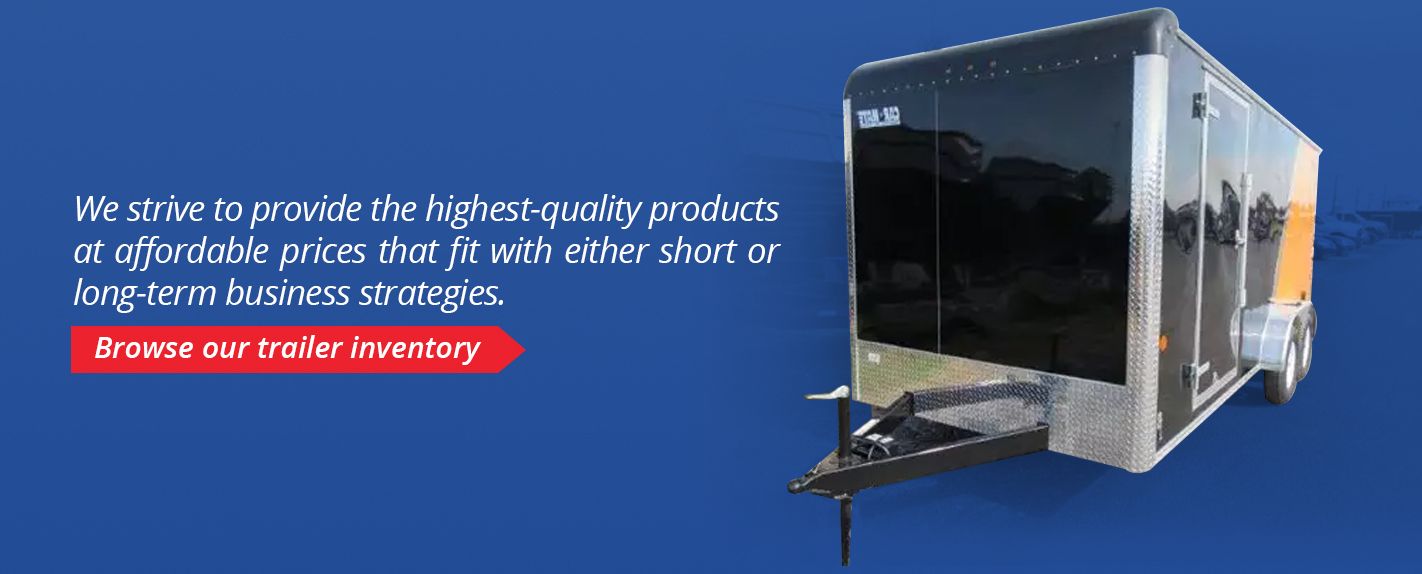 View Our Selection of New Trailers
All Pro Trailer Superstore has one of the largest inventories on the East Coast, offering a variety of brands. We strive to provide the highest-quality products at affordable prices that fit with either short or long-term business strategies. We work with you to determine the best financial plan and help you decide on ideal trailer features that will boost your uptime and keep you productive.
Browse our trailer inventory to see how our equipment can support your business's jobs and personal projects. You can also give an All Pro Trailer Superstore representative a call at 800-622-7003 or contact us for more information.