How to Choose a Trailer Hitch
Apr 09, 2020
Last Updated on November 4, 2022 by allprotrailersuperstore

Selecting a trailer hitch can be daunting — especially if it's your first time to do it. You probably have many questions, such as is there a way to be sure you're choosing the right hitch model? How do you go about installing it?
Wouldn't it be nice if you had the clarity and confidence in determining which trailer hitch type is an exact match without all the confusing mechanical jargon? Take the hiccups out of selecting a trailer hitch with this guide exploring hitch types, uses, capacities, installation tips and more.
Table of Contents
Why Do I Need a Trailer Hitch?
Drivers attach trailer hitches onto their vehicles for a variety of reasons. Some need them for professional purposes, such as livestock towing or snow plowing. Others want hitches for personal or lifestyle reasons — because you have to get that fishing boat to the lake somehow.
Trailer hitches unlock the ability for autonomous long-distance towing and more. You will find many benefits to getting a trailer hitch for your vehicle.

Assisting With Any Future Hauling Needs
Even if you don't expect to haul trailers of heavy cargo frequently, having a trailer hitch is incredibly useful. Hitches allow convenient carting and towing options for dozens of unique transportation situations. Often, a regular car or truck just won't cut it when moving certain cargo. Use trailer hitches to easily and securely transport:
Bicycles
Motorcycles
ATVs
Camping gear
Campers and RVs
Boats
Utility or landscaping trailers
Livestock trailers
Flatbed trailers
Enclosed trailers
Cargo carriers
5th wheelers
Other transportation vehicles
Other equipment or heavy machinery
Buying Is More Cost-Effective Than Renting
Renting a vehicle with a pre-installed hitch and the capacity to haul trailers is expensive and cumbersome. Rental companies might also require specialty trailer registration and insurance, depending on your towing situation.
It's far more cost-effective in the long run to invest in a trailer hitch that matches your current truck or car. Then, if situations arise where you need to transport heavy cargo or haul another vehicle, you're ready.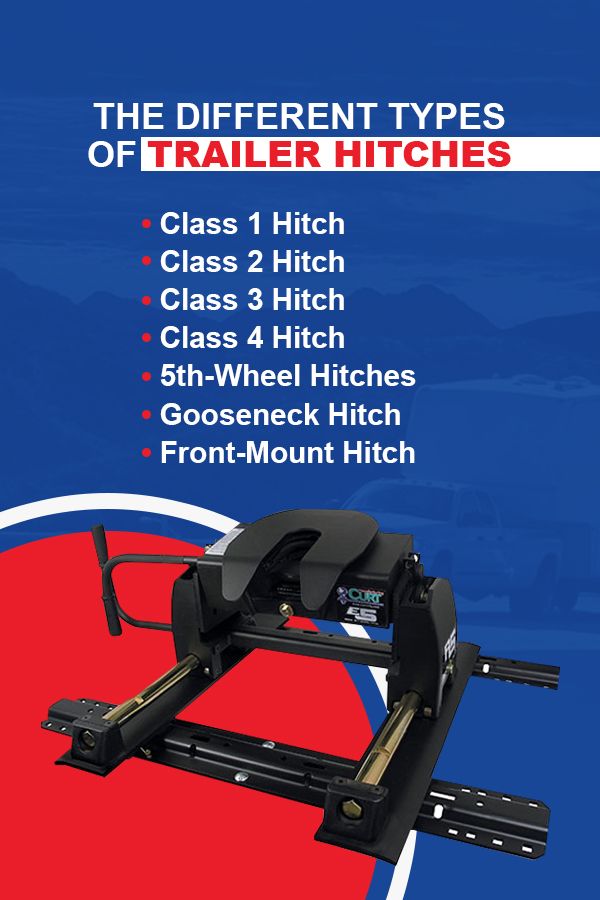 The Different Types of Trailer Hitches
Today's trailer hitches are categorized according to a class ranking system. There are five classes of rear hitches, with each managing a higher towing capacity as well as receiver opening sizes.
We've also included two other popular trailer hitch types on top of the five classes, providing a thorough benchmark to begin selecting the right trailer hitch for your vehicle.
1. Class 1 Hitch
Class 1 hitches are known as light-duty receiver-hitches and are the most basic hitch style available. These units work primarily to mount bikes or as small cargo carriers. They can also be a versatile option for towing small, enclosed utility trailers and vehicles.
Class 1 hitches support a maximum trailer weight of 2,000 pounds or less. When measuring for a trailer class 1 hitch, look for a 1 1/4 inch x 1 1/4 inch receiver and a tongue weight capacity of 200 pounds or less.
Class 1 hitches work with nearly any towing vehicle. This includes both compact and midsize cars whose light transmission coolers are in good condition.
2. Class 2 Hitch
Class 2, or regular-duty receiver hitches, are one of the most common trailer hitches in today's market. New and pre-owned class 2 hitches are installed onto the frames of its towing vehicle, which range from midsize cars and SUVs to minivans and compact pickup trucks. These vehicle types contain regular-duty transmission coolers more than capable of managing up to 3,500 pounds of towing weight and tongue weights around 300 pounds.
Class 2 hitches work great for towing ATVs, motorcycles, small boats and trailers up to 12 feet in length.
3. Class 3 Hitch
Class 3 hitches are considered heavy-duty hitch types. This style of trailer hitch is also widely crowned the king of general towing, with a towing capacity of up to 10,000 pounds, a tongue weight capacity of 750-1,000 pounds and a 2-inch receiver measurement.
Class 3 heavy-duty hitches are attached via a drawbar to the frame of a towing vehicle. For that reason, some manufacturers and distributors categorize class 3 trailer hitches as under-car receiver hitches, given this placement. Consider a class 3 hitch if you drive a mid- or large-sized pick-up truck, SUV or van and need to tow campers, mid-sized boats, mid-sized trailers and cargo-carrying flatbeds.
4. Class 4 Hitch
When it comes to towing travel trailers longer than 12 feet, boats larger than 24 feet, heavy machinery and other sizeable vehicles, you'll need a class 4 hitch.
Dubbed the super-duty receiving hitch, class 4 styles carry a towing capacity of 10,000-14,000 pounds and a tongue weight of 1,000-1,400 pounds. They're ideal for hitching light campers and trailers to the rear of a full-sized pickup or SUV and require a complementary 2-inch or 2.5-inch receiver for complete attachment.
5. 5th-Wheel Hitches
Those who regularly haul heavy equipment, machinery or cargo and transportation vehicles often opt for the fifth and most advanced trailer class, the 5th-wheel hitch.
This hitch type is built specifically for the beds of pickup and flatbed trucks. With a towing capacity between 12,000-20,000 pounds and a tongue weight capacity between 1,200-1,700 pounds, 5th-wheel hitches are installed just over and above a truck's rear axle. Each unit connects to its towed trailer via a central king pin that, once positioned, appears similar to the plate of a semi-tractor.
6. Gooseneck Hitch
Gooseneck hitches are a cousin to the 5th-wheel trailer hitch type.
Like 5th wheels, they are designed explicitly for pickup and flatbed trucks. Also like 5th wheels, gooseneck hitches are installed on the beds of a truck, near the rear axle, and carry a towing capacity around 30,000 pounds. They are a prime hitch choice for hauling both commercial and industrial trailers, including horse and livestock trailers.
Gooseneck hitches are also designed to be more spatially conscious than other trailer hitch types. More specifically, you can still make full use of your truck bed with an attached gooseneck hitch, which is difficult with the more obtrusive 5th-wheel trailer hitch.
7. Front-Mount Hitch
As their name suggests, front-mount hitches are installed on the front of your vehicle. This hitch type allows for a range of attachments and new hauling applications, including:
Snowplowing
Scooping and dumping
Small cargo carriers
Winch insertions
Front-mount hitches come with a different class rating system than rear mounts. It is best to consult with an expert to match your vehicle type with an appropriate front mount hitch beforehand to ensure you install the proper style and unit.
Tips for Choosing a Trailer Hitch
Selecting a trailer hitch comes down to matching your towing needs with your vehicle's safe, healthy towing capacities. Nearly every vehicle made today is hitch-specific, clarifying the hitch receiver selection and measuring process. However, pickup truck owners have a bit more flexibility, as they can select 5th wheel and gooseneck trailer hitches, among others.
Cut through the clutter of how to choose the right trailer hitch by keeping in mind these suggestions.
1. Do Your Research
The simplest way to start your trailer hitch search is to identify the class matching your vehicle's make and model. Trailer hitches may not line up perfectly. Yet a little research using the year, make, model and even sub-model of your vehicle can provide a sound springboard assuring a damage-free, fully operational hitch unit that keeps working over the years.
Understanding what hitch class your vehicle can take provides a number of benefits, such as:
Make measuring and installing the trailer hitch easier
Maintain the integrity of its assigned towing capacity
Preserve the health of your transmission
Give you confidence in which hitch class and receiver size you pick for your car
2. Select the Right Look
Aesthetics aren't the main priority of a good trailer hitch. However, trailer hitches do come in two forms you should consider beforehand, round tubing or square tubing.
Round tubing tends to provide a sleeker, more expensive-looking hitch. However, round-tubed hitches are less common than square-tube bodies and will likely cost more.
You may also need to consider your preference for an exposed or concealed hitch. The majority of concealed hitches are installed beneath the bed of your truck or vehicle, which is appealing if you don't want to distract from the original appearance of your car.
3. Consider Additional Accessories
Additional trailer or towing accessories may be necessary depending on your towing needs. For example, cargo management accessories are common if your vehicle frequently transports heavy materials, and hitch-mounting accessories are popular when sourcing or replacing individual hitch gear necessary for a safe ride.
4. Doublecheck the Ball Mount and Ball Size
Ball mounts are pivotal when creating a safe couple between your trailer with your hitch. Some trailer hitch kits come with a matching unit ball mount. Others will not.
When sourcing a ball mount, doublecheck its towing capacity, or weight rating, ensuring any trailer being towed doesn't exceed that figure. You'll also want to review its shank and level connection heights, which stabilize those between your towing vehicle and the trailer.
5. Practice Assembly
It's a good rule of thumb to loosely assemble your new trailer hitch prior to vehicle installation. During mock assembly, you can put together the central drawbar, the pin and the clip, then proceed to review the model in its intended position. This lets you see ahead of time any misalignment between the drawbar and the vehicle's drill spots and can inform a quicker installation when the time comes.

Tips for Installing a Trailer Hitch
Once you've secured the proper hitch to tow your trailer, consider these important installation steps.
1. Loosen Up (If Necessary)
All five classes of trailer hitches come designed to fit a vehicle's standard make and equipment. This means any modifications to vehicles may alter the positioning of a hitch, in some cases requiring you to temporarily loosen or reposition certain car components to accommodate the hitch adequately.
Exhaust systems, vehicle bumpers or the brackets that mount the bumper are three common examples of vehicle equipment that may require such temporary adjustments. When in doubt, consult a mechanic before making vehicle modifications.
2. Prepare Kit Parts
Inspect all the parts and components of your hitch prior to installation. While this seems intuitive, many forget these simple preparatory steps, which help maintain the integrity of your hitch and receiver over the years:
Clean the bolt holes on your vehicle frame. Soaking these holes in WD-40 usually does the trick. After a minute or two, scrub the holes free of grime and dirt with a small wire brush before initiating the rest of the installation.
Clean the bolts. Follow the same steps you did for the bolt holes on the bolts themselves, taking care not to scratch or cause surface damage.
Ensure you have the correct bolts. Since hitch manufacturers create kits to match certain vehicle types, you should have properly sized bolts on hand. However, mix-ups can happen.
3. Compile Your Tools
Gather these tools you'll need to install a hitch onto your vehicle safely and securely:
Shop or work light
Safety glasses
Work gloves
Torque wrench
Racket
Racket extension
Socket set
Swivel socket
If you don't have access to these tools, consider taking your vehicle in for professional hitch installation. Other convenient tools and materials for installing trailer hitch include:
Carjack stands
Screwdriver
Torx bits
Box wrench set
Power drill and carbide drill bits, which are only necessary if you must drill new bolt holes
4. Drill at Your Own Risk
Hitches should bolt relatively easily into pre-existing holes on the underside of your vehicle. If no such appropriate holes exist — or are misaligned due to vehicle alterations — then you must drill bolt holes into the frame yourself.
Follow the drilling instructions included in the guide accompanying your hitch kit. Center punch any new holes first. Follow center punching by drilling a small pilot hole before exchanging bits and creating the full-sized drill hole. This ensures as little damage to your underbed as possible, plus it helps protect vehicle equipment or components located near the drilling area. Never drill a hole larger than the size of your kit's bolts.

Talk to an All Pro Trailer Superstore Expert About Trailer Hitches
Still not sure what type of trailer hitch is right for you? Consult the hitch experts at All Pro Trailer Superstore.
As the industry's only full-service trailer outfit, we can take care of all your trailer hitch concerns. From financing trailers to vehicle inspections to picking the right hitch types for your car or fleet, we have an unmatched depth or breadth of services available in one place.
Reach out with your trailer hitch question today.