How to Customize a Trailer
Oct 09, 2018
Last Updated on November 16, 2021 by allprotrailersuperstore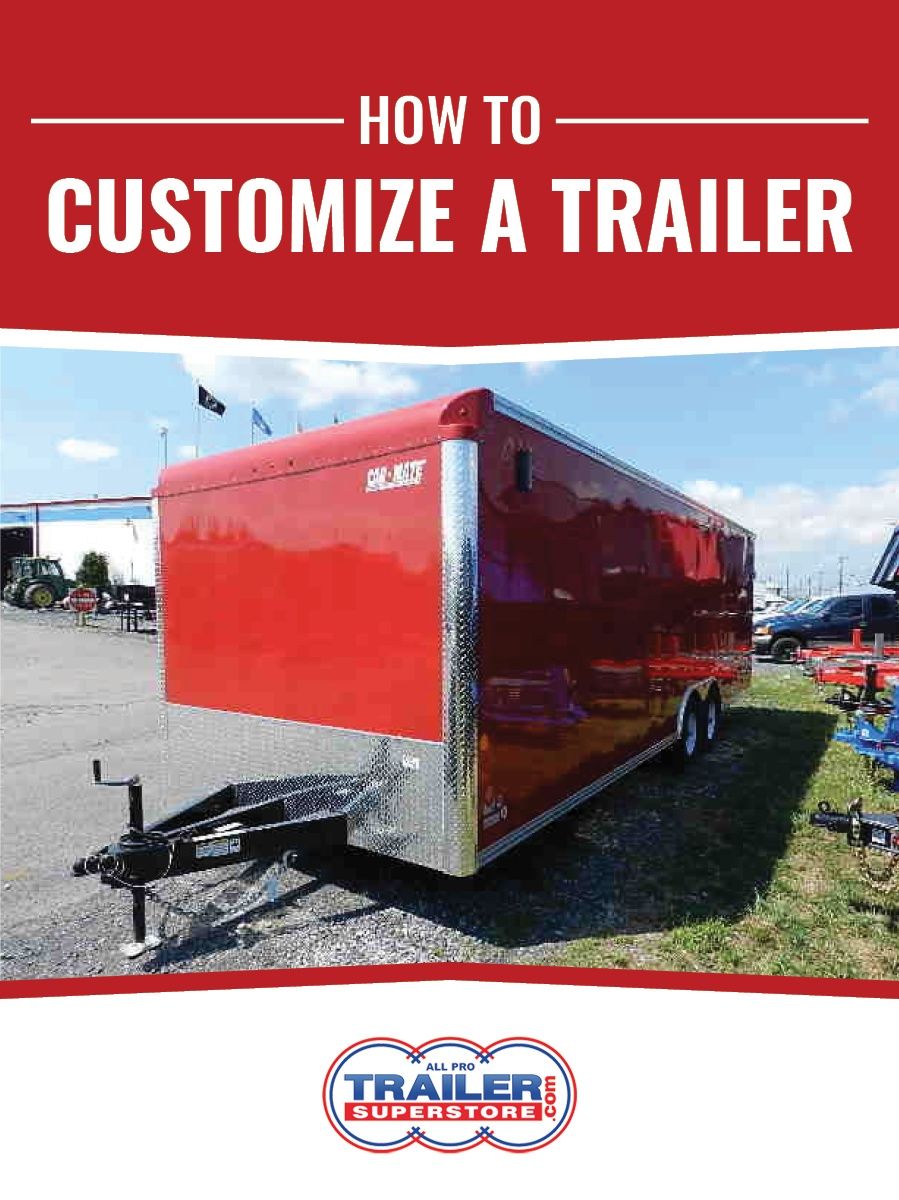 When you need a trailer for personal or professional reasons, you can look a long time before you find the trailer that suits your needs and purposes. It's not that there is a lack of good trailers on the market but, as good as they may be, they may not be the right one for what you need.
That's why customizing your trailer is such a good idea. With a customized trailer, whether you're hauling a car, horses or professional equipment, it means that you can transport your loads in ways that best suit your specific wants.
Prefabricated trailers often don't provide the size, the hauling ability or the accessories you want in a trailer. Customization is often the very best answer for people looking for a trailer that fits them like a glove.
Table of Contents
Why Do I Need a Customized Trailer?
Customized trailers offer many advantages over prefabricated trailers. Here are some of the main reasons you might want a custom-built trailer:
1. Get the Size You Want
One of the most frequent problems with prefabricated trailers is that they are not the correct size. Some are too small for your needs. On the other hand, sometimes they're too large with too much extra space that you don't need. When you choose to build a custom trailer, you know you'll have the exact size that you need to get the job done.
As long as you observe the laws about maximum trailer size and make sure you have a vehicle with the towing capacity to pull the trailer, you can design a trailer for any purpose. Perhaps your business is hauling small loads around your town or city, items like trash or small bits of furniture or collections of books. In that case, a smaller trailer would be perfect for you.
On the other hand, you might be the car enthusiast who wants to take several of your cars to put on display at a show, so you're going to need a larger trailer that accommodates your needs.
When you customize a trailer, you can also play with width and height. In some cases, you might even want unlimited height so you would choose an open-air trailer. When you choose customization over prefabrication, you'll find that you'll end up with the trailer you've always been dreaming of.
2. Get the Weight You Want
Is your current prefabricated trailer too heavy to pull with your current vehicle? You need to think about both the weight of the trailer and the load, but you also need to think about the vehicle that you are using to haul it. If your car or truck is not able to deal with the weight of your trailer, you have two options — buy a bigger vehicle or build a customized trailer that works with your current vehicle.
When you work with a professional trailer customization company, they will help you determine your maximum load weight. They can then take that figure and design a custom trailer for you that you can tow with your current car or truck.
3. Handle Odd-Shaped Items
Anyone who has ever owned a prefabricated trailer knows the frustration of not being able to load an odd-shaped item into the trailer because of its size or shape. If you know you're frequently going to carry odd-shaped items that don't conform to the regular sizes of a prefabricated trailer, using a customize trailer can solve that problem. A customized trailer eliminates the possibility of damaging the load because you've tried to fit a square peg in a round hole.

4. Branding and Colors
It's not that prefabricated trailers always come in a dull gray or a plain black-and-white, but it's probably fair to say that their color palette is somewhat limited. This is not the case when you purchase a customized trailer. If your company is a well-known brand and there's a specific color associated with that brand, customization means you can have a trailer that basically does double duty as a rolling advertisement for your company.
Not sure of the color you want or what would be the best design or branding to put on the trailer? Once again, when you work with a professional trailer customizer, they'll help you through every step of that process until you find something that both makes you feel good and helps promote your business.
5. Storage
Additional storage is one of the more frequent needs of people who own trailers. The problem with the prefabricated trailer is that the size you get when you buy it is the size that you're stuck with. If, after you have owned a prefabricated trailer for a couple years and you realize that while it suits many of your needs, you require more storage space, buying another prefabricated trailer is only going to present you with the same problem.
Customized trailers are the answer. A customized trailer can provide you with the exact storage space that you need. Do you need climate control for some of the things you haul? With a customized trailer, you can have a section of your storage space built to provide the climate control some of your transportable items require.
6. Accessories
One of the best things about a customized trailer is that you get add the items you always wanted to have in a trailer but could never find in a prefabricated model. Want more storage? Build it in. Want more and better lighting? Include in the design process. Do you crave additional electrical outlets? They can be yours. Want more doors to make access easier? You can have as many doors as your customized trailer can fit.
Customization provides you with endless opportunities to create the trailer of your dreams. Rather than just spending your money on a prefabricated trailer that won't deliver the features you require, invest in a customized trailer that will accommodate your needs, whether those needs are personal or professional.
Two Examples of the Benefits of Customized Trailers — Horses and Cars
Let's look at some specific examples of how to customize trailers to create just what the doctor ordered, regardless of how you want to use them.
Horses
First, let's look at how to customize trailers work for people who work with horses.
If you take your horses on the road for more than an occasional trip to the veterinarian, a customized trailer is a great way to provide for both your horses and yourself.

1. A Place for You to Sleep
Taking your horse or horses to numerous shows, especially those farther away from home, can get expensive after a while. The bills from hotel or motel rooms begin to add up. And most horse owners like to stay as close as possible to their animals as they can. When you build a customized trailer, you can add living quarters that include a sleeping area to your trailer.
2. More Flexibility in Loading and Unloading Your Horses
A horse can be a picky animal. Some like to ride facing the front in a straight loading van. Others prefer a stall with more of a slant. Some prefer to face the rear. Every horse owner knows the best way to transport their animals, and a customized trailer helps them accomplish this easily. It's even possible to get slant loads with gates that open from either direction, so you can front load or reverse load depending upon the horse's mood or the location where you're loading or unloading.
3. Ventilation
Horses need ventilation. Good airflow means that your horse will be happy. Bad airflow can result in your horse feeling claustrophobic and overly confined. Unhappy horses often act in unpredictable and sometimes even dangerous ways. Prefabricated vans come with their windows and vents in specific places which may not provide the airflow that you need for your horses. Customization means you can put the windows and vents where you want them and have as many of them as you want. On the other hand, if you need to regularly transport an animal that isn't comfortable with so much access to the outside, you can customize your trailer to reflect that horse's needs.
4. A Calm Trip
Hauling your horses at 60 miles per hour or more on the highway in a thin, prefabricated trailer worries many horse owners. Just imagine how horses feel. It's especially tricky for horses that spook easily. In a customized trailer, however, you can add safety features like well-insulated roofs or walls and proper dividers that will keep your horses safe and comfortable and protect them if they get upset during the trip.
5. Construction
When you buy a prefabricated trailer, you are limited in the materials used for construction. You don't have many choices. You buy the trailer the way it is made, or you don't.
When you buy a customized trailer, you have much more control over construction options. If you want your trailer to be composed of certain materials that increase safety or lower costs, you can work with a professional trailer customization company to achieve those results.

Cars
Owners of vintage cars, late-model stock cars or racing cars love to display or race their vehicles. That means frequently taking these exquisite cars on the road. You can buy a regular stock car trailer that may or may not provide you with the room, storage space and accessories you need, or you can build out a customized trailer that allows you to move your cars around easily and give them as much protection as possible.
1. How Many Cars?
It's important to know how many cars you want to haul because it will help you decide the kind of customization you need. If you are only hauling one car, you obviously need a much smaller trailer. But if you are hauling two or more cars, you want a custom trailer that can transport your vehicles safely and load and unload them easily when you reach your destination at a car show and then again when you return home.
The answer to this question also depends to some degree on what you be using to haul your vehicles. Once again, a professional custom trailer company can help you determine the maximum load your vehicle can carry and then design a trailer to work with that limit.
2. What Kind of Car?
Standard, prefabricated car trailers don't always suit the kind of vehicle you want to transport. For instance, if you're transporting racing cars, you might need more room for parts and tools in case you need to fix something at the track. If you have an antique car that's getting a little stiff in its old age, you might want a trailer with exceptional shocks to keep the trailer from bouncing around a lot. You can customize your trailer to best suit your purpose. This includes customizing how you load and unload vehicles and the doors that you will use for these purposes.
3. Accessories
Like the horse trailers mentioned above, you can customize your car trailer in ways that allow you to better protect and care for your cars. Consider adding items like improved lighting or floors composed of a material that's safer to walk when dealing with oil spills or lubricants. Cabinets can hold all the things you need if you want to detail your cars before you exhibit them, while toolboxes can contain the items you need to repair or improve your car. Whatever you need to make your customized car trailer the best way to take your vehicles from place to place, a professional customized trailer company can work with you to make it a reality.

Come to the Trailer Superstore for the Perfect Customized Trailer
When you're looking for the best in customizing trailers, think the Trailer Superstore. We can provide you with an extensive range of custom trailer services to suit all your purposes and needs.
Our experienced staff will work with you to create the perfect customized trailer. If you're not sure exactly what you're looking for, we're happy to sit down with you and go over design and customization ideas. It's our goal to make sure that you are happy with your new customized trailer. You can call us at 1-800-622-7003. Or visit our contact us page where you can leave us your name, phone number and the details about your dream custom-built trailer, and one of our talented staff will get back to you as soon as possible.