Should You Purchase an Enclosed Trailer for Your Landscaping Business?
Jul 30, 2013
Last Updated on October 16, 2023 by allprotrailersuperstore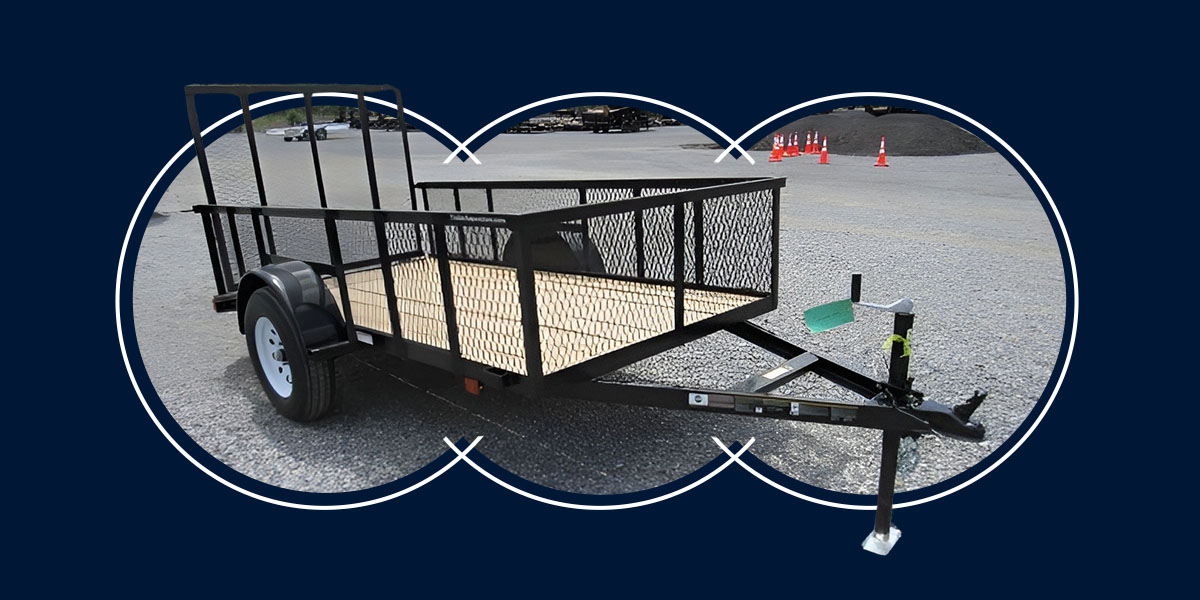 What to Look for in a Landscape Trailer
You've got work to do, and a landscaping trailer can help take the load off — literally. These trailers are packed full of value for a fraction of the cost of heavy-duty equipment and can help you haul, transport and remove items across the work site.
Why Use a Landscape Trailer?
A landscape trailer can be a great investment, whether you're a seasoned business or just starting out. Homeowners and property management teams can also benefit from this versatile piece of equipment.
Here's what you can expect:
Affordability: Heavy-duty trucks and equipment can be valuable assets, but they aren't always practical or even necessary. Landscaping trailers are the ideal fit for small- to mid-size repeat jobs or one-time projects. You can haul them with smaller vehicles, which means you also save on fuel and maintenance costs. Their versatility makes them a great return on investment since you can get so much out of just one unit.
Versatility: Landscaping trailers come in all types and sizes, including varying lengths, widths, depths, weights and load capacities. Some landscaping trailers are enclosed, while others are open or partially enclosed.
Compatibility: Trailers are compatible with various vehicles, making it easier to get the job done without more overhead. You probably already have what you need — you could easily haul a landscaping trailer with a truck, an SUV, a tractor or even a standard mower, depending on the trailer's size and type.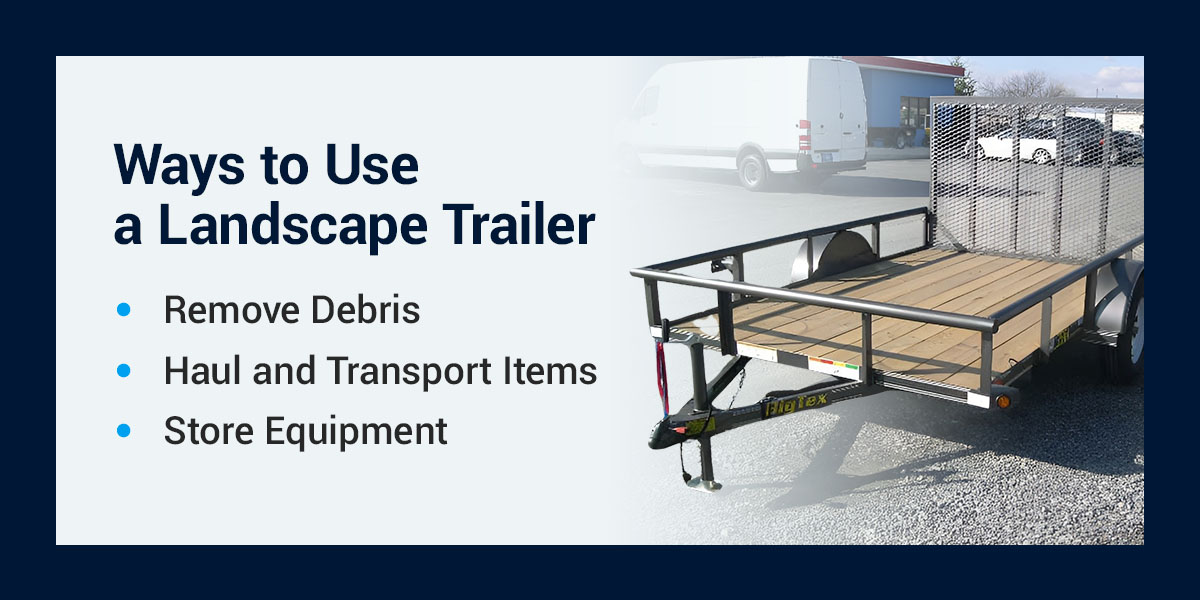 Ways to Use a Landscape Trailer
You can find the right trailer for just about any project you've got in mind, but these are some of the most common applications:
Remove Debris
Wheelbarrows have limited capacity and require more manual labor than necessary, especially for hefty projects. Use an open or enclosed trailer to haul debris away from a lawn or work site, including:
Brush piles
Trash
Lawn clippings
Leaves
Logs
Weeds
Building scrap
Haul and Transport Items
Whether you're pulling your trailer behind a truck, tractor or mower, you can haul items like:
Landscaping supplies: Working on a gardening or landscaping project? Use your trailer to transport soil, trowels and hoes, mowers, weed trimmers or bags of compost and manure.
Tools: Bring along all the tools you need to get to work, like your shovel, rake, sprayers, chainsaw or even larger equipment like generators, chains and power tools.
Garden harvest: Transport this year's harvest by hauling all of your cumbersome produce, like pumpkins, watermelons and potatoes.
Animal care: No farm is complete without a trailer — they simplify everyday care tasks like hauling feed and removing waste. The right-sized trailer equipped with temperature control can even transport some crated animals between locations.
Building materials: Move materials to and from or between work sites, including lumber, hammers, drills, wood saws, wire and fence panels.
Household goods: Trailers are great to have on hand when you need to haul something heavy or bulky, like appliances or furniture. They also make move-ins and move-outs a breeze since you can stack them full of boxes and large items.
Store Equipment
An enclosed trailer is the perfect place to store mowers, ATVs, bicycles, power tools and other items you don't use regularly or need to haul frequently.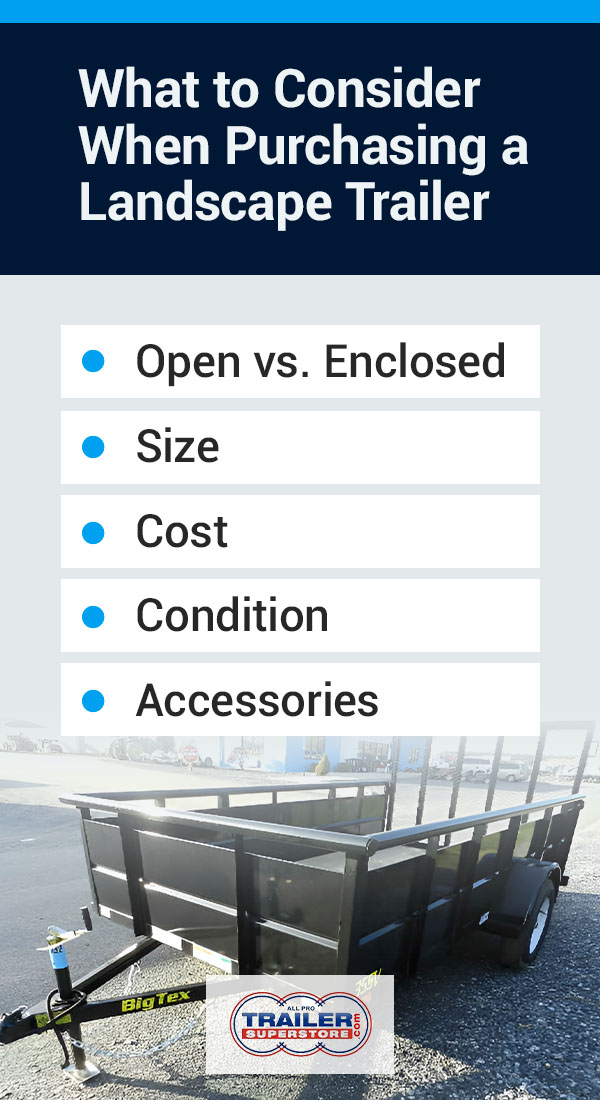 What to Consider When Purchasing a Landscape Trailer
There is no one-size-fits-all solution when it comes to investing in reliable equipment. The best trailer for landscaping is the one that fits your budget and can handle your workload with ease.
Open vs. Enclosed
Weather protection: The summer is prone to humidity, and that tends to manifest into thunderstorms later in the day. An enclosed trailer will protect your lawn equipment from the rain, hail and other fun things that might come down during a storm. It's also helpful in the winter if you're looking for easy enclosed storage.
Security: One of the biggest benefits of an enclosed trailer is the fact that you can lock it. Some lawn equipment can cost hundreds of dollars, so you surely want them protected when you and your crew are out at work.
Marketing: Besides word of mouth, another way landscaping companies get business is through marketing. Putting your name and phone number on your trailer is a great way to create awareness, and an enclosed trailer gives you more room to put your information.
An open trailer might be a good fit if you're looking for something quick and convenient to use on the work site and don't need to worry about weather protection or long-term security.
Size
Choosing the right size is all about application. How do you plan to use your trailer? What types of items do you expect to remove, transport or store? If you choose an enclosed option, keep in mind that you're restricted by the trailer's height as well as its width.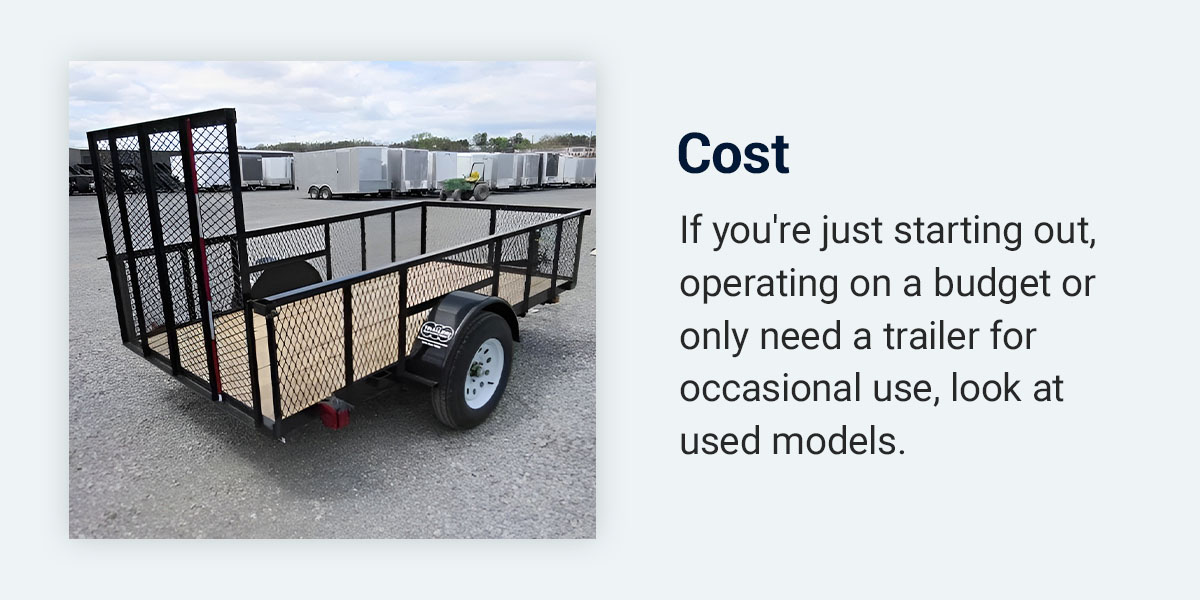 Cost
Landscaping trailers are an affordable alternative to large vehicles and heavier equipment, but you'll still need to consider the following:
The unit's upfront price
Ongoing maintenance, including tires
The fuel cost to transport it to and at the work site
Any applicable warranty plans or insurance
If you're just starting out, operating on a budget or only need a trailer for occasional use, look at used models. They offer even more cost savings and operate just as effectively if you choose the right one from a trusted seller.
Condition
You've got a choice — invest in a brand new trailer or shop quality used models from a reputable seller. Each has its benefits. A new model has no wear or mileage, and you can choose the exact specs you want. Used models may have some signs of wear, but they can be a more affordable option.
Should you decide to shop used, here are a few questions to ask the seller:
How old is this trailer, and roughly how many miles has it seen?
What was this trailer primarily used for?
Has this trailer been in any accidents or suffered any significant damage?
Which parts are original, and which have been replaced?
Where did you purchase this trailer?
And these are some questions you'll want to ask whether you're buying new or used:
Do you offer a warranty or quality guarantee?
What is your return policy?
Can I inspect the trailer before purchasing it?
What are the trailer's dimensions, including weight capacity?
What kind of vehicle do I need to haul this trailer?
What terrain are the tires designed for?
Accessories
The right attachments and accessories can streamline projects and transform your landscaping trailer into an even more valuable asset. Here are a few to consider:
Mounted racks: If you use your trailer commercially or store the same items consistently, a set of mounted racks can make your life a lot easier. These attach to your trailer and have designated mounts to hold things like weed trimmers, blowers, spools, tools and coolers.
Shelving: Mount sturdy shelves to the inside of an enclosed trailer to keep things more organized — just don't forget to secure items to the shelf before transport.
Toolbox: Imagine the convenience of attaching your toolbox directly to the trailer, keeping all of your tools, fasteners and go-to items within reach at each job site.
Locks: Keep your contents even more secure with a lock designed specifically for enclosed landscaping trailers.
Vents: Trailer vents provide enclosed trailers with more airflow and better temperature regulation. Make sure you install it correctly to prevent any condensation or leakage.
Tires: Consider upgrading your tires to a heavier-duty option if you work on rough terrain or in more rugged conditions.
Always confirm an accessory or attachment is compatible with your landscaping truck and trailer model before investing — you can ask the sales team if you're unsure.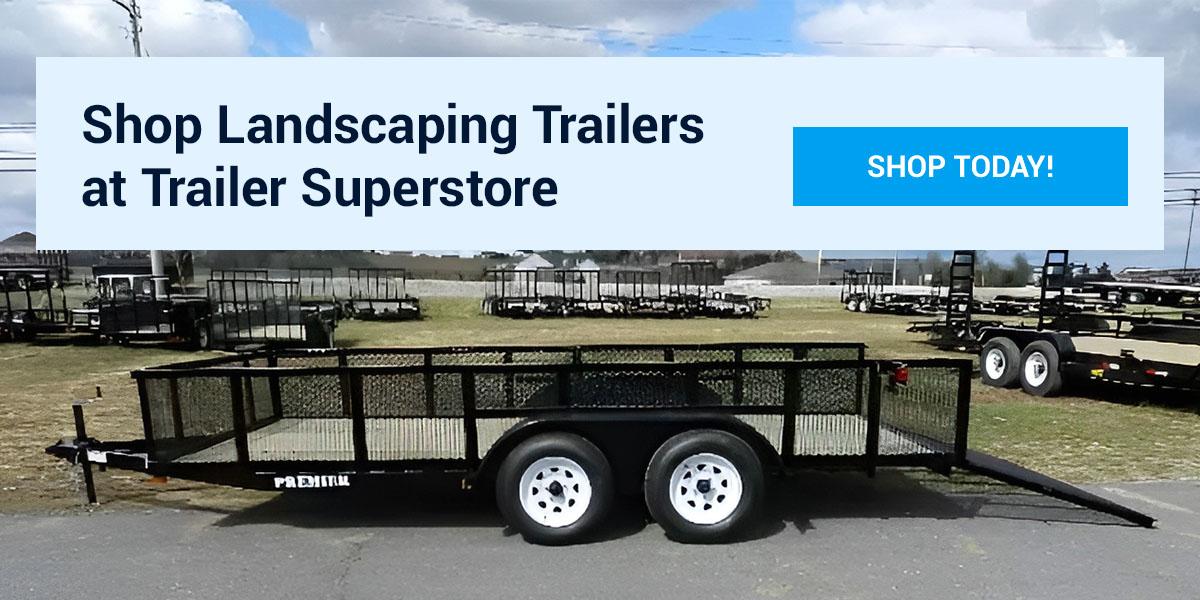 Shop Landscaping Trailers at Trailer Superstore
If you find all of these benefits favorable, we have a wide variety of open and enclosed trailers for sale here at All Pro Trailer Superstore in Mechanicsburg, Pennsylvania. New or used, you won't find better trailers at these prices, and our staff is here to help you find the perfect trailer to help your business grow. Contact us with any questions, or shop our inventory today!