Springtime Check Up
Apr 12, 2016
Last Updated on September 24, 2021 by allprotrailersuperstore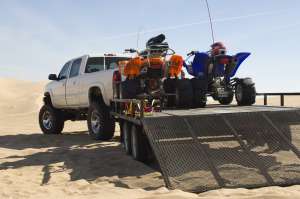 The spring has sprung and that means it's time to get outside and soak up the sun! Whether you're a weekend warrior with a hefty to-do list, making plans to tow your ATV or you run a landscaping company, you probably will be gearing up for some heavy hauls this season. With that said, majority of us will be hooking up our equipment trailers to put them to work but before we take off for our first haul, let's review some of the things you need to do on this springtime check up guide!
1. Inspect The Tires
If your trailer has been sitting in storage or in your driveway all winter long, it's a great idea to inspect the tires. Grab your tire pressure gauge and check the levels of your tires! If the pressure is too low, it can jeopardize your control over the trailer and cause the tires to wear unevenly, so be sure to add the appropriate amount of air to the tires as recommended by the manufacturer. Additionally, visually inspect the tires for wear because you'll want to make sure they are in road-worthy condition. If they look slick and bald, replace them immediately.
2. Inspect The Brakes
If your trailer came equipped with brakes, give them a thorough examination. You may need to replace the brake pads if they are worn and ensure that the brake lines are in good working condition.
3. Check The Lights
Connect the trailer components to the electrical plugs on your vehicle to test the lights. Make sure all the lights are properly illuminating from the blinkers to the stop lights to the side markers.
4. Test The Suspension
If the trailer is sitting unusually low, you may have an issue with the suspension. Make sure all the suspension components are in working condition before loading the trailer because you will not want it to buckle under the pressure.
5. Inspect The Coupler
The coupler is what attaches the trailer to your vehicle and you want to make sure that it's in good shape. A worn out coupler that has twisted or bent can cause trouble down the road.
Once you have given your trailer a thorough inspection for road-worthiness, you can set it up for work as long as it's in good working condition!