Trailer Buying Guide
Feb 23, 2014
Last Updated on October 20, 2022 by allprotrailersuperstore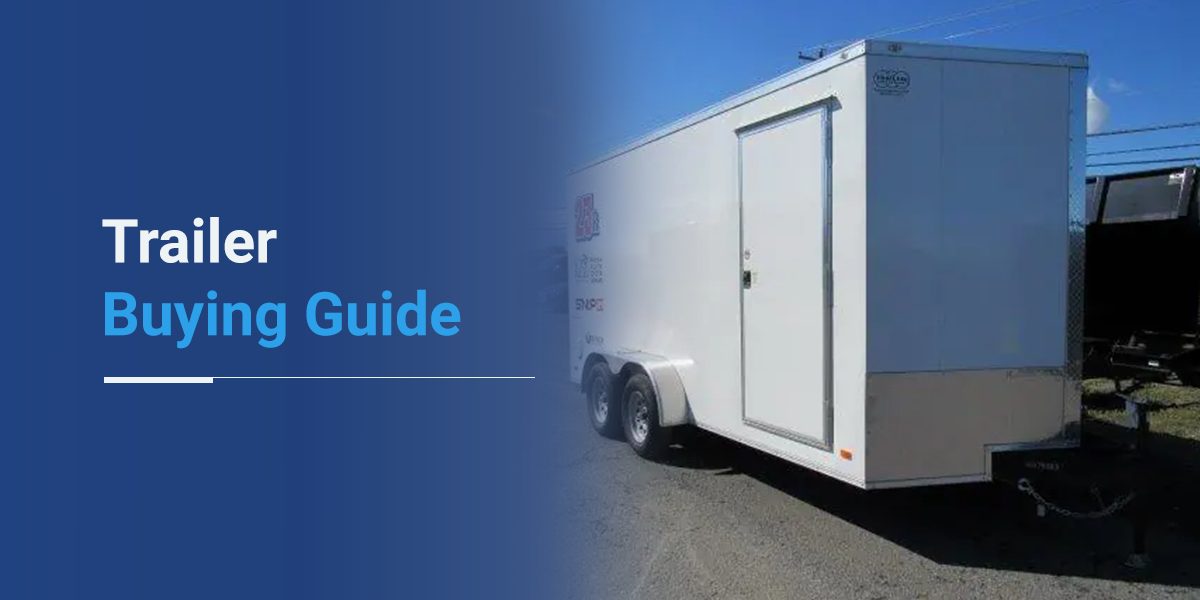 When you go to the grocery store, do you make a list beforehand? Anyone who has ever gone to the grocery store without a list can attest to the fact that this will usually result in a cart full of chips and an angry spouse. There are just too many choices out there. Now let's put that same idea on a much grander scale and talk about trailer buying. If you're in the market for a new or used trailer in the New Year, it's important to construct a checklist beforehand to find the best trailer for you.
Things to Consider When Choosing the Right Trailer
Here are some top tips on buying a trailer:
Type: The first thing to do is to examine your needs. What will you be using the trailer for? A car trailer is far different from a cargo trailer, for example, so determining what you will exactly be using the trailer for will help you pinpoint your search.
Budget: How will you be buying your trailer? Many people will require some financing of some sort to purchase their trailer. Do you know your credit score off the top of your head? When was the last time you received a credit report?  By knowing how much trailer you can afford, you can take that into account for the next consideration.
Condition: Obviously a new trailer is going to cost much more than a used trailer, but a new trailer will offer you the latest in innovations as well as a more favorable warranty. Trailers do depreciate, though, so a used trailer will be much more affordable and still should offer many of the same amenities as new models. Your budget will help determine which makes the most sense for you.
Choose the right dealer: No matter the type, budget or condition of the trailer you're looking for, you'll need to find an experienced trailer dealer who can help you pinpoint your search and one that you can trust. Once you do, you can outline what you need out of a trailer, so they can help you find a reliable one that meets your requirements.
Size: Are you going to haul landscaping equipment or kayaks? What about sprint cars or motorcycles? You need a trailer that fits your intended application. Trailers come in many classes, making it essential to research and determine which is the best for your needs. You'll also have to consider whether you need a cargo or a utility trailer because that can affect the sizing options and availability.
Types of Trailers to Choose From
When buying a trailer, you should also consider what type you need. Numerous options are available, making it easy to find the one that best suits your application. Popular trailer types include:
Landscaping Trailers
A landscaping trailer is an open-top, lightweight flatbed. It can come in multiple sizes — but you also need to know the side type.
Landscaping trailers either have low railings or mesh, wooden or steel walls, and the type you choose affects the trailer's utility. For example, low railings would not work well for hauling mulch, gravel or manure. In any case, it's crucial to consider any items you plan to transport and whether they'd benefit from railings or need something more.
Enclosed Trailers
Enclosed trailers have solid sides and a roof with a locking back door. They are often beneficial for moving and transporting materials or equipment from one location to another.
An enclosed trailer can also come in several sizes and is a great option when hauling items that might be tempting to would-be thieves. That said, you wouldn't want to try to haul lumber or gravel in an enclosed trailer.
Horse Trailers
A horse trailer is a specialized enclosed trailer built for horses or other livestock. It helps keep your animals safe and calm while on the road.
With a horse trailer, the ramp and interior are designed explicitly for animals and often come with feed troughs and built-in tool trays. In some cases, the trailer has its own braking system to help the driver of the towing vehicle stop it more smoothly and prevent the animals from being jostled.
Dump Trailers
If part of your business includes dumping large loads, you should opt for this trailer instead of a landscaping model. Dump trailers have hydraulic systems that tilt the trailer bed to make dumping easier. You'll want to consider your typical load weight so you can determine if you need a heavy-duty trailer variety.
Transport Trailers
Transport trailers are often used to move recreational vehicles or equipment like motorcycles, kayaks and bikes. Many transport trailers are specifically made for different types of equipment or vehicles. Choose one that is the correct size for whatever you plan to transport.
Equipment and Cargo Safety Considerations
Buyers must also weigh the importance of sheltered protection to their load, as well as the overall weight that both types of trailers can add to your tow vehicle. While enclosed trailers can keep your tools and equipment protected from the elements, they are also typically much heavier and less aerodynamic that their open flatbed counterparts. Keep in mind that some manufacturers try to promote lighter types of enclosed trailers; however, this is often done at the expense of the durability of the "protective skin" being used. The standard siding and roof aluminum skin used in the industry is .025-.035″, but tests have proven that a .030″ skin trailer can realistically be cut through with a pocket knife.
Therefore, choosing a thinner skin than the standard one could drastically increase the risk of durability issues, break-ins, and weather damage. Experts claim that opting for higher quality trailers and sacrificing weight for a .040″ aluminum that offers more security and stability can be worth it, depending on your cargo.
Other Considerations for Buying the Right Trailer
Keep the additional industry expert points below in mind during your purchasing process, as well:
Slipper spring suspension is considered better than double eye
Radial tires are widely known as the "best option"
Treated hardwoods are considered the best "decking option"
Drop foot jacks are more convenient than top wind types
Fenders are best made with Channel or diamond plate
Make sure the welding is strong, as certain manufacturers do not regulate this aspect of the trailer enough.
Buy Your Next Trailer at All Pro Trailer Superstore
For nearly thirty years, the team at All Pro Trailer Superstore has helped customers find new and used cargo, utility and car trailers for sale. Our inventory is constantly changing, and we offer trailer customization services as well. Located in Central PA, All Pro Trailer Superstore has trailers of all kinds that will meet all of the things on your list. Contact a representative or visit us today to find that one perfect trailer for you.