Consider These When Transporting Your Classic Car | All Pro
Oct 01, 2013
Last Updated on November 17, 2022 by allprotrailersuperstore
A classic car is more than just a car. It could be a nostalgic piece that takes you back to a time in your life when you had the whole world ahead of you. It could be an investment. Classic cars are always in style and attract any number of buyers depending on the model and year. It could just be something that you've always wanted and now that you have the means to own one, it is a purchase for your happiness.
Whatever the reason for your owning of a classic car, there's no question that you need to be prudent in how you take care of it. This includes the transport of your classic car. You might need to take it to an auto convention or need to have it maintenanced out of state by someone who has experience working with your particular model. Whatever the case, you'll need to be careful when you transport it. Here are some things to keep in mind:
Buy the Right Trailer
When considering the transportation of your classic car, the first thing to keep in mind is that no two trailers are the same. The right trailer will provide the protection necessary as you transport your classic automobile. The Trailer Superstore has a wide variety of car trailers that could meet your needs. If your budget isn't there for a new trailer, don't worry. We also have a wide variety of used trailers for sale to protect your car without destroying your budget.
Take a Look at Your Insurance
When transporting your car, you should look certainly look at the insurance policy you have on your car to have an understanding of the type of protection you have. This will ensure you're good just in case if something goes wrong.
Drain the Tank
Again, this is just a precautionary measure to prevent something from happening. Before you transport your car with a trailer, siphon the gas or drive it, so you have less than a quarter tank. This is a prerequisite for all car shipping companies, and you should do the same to ensure the car's protection.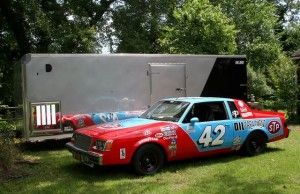 Contact Trailer Superstore for Enclosed Car Trailers
Your classic car is your baby and investment. There might be times when you need to transport it for a wide variety of reasons. When you do, you need to have the right trailer to ensure its security. With an enclosed trailer from the Trailer Superstore, you'll be able to get your car where it needs to go in the same condition than when it left. Contact us today to learn more about our car trailers.