Things to Know About Trailer Inspections
Jan 22, 2019
Last Updated on November 17, 2022 by allprotrailersuperstore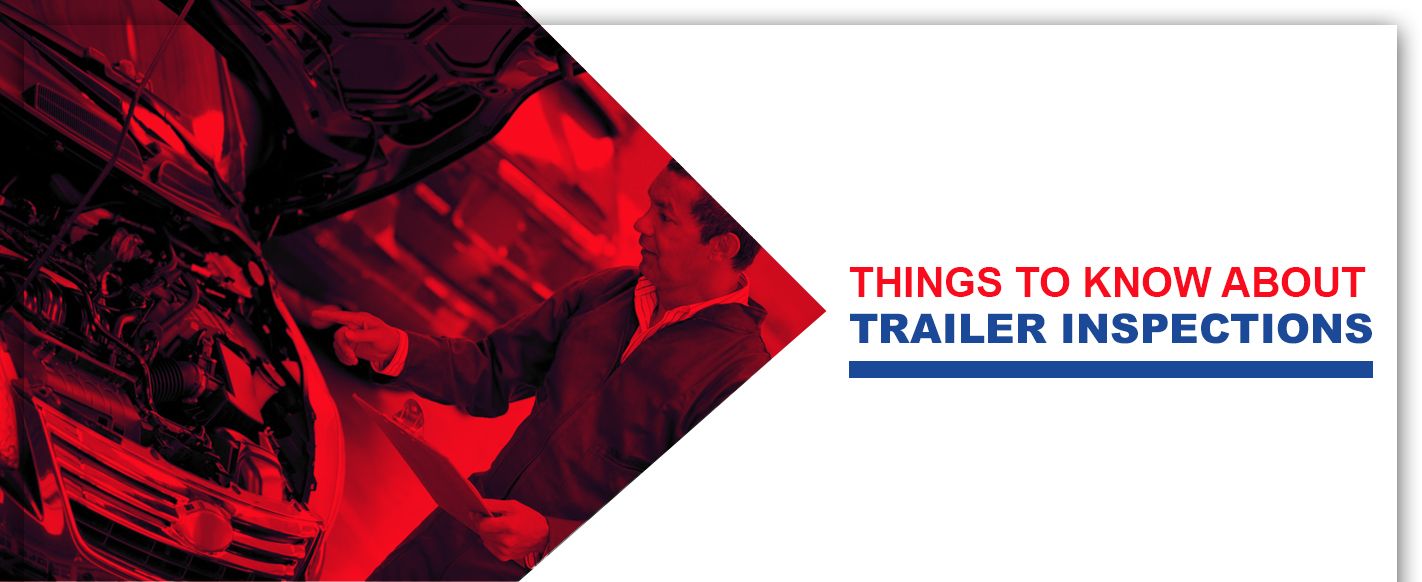 Each year, you take your truck or car in for inspection to ensure it's up to par with safety regulations. Whether you rely on your vehicle for daily commutes or to haul massive loads, it's never an option to skimp on making sure your brakes, tires and other components are in top condition — and these rules apply equally to trailers and campers. When it comes to inspections, you not only have to think about different parts of your car, but you also have to examine the various workings of your extended equipment.
You could be hauling anything from heavy machinery and construction materials to ATVs and antique cars. Or, if you're an avid traveler who loves an adventure, you could be taking your RV on cross-country trips. No matter how you use your trailer or camper, you always want to make sure this essential add-on to your vehicle doesn't fail. It could leave your possessions damaged or have you stranded on the road.
When you need a team of professionals that perform trailer inspections, Trailer Superstore is an official Pennsylvania state trailer inspection station you can trust. We execute checks on different makes and models of trailers to keep you safe during your travels.
Trailer Inspection Laws in PA
Inspection regulations vary across different states. If you're wondering how often to inspect trailers, it's a good rule of thumb that any trailer with a gross vehicle weight rating of more than 3,000 pounds needs annual examinations. Different states uphold various laws regarding internal, external and underneath inspection.
According to Pennsylvania laws and regulations concerning trailer and RV inspections, you should first verify ownership, along with proof and legality of financial responsibility. You can attest to each by having a registration card, manufacturer's statement of origin or certificate of title.
The general criteria for utility and recreation trailers include suspension, brakes, door operation, tires, wheels, electrical system, the body, chassis, lighting and glazing. If you're wondering what to expect when it comes to assessments, there are three main categories — internal, external and underneath tests.
Internal means the professionals from Trailer Superstore examine the flooring of your trailer to make sure it can support different loads of cargo. External checks consist of analyzing the door and tailgate operation, inspecting the window glazing for cracks and broken glass and testing the lenses and lamps. The underneath analysis is when we get into the nitty-gritty details of what you're hauling.
Professionals check the vehicle frame, braking system and air suspension system and make corrections if it's deflated or leaking. The experts scrutinize the tires and wheels for damage and wear, making sure your tires have a 2/32-inch tread as a minimum measurement.
Other inspections include looking at the ply or cord to see if it's exposed, checking for bumps, separations or bulges in the tires or the tires having other purposes such as racing or for the highway. An analysis will also determine if the tires contact the body or chassis, if they extend past the body line, if the tire is smaller than the recommended minimum size or below the suggested load rating or if tires on the same axle aren't the same type. When it comes to tires, we also search for missing bolts, wheel nuts or improper threading, as well as missing tires or rims on the axle.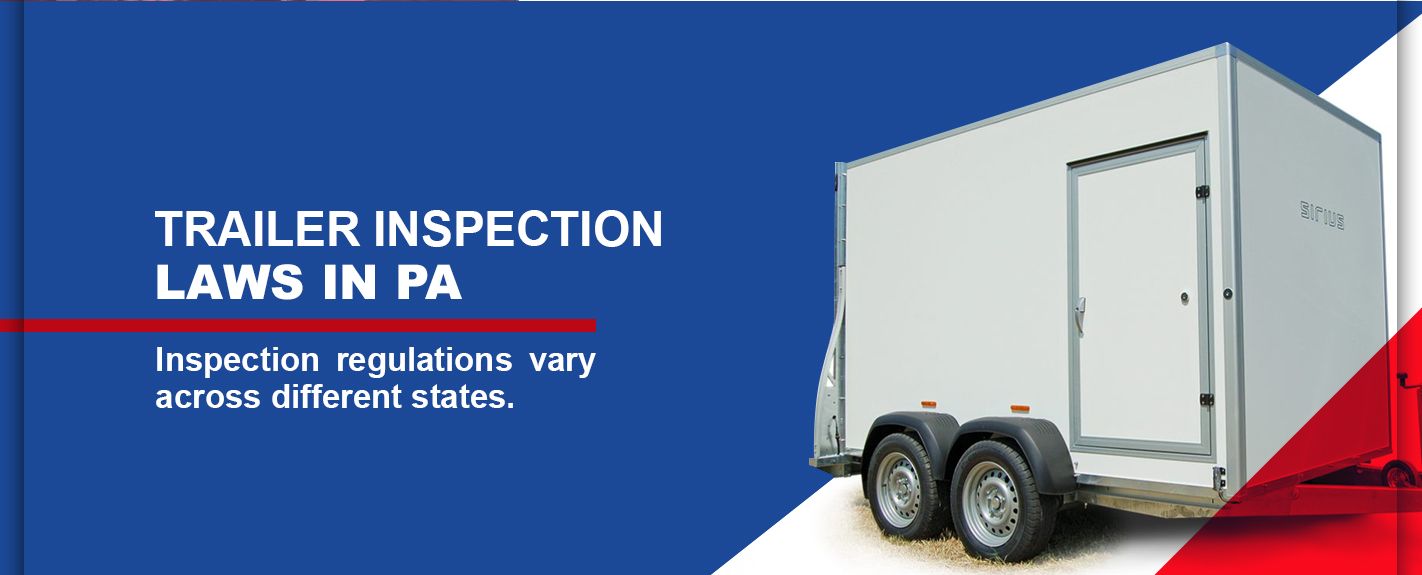 Trailer Inspection Requirements
According to the Department of Motor Vehicles, or DMV, the following requirements apply to trailers from 1967 and up.
1. Body
Fenders that have sharp edges are prohibited, along with hazardous projections from any surface of the trailer or camper that don't latch correctly. Experts check for attached doors to the frame, and the floor of an RV must withstand its intended load. On boat trailers, the guides, pivots and rollers must be secured. When it comes to ramps on flatbeds, they must also be fortified if they don't flip all the way back.
2. Brake Equipment
Any trailer that has a gross vehicle weight rating of more than 3,000 pounds should have a braking system on all four wheels. When set, the system should hold the trailer in a stationary position and control the movement. Electric or air brakes are required on pieces that are more than 8,000 pounds. Either system must be operable at the driver's seat of the towing vehicle via a person's hand or foot. If you have a non-commercial trailer, it can have surge brakes that have a gross weight of under 8,000 pounds.
You can also have surge brakes if you have a commercial trailer, but only if the equipment is not subject to intrastate and interstate limits. If you own an RV with a gross vehicle weight rating of 10,000 pounds or more, the commercial trailer also requires an emergency breakaway device. Inspectors often take your trailer or camper for a road test to see if it can halt within its maximum stopping distance. The test will help validate that the equipment or RV doesn't swerve out of control.
3. Number Plate
The number plate on your extended equipment should be in a horizontal position, tightly fastened. It should be illuminated with a white light and fully visible when carrying a load.
4. Fenders
Your trailer or RV will need fenders if the rear area of your equipment doesn't provide adequate protection from the spraying of water and dirt. The fenders you have in place must cover the tread width of your tires. But how do you determine if it provides enough protection? The height of the rearmost portion should be about one-third or less than the distance from the center of the rearmost axle. However, this doesn't apply to farm trailers.
5. Frame
The frame of your apparatus should support its intended load without flexing. Whether you're loading on hiking gear, heavy equipment, other vehicles, junk or anything else you can think of, you need to make sure the frame can withstand its specific weight. Fish plates are required as reinforcements at stress points, which should be parallel to the ground.
6. Hitch
The hitch is the part that's securely mounted to your towing vehicle. It should be adequate for the specific weight you are drawing. Commercial hitches have markings on the balls to see if they are compliant with weight. If no markings are present, refer to the Society of Automotive Engineers ratings to establish the maximum weight as follows.
1 and 7/8-inch ball: 2,000 pounds
2-inch ball with a 3/4-inch bolt: 3,500 pounds
2-inch ball with a 1-inch bolt: 5,000 pounds
2-inch ball with a 1-3/8-inch bolt: 10,000 pounds
2 and 5/16-inch ball with a 1-inch bolt: 5,000 pounds
2 and 5/16-inch ball with a 1-1/4-inch bolt: 7,500 pounds
7. Identification Lamps
Trailers that are more than 80 inches in width need three red identification lamps in the center. The center of each light should be no fewer than six inches and no more than 12 inches apart.
8. Reflectors
You should mount the reflectors on your trailer at heights between 15 and 60 inches.
When you take your equipment in for inspection, there are also regulations about trailers that are less than 80 inches wide, according to the DMV. For example, homemade trailers should have two red reflectors at the rear and be mounted as far apart as possible.
Trailers built after 1968 should have two red reflectors at the rear and two red side reflectors, plus two amber reflectors on the sides if it's more than 61 inches long. Trailers that are more than 10,000 pounds require white and red reflective tape on each side and the rear. Then, for pieces that are 30 feet or more, they need one amber reflector in the center of each side.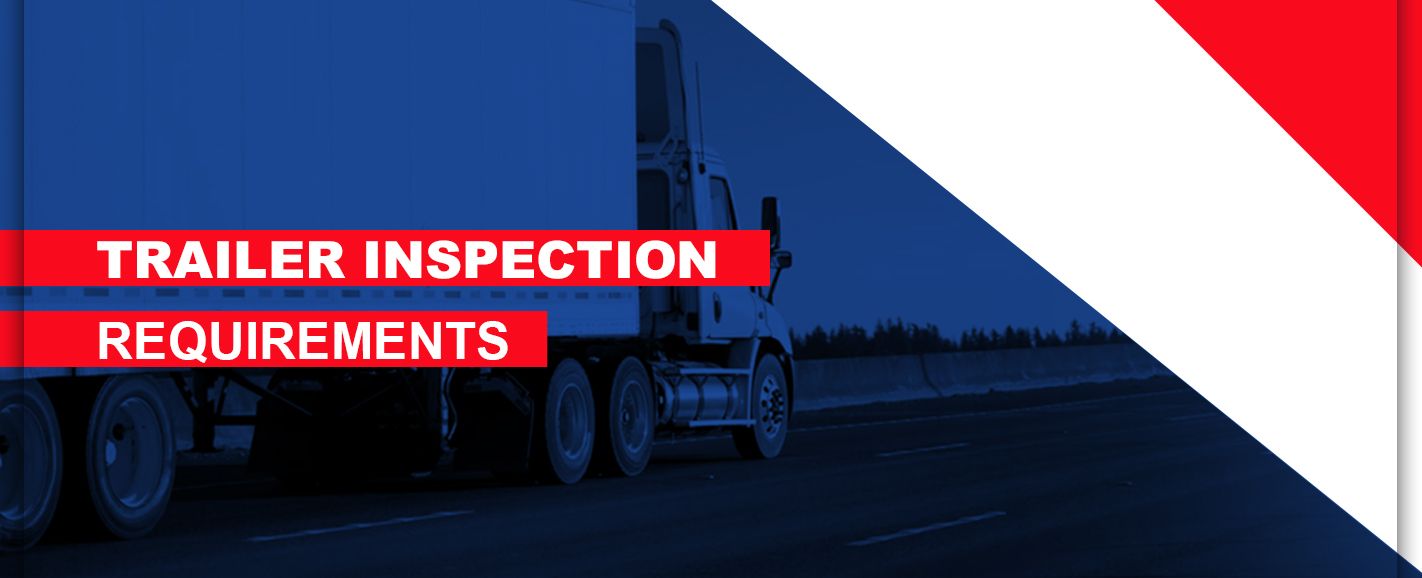 9. Side Markers and Clearance Lamps
Trailers that are less than 80 inches and that were manufactured after 1968 need two red side lamps near the rear. If your equipment is more than 61 inches long, you need two amber marker lamps near the front. Pieces that are 80 inches or more must display the same side marker and clearance lamps as the manufactured trailers made after 1968. If it's more than 30 feet long, it requires one centered amber side lamp on the left and right.
10. Stop Lamps
There should be at least two red stop lamps mounted at a height between 15 and 72 inches on your trailer or RV.
11. Turn Signals
Your turn signals should be operating with red or amber lights at the rear with a height between 15 and 83 inches. If your equipment is less than 30 inches wide, it's exempt from the stop lamp and turn signal regulations listed above. You will only need one of the following devices located near the center of your camper or trailer — a reflector, stop lamp or tail lamp lit with a white marker light.
12. Safety Chain
If you are using a tag-along, drawbar or coupler hitch to attach your camper to your tow vehicle, it also needs to be coupled to the frame of the car or truck via safety chains or cables. The cables control your trailer while in motion or in the event of failure. Two chains or cables are necessary unless there is a trailer tongue.
13. Suspension
Trailers with a gross vehicle weight rating of more than 1,000 pounds have a suspension system, as opposed to an axle.
14. Tires
The extended piece on your vehicle should have a 2/32-inch center tread with no bulges, cuts, exposed cords or dry rot.
15. Wiring
The wiring within your RV or trailer should be insulated, supported and secured, and the maximum distance between each wiring session is 18 inches.
If you're looking for a more in-depth list of trailer equipment inspection and regulations specifically for Pennsylvania, refer to the Pennsylvania Department of Transportation's online guide.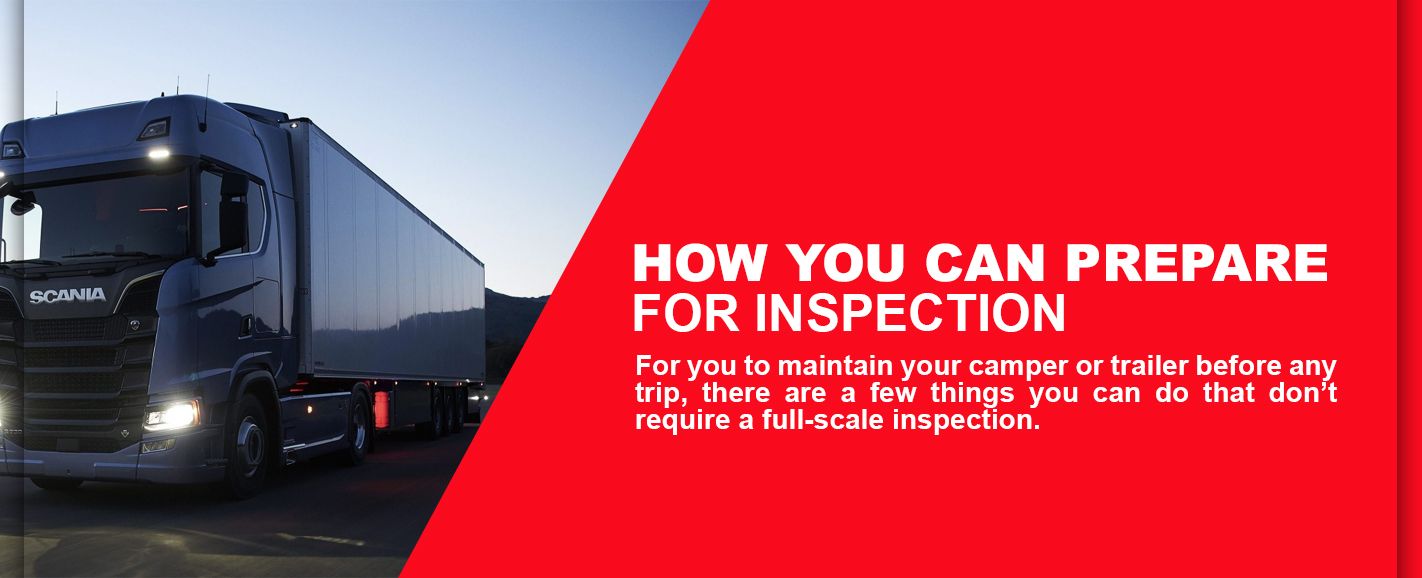 How You Can Prepare for Inspection
For you to maintain your camper or trailer before any trip, there are a few things you can do that don't require a full-scale inspection. Starting from the ground up, you can check components such as tires, brakes and suspension.
Check your tires for condition and pressure. Examine each tire for tears and the appropriate amount of air pressure. Off-road equipment will have different working pressures compared to touring versions, and the pressure will also depend on how much weight the trailer can carry.
Analyze the bearings, trailer axle and wheel hubs. Begin this step by jacking up each wheel. If you feel movement from side to side, tighten your bearings. If you spin the wheel and it rumbles, replace the bearings. And, as the last task, check that the axle is straight and centered to the spring.
Inspect the brake system. Make proper adjustments and look for wear and tear on the pads or shoes. You should also check the hydraulic fluid, if relevant.
Look at the suspension. The components may vary from trailer and RV, but several items to keep an eye out for are cracked leaves, leaf separation, loose bolts, leaking shock absorbers, split bushes and wear marks on bolts.
Review the chassis for cracks. Cracks can appear in the steel, welds or other areas prone to rust. Also, tighten any loose bolts in the frame.
Consider the lights and wiring of your equipment. Clean out any dust from the lenses for a higher intensity of light for increased visibility. Make sure the globes and all wires have strong and clean connections.
Look over the tow hitch. Make sure to lubricate the tow hitch and inspect the pin. Check for excessive wear. If your equipment has a ball mount, ensure each part is greased, and adjust the mechanical override brakes if necessary.
After you finish your inspection, you can travel with a back full of tools or a lot of gear for your hobby. When you reach the point of needing a thorough review to keep you in line with state regulations, call on the pros at Trailer Superstore.
What We Perform at All Pro Trailer Superstore
While there are general guidelines for trailer examinations, our team of specialists at Trailer Superstore perform the following inspections.
Check tire pressure
Inspect tires and wheels
Look at safety chains
Adjust brakes
Grease all fittings
Torque wheel lug nuts
Check breakaway system
Inspect coupler
Examine light system
Look over brake magnets
Check suspension parts
Inspect brake lines
Examine brake cylinders
Review brake linings and wiring
Check hub/drum
After we complete our analysis, we will issue you a PA state inspection sticker. We encourage you to get your camper or trailer checked each year to stay up to date with current laws and regulations. Keeping your extended equipment in check is just as important as testing your vehicle. No matter if you tow heavy machinery every day or you use your RV for a few yearly trips, inspection is vital to ensure your safety. If you need additional repairs or answers, we are here to keep you on the road.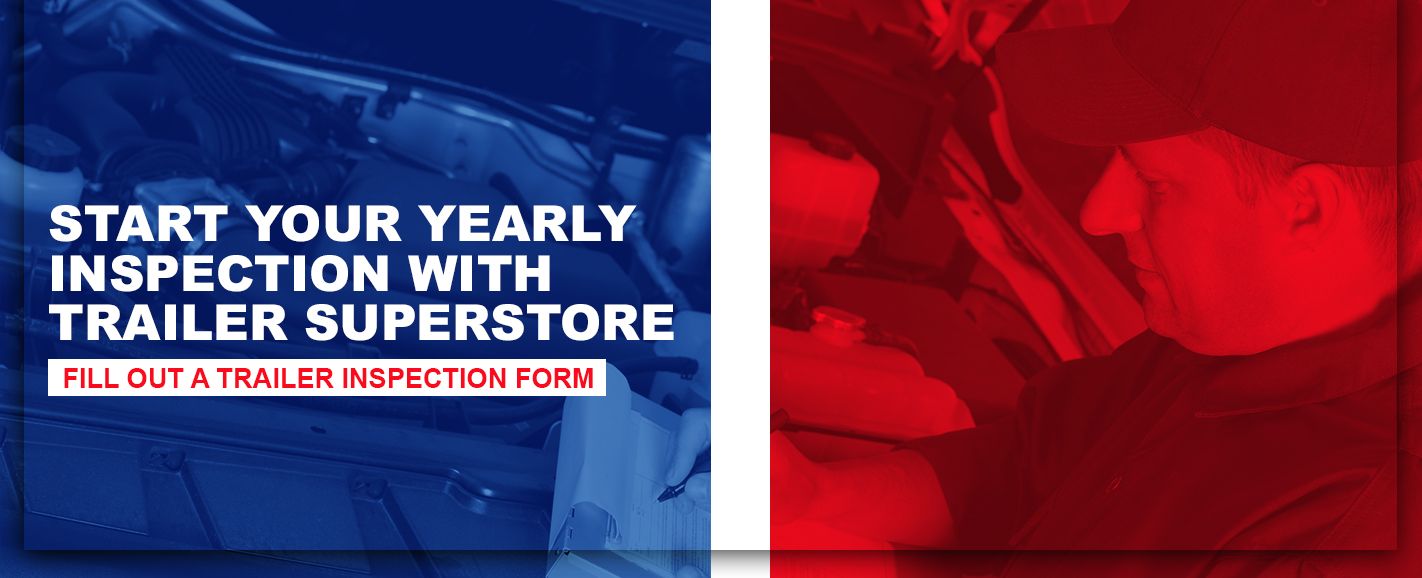 Start Your Yearly Inspection With Trailer Superstore
As one of the top full-service trailer providers in the nation, All Pro Trailer Superstore not only has a massive inventory of trailers to match your application and budget, but we also offer other services most of our competitors can't live up to, such as repairs, customization, delivery, financing and tagging.
Whether you use your trailer for race cars, hauling sand, hunting, transporting your surfboards or moving furniture, our team can inspect your equipment. Our representatives are product-oriented, committed and efficient. We strive to remain a leader in the industry to help keep you safe and up to par with Pennsylvania's laws and regulations.
Reach out to a Trailer Superstore representative online for support or fill out a trailer inspection form to get started.