Tips for Choosing a Tow Dolly for Your Car When Traveling
Jul 12, 2016
Last Updated on September 24, 2021 by allprotrailersuperstore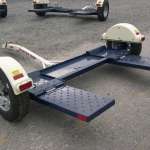 We're in the middle of summer, which means countless people will embark on the summer road trip. Whether you're going across the state or across the country, there's nothing like a major summer road trip where you can see places you haven't seen before and disconnect from the world. In fact, you might like it so much you might decide to eventually get your own RV. You wouldn't be the first.
If you do decide to go this route, you might want to consider getting a tow dolly for your personal vehicle. RVs are great for traveling, but they're not exactly the most convenient vehicle when you just want to go to the grocery store or take a day trip into town. Have you ever tried to parallel park with an RV? Bringing your own personal vehicle can solve these issues so you can enjoy your trip and not worry about logistics.
A tow dolly is very simple in design. It is a small trailer with two wheels that is meant to tow the front of your vehicle while the back wheels are exposed to the road. This is fine, though, because most cars are front wheel drive, so you don't have to worry about mileage. They are also very affordable and safe, making them a smart solution for most RV owners.
So how do you choose a tow dolly? There are a number of issues to take into account. First and foremost, there are two types of tow dollies: one with center pivots and those that pivot on kingpins. Each has their own benefits, so it might be up to personal preference. Both are incredibly safe and easy to use.
Other considerations include the type of braking and lighting you'll want your tow dolly to include. As braking and lighting are required by law in most states, they shouldn't be an afterthought in the buying process. You might have a preference towards a specific brand. For example, Master Tow trailers and tow dollies are very well-known and chosen by many RV enthusiasts. Price is obviously important too. You'll want to find something within your budget. If your budget is tight, you might want to consider getting a used tow dolly.
To see the latest tow dollies in our inventory, come to the Trailer Superstore in Mechanicsburg, PA today!