Tips for Choosing Trailer Insurance
Sep 25, 2018
Last Updated on December 12, 2022 by allprotrailersuperstore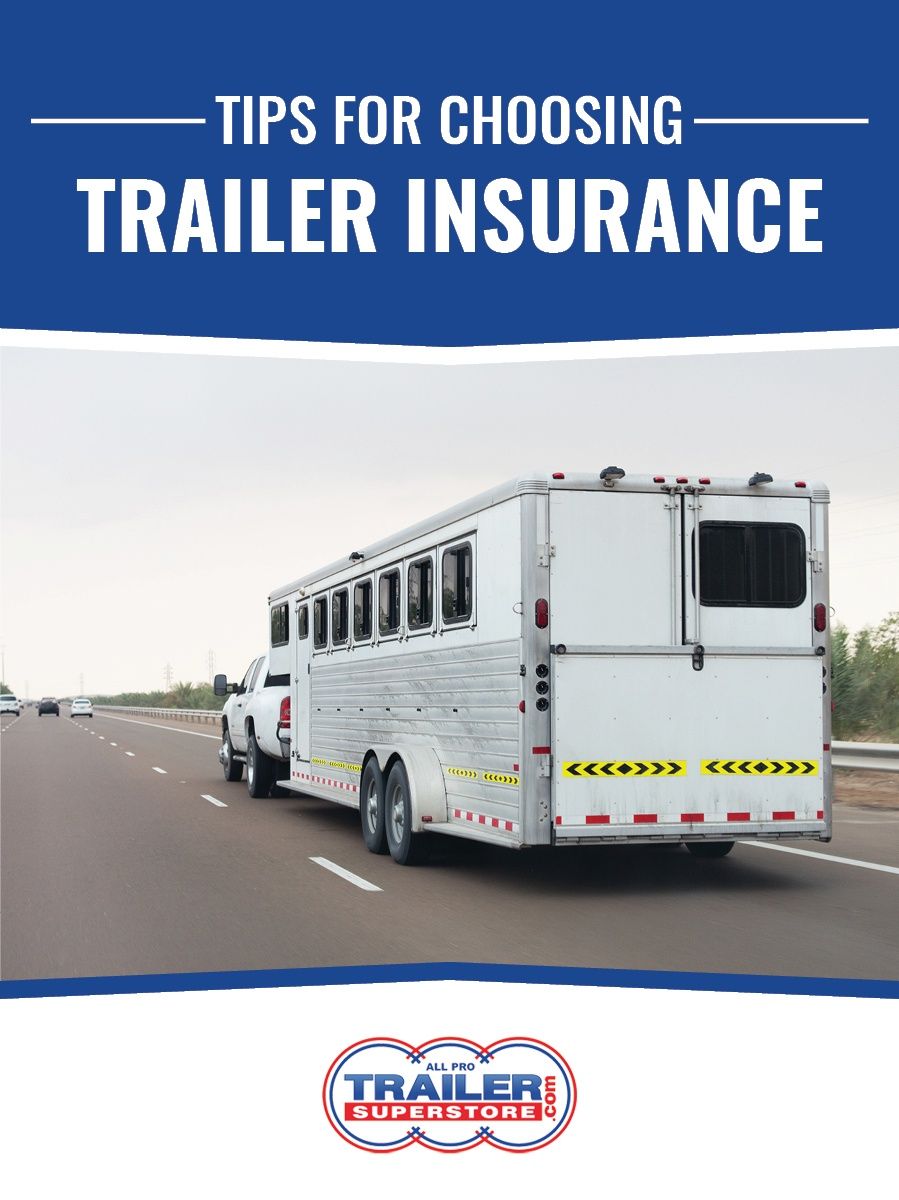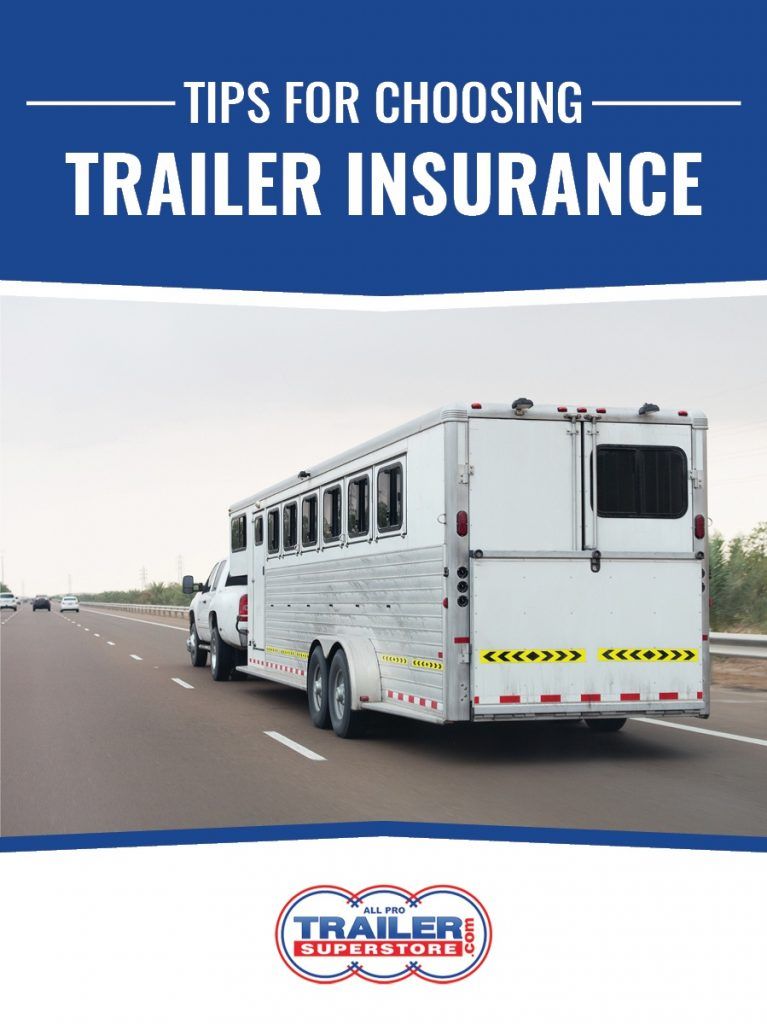 Trailer insurance is a necessary investment for anyone who uses a trailer. If you use a trailer for personal reasons, insurance will protect you from liability in the event of an accident. Depending on your choice of policy, the insurance might also cover your losses and medical expenses, regardless of whether you are liable in an accident.
Table of Contents
If you plan to use a trailer for commercial purposes, you will need to purchase a commercial trailer license. That way, you'll be covered if you have a collision or other type of accident while transporting goods.
What Is Trailer Insurance Coverage?
To determine the right type of trailer insurance coverage for you, you need to consider your general driving patterns and the value of the trailer itself. If you use the trailer infrequently, your odds of an accident are somewhat lower, especially if you stick to safer routes. As such, you might not feel the need for one of the costlier, more thorough forms of coverage. Anything beyond a standard liability policy might also be extraneous if the trailer would be less expensive to replace than repair.
Liability Insurance
Liability insurance will cover any costs you incur if you are responsible for the damage of another vehicle or the injury of another motorist. However, liability insurance will not cover the cost of your losses or injury if you cause an accident. If you are involved in an accident and the other party is liable, that person's liability insurance will cover the costs of your vehicle/trailer repairs and medical expenses.
Liability insurance is the bare minimum of coverage required under the law in most states. Is trailer insurance required if you already have auto insurance? Well, most policies will cover damage to a trailer under the claim of a basic auto insurance policy. However, for added protection, you might wish to purchase insurance specifically for your trailer.
Comprehensive Insurance
Comprehensive insurance will cover your trailer in case of off-road loss or damage. If your trailer falls subject to vandalism while parked and unattended, a comprehensive policy will pay for the costs to repair or replace it. A comprehensive policy will also pay for repair or replacement costs if the trailer gets damaged or destroyed by a fallen tree or downed power line. Comprehensive insurance will even cover the damage costs that stem from a fire, snowstorm or natural disaster.
Collision Insurance
Collision insurance will cover the cost of damage to your vehicle and trailer in the event of an accident. Unlike liability coverage, which only pays for costs related to damages and injuries you might inflict upon another party, collision coverage will pay for your medical expenses and trailer repairs.
A lot of motorists forgo collision insurance because the liability policy of the at-fault party generally covers damages. By this logic, you don't need collision insurance if another driver hits you, because you can file a claim on their policy. However, there is no guarantee the liable party will even have insurance, in spite of the law. Your collision insurance will cover your expenses, regardless of who is responsible for the accident.
If your trailer gets stolen, comprehensive insurance will cover the cost of a new or used trailer of comparative market value.
Contents Coverage
If you use a trailer for the transportation of personal belongings, contents coverage will pay for the repair or replacement costs for anything that gets lost or stolen. For example, if your parked trailer contains a boat, vehicle or motorcycle, and a theft occurs, contents coverage will pay for the cost of a new or used replacement boat/bike/vehicle of comparative market value. Contents coverage will also pay for the cost of any items stolen from a parked mobile home on wheels.
If you have an accident where the contents in your trailer get damaged or ruined, collision insurance will pay for the damages to your automobile and trailer, but contents coverage will cover the cost of the items inside your car/truck and trailer.

Purchase Trailer Insurance
If you are currently in the market for trailer insurance, the first place to check would be your auto insurance provider. When you speak with an insurance agent, he or she can walk you through the options and help you determine the best choice for your trailer, as well as trailer insurance cost. In some cases, the coverage of a basic auto insurance policy will extend to cover the trailer. If you are also looking for a new auto insurance policy, now would be the time to see if you can get an umbrella policy to cover your automobile and trailer jointly.
Of course, not all auto insurers will also offer trailer coverage, so you might have to look around online. Depending on where you live, the options might be limited, but you can generally find the nearest providers by doing a Google search for trailer insurance in your area. In most cases, you can even get a free quote on trailer insurance when you follow the contact link on an agency's website.
Commercial Trailer Insurance
If you plan to use your trailer for business purposes, you will need to have it insured separately from your vehicle. In fact, personal auto insurance does not apply to a commercial trailer. As with commercial vehicles, commercial trailers require special insurance due to the higher stakes involved. Depending on the laws in your state, you might be able to get your trailer covered under your commercial auto insurance.
If you transport goods for a company via trailer, you will need to have trailer insurance before you take to the road. Only with commercial trailer insurance can you protect the trailer and keep the contents covered in the event of an accident, theft or off-road incident.
In most cases, companies that offer commercial auto insurance will also provide trailer insurance for trailers that fall under the commercial category, examples of which include the following:
Auto hauler
Bulk trailer
Concession trailer
Dump trailer
Freight trailer
Gooseneck trailer
Horse trailer
Livestock trailer
Logging trailer
Pole trailer
Tilt trailer
Commercial trailer insurance will cover the trailer itself in the event of accidental damage or vandalism, but it will not cover the cost of damaged or stolen commercial cargo contained inside.

Cargo Insurance
If you work for a commercial cargo company and you use your trailer to haul cargo from one location to another, you will need to have cargo insurance to cover the commercial contents inside the trailer.
When you consider the potential consequences of lost, stolen or damaged cargo, it is essential for your livelihood and prospects as a commercial hauler to get a cargo insurance policy. That way, no client or shipping boss can ever force you to pay out of pocket for lost or damaged cargo if your trailer gets hit by another vehicle while in transit or damaged off the road by vandals, thieves, fire or inclement weather.
Purchasing Commercial Trailer Insurance
Shopping for commercial trailer insurance can be a complicated task as you consider the factors at stake. On one hand, you want insurance that will cover your trailer in the event of damage or loss, regardless of cause or liability. However, you will not want the cost of your trailer insurance premiums to eat into your bottom line as a commercial hauler.
When you speak with representatives from commercial auto insurance companies, ask if they can bundle trailer insurance into the same policy. Search for commercial auto and trailer insurance providers in your area, and call several companies for free quotes. Gather several quotes and compare the benefits attached to each before you settle on an offer.
Commercial Trailer Insurance Rates
Due to the high stakes at play with the operation of commercial vehicles and trailers, the premiums for commercial auto and trailer insurance are generally higher than the premiums for personal car and trailer policies. On the upside, the coverage you receive with commercial insurance is generally more expansive.
In any case, it is vital to have such coverage if you plan to haul a commercial trailer across local, intrastate, interstate or cross-country distances. Commercial auto and trailer insurance will protect your business from downtime, loss and potential hardship in the event of an accident.
Several factors determine commercial trailer insurance rates. The make and model of your trailer will affect your rate, as trailers of high market value tend to be costlier to repair or replace. The types of material your trailer carries will also have an impact on your insurance rate, because certain contents could leave more of an environmental impact or result in costly cleanups if they get strewn about or spilled during an accident.
The amount of mileage you rack up as a commercial hauler over the course of a typical year will also affect your insurance rates. That's because your odds of an accident increase when you drive more. Rates can also change due to the location of the start and end points of a typical route, as certain routes and areas tend to be more challenging and tend to see higher frequencies of accidents among commercial vehicles.
Personal factors can also affect your commercial auto and trailer insurance rates. If you have a less-than-perfect record when you apply for a policy, you might have to pay higher premiums, especially if it's been fewer than three years since your last infraction. Another thing affecting your rates is your age at the time you apply for a policy. Most insurance companies view drivers under the age of 25 as higher-risk policyholders, and therefore assign them higher rates.
Lastly, the type of insurance you choose for your trailer will influence your rates. For the most expansive and thorough coverage, you will generally pay higher premiums than what would typically be part of a more standard policy.

Commercial Trailer Insurance Discounts
Several factors can land you a discount on your commercial trailer insurance. If you are 25 or over and have a clean driving record at the time you apply for a policy, some insurers might give you a lower rate. If you already have a commercial driver's license with the same provider and wish to add trailer insurance to your policy, you stand a better chance of negotiating a lower-rate policy.
You can also get trailer insurance discounts if the make and model in question has one of the more reliable grades for trailers in its class, as this would reduce the possibility of damage in a typical accident. If most of your hauling routes cover safer areas, you could secure a lower insurance rate due to the reduced likelihood for theft or vandalism.
RV Trailer Insurance
To protect the internal contents of your recreational vehicle, ask your home insurance company about a possible extension to your policy that would cover the items in your RV. That would cover you against loss or damage inside your RV in the event of a collision, storm, burglary or fallen tree. Essentially, you would extend your homeowner's insurance coverage to protect the contents of your home away from home.
Another option with even more protection is to buy a separate insurance policy for your RV and trailer. This type of plan will cover the contents, in addition to the value of the RV itself if the vehicle ever gets stolen or destroyed.
Boat Trailer Insurance
Some boat insurance providers will offer extended policies that also cover the value of a boat trailer. This kind of policy will cover the boat and trailer if an accident occurs on the road while en route to and from the waterways. This, in addition to the part of the policy that keeps your boat insured in the event of damage or loss on the water, could have your investment in a boat and trailer fully covered and thus eliminate the need for trailer insurance.
Horse Trailer Insurance
For a horse trailer, the extent of your coverage could depend on whether you own the horses in question. If you only transport other people's horses for riding purposes, explore the possibility of group insurance through an equestrian federation.
If you own the horses yourself, you will need to purchase an independent policy to protect them, and cover any medical expenses that may result from a roadway accident. The most expansive option would be a bundled horse mortality and medical coverage policy, in addition to your trailer insurance.

New and Used Trailers From All Pro Trailer Superstore
People use trailers for everything from animal transportation and product delivery to boat and vehicle hauling and outdoor accommodations. Whether you haul a large trailer as part of a cargo fleet, or use a utility trailer to haul bikes to and from a race track, it is crucial to give the trailer the same care as your vehicle and the trailer contents. To that end, you need a solid, reliable and insured trailer.
At All Pro Trailer Superstore, we sell a vast range of trailer types, and also offer trailer repairs and other services. Explore our new and used trailer inventory, and contact a sales rep for more information.