Tips for Hauling Heavy Equipment
Jan 08, 2019
Last Updated on September 13, 2021 by allprotrailersuperstore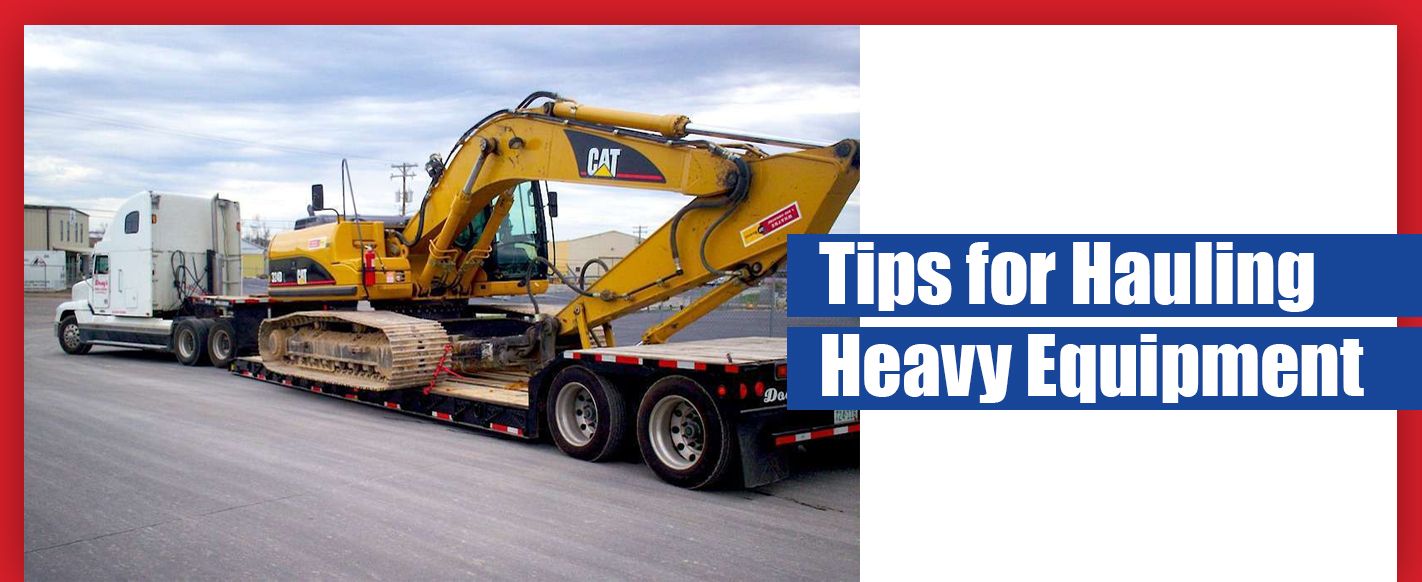 Transporting heavy equipment can be a challenge — or a breeze if you prepare with a well thought-out plan and equip yourself with the proper trailer. All Pro Trailer Superstore experts know you need to keep each machine in place whether you're moving over-sized loads to different locations or need to transport several engines at a time. Fleet managers expect efficiency and safety. Therefore, you will need the appropriate equipment, securement, driver, routes, permits and licenses.
And let's not forget about adhering to the correct regulations since rules can change from state to state. Whether you have a mixed fleet of backhoes and forklifts or have a single piece of machinery to haul, rely on our guidelines to get an idea of how to achieve a smooth move.
Table of Contents
Quick Tips to Help You Transfer and Secure Heavy Equipment
When you need to get your heavy machinery from one destination to the next, you want to work with a safe load and keep the heavy equipment in place. You can lessen the risk of damage during sudden stops, accidents and high-speed turns by following a few simple steps.
Every year there are thousands of violations regarding load fastening. As one of the most vital components in conducting a massive move, you need to be aware of checks such as:
Secured vehicle equipment
Strong tie downs
Proper heavy equipment and machine protection
Correct cargo, systems and devices protection
Ideal securing procedures from the front and rear portions of the vehicle
Immobilized equipment
Driving on the road, plus maneuvering through different conditions such as tight turns and various road environments, may cause accidents unless you keep your heavy equipment in place. It's crucial to work with the right tools to make hauling easier. You simplify the process when you adhere to several steps, including strategic planning and precise execution:
Prepare ahead of time
Work with the proper trailer
Secure the load with the right tools
Rely on trained and experienced drivers
Obtain the correct permits
Understand the towing requirements for different states
Run the driving route in advance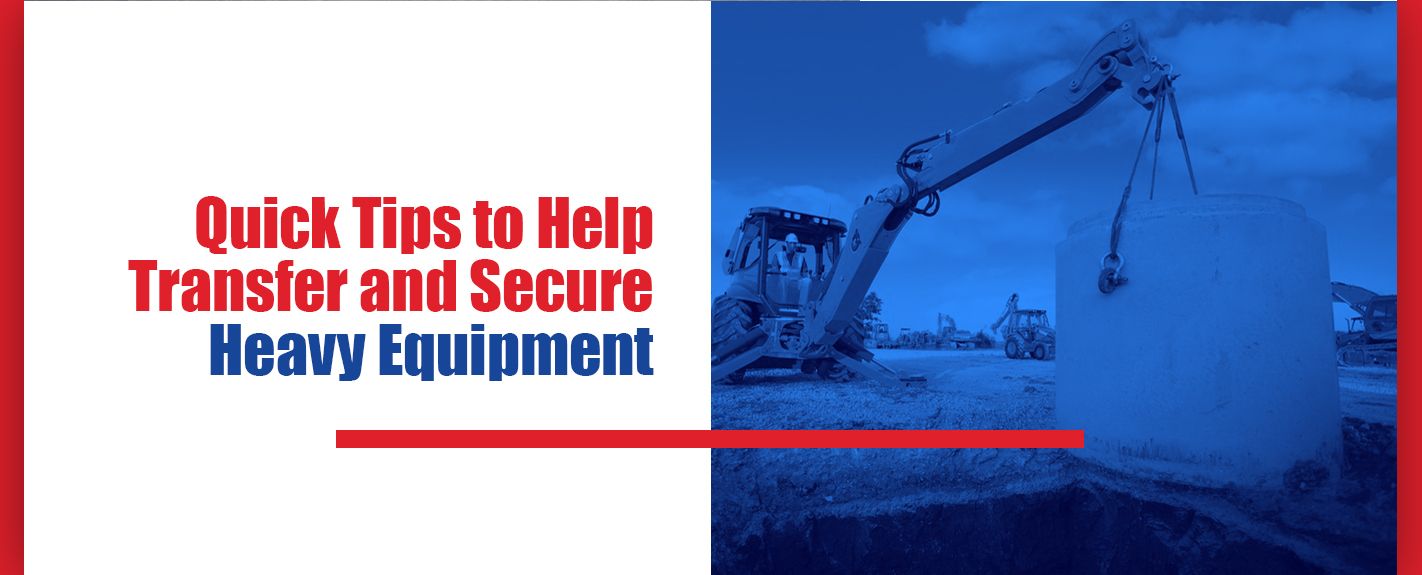 The Pros and Cons of Different Trailer Types
The first thing on your preparation list is to find the best trailer that suits your application. There are various types of towing extensions such as a flatbed, lowboy, drop deck, gooseneck and extendable drop deck.
1. Trailers With a Low Deck Height
Extensions to your truck with a low deck height are the most popular trailer for hauling heavy machinery. Because the detachable equipment offers the lowest deck height, it creates a small center of gravity and keeps your machines under various height restrictions. Trailers with low decks are vital if you're transporting tall equipment, and they make loading easy, especially for track-type engines.
Double-drop detachable extensions are also common to work with whether you're moving several skid steers or a grader. The trailers have a low angle and loaded deck height which helps it carry almost any equipment. Double-drops are great solutions for over-width machines or for engines that may have an overhead clearance issue. The only disadvantage of a detachable is the lack of deck space. You can often only haul one engine at a time.
2. Hydraulic vs. Mechanical Trailers for Loading Machinery
As the name implies, a hydraulic trailer uses hydraulic cylinders to lower and raise the deck as opposed to manual movements. The gooseneck versions are more forgiving with hydraulics and are excellent at keeping the trailer's center of gravity low to the ground. Many construction workers depend on detachable hydraulic gooseneck trailers because they are easy to load and help decrease the overall height of the system.
Hydraulics are also versatile, allowing you to add a beavertail option to the trailer for boosted flexibility. Pneumatic systems are helpful when you're in tight areas where removing the gooseneck proves too difficult. The only disadvantage of a hydraulic trailer is the weight.
When it comes to a mechanical system, several different versions exist. Each offers a simple design, and none of them require hydraulics. However, no hydraulics means they can be a bit trickier to operate. They are also harder on the driveline of your towing vehicle, and you always have to make sure you're on a solid surface for good traction. Mechanical systems are a great solution for companies who operate with loads on the trailer for several days at a time.
3. Working With a Sliding Axle Trailer
A sliding axle trailer doesn't need ramps to load equipment, which makes your life easy. The hydraulic axle tilts forward to lower the bed and offers an excellent load angle. Having the deck low to the ground also increases safety measures.
For example, pavers require a six-degree angle for loading. With a sliding trailer, you can load pavers at low angles. This trailer also offers maximum deck space since the deck is above the tires. The trailer has the versatility and flexibility to handle several pieces of machinery at once. It can transport about 80 percent of all construction equipment without compromising height restrictions too. However, a sliding axle trailer is not ideal for permanent loads because of its weight and center of gravity.
4. Adding Beavertail Options to Your Trailer
Beavertails are an economical solution that have simple-to-use manual ramps. They are better on hard ground, they have a steeper angle of approach, and the deck height is often higher than a detachable lowboy. However, beavertails are outstanding for off-terrain loading. The system can deliver up to 20 inches of ground clearance under the chassis, which can help you traverse over boulders and other obstacles.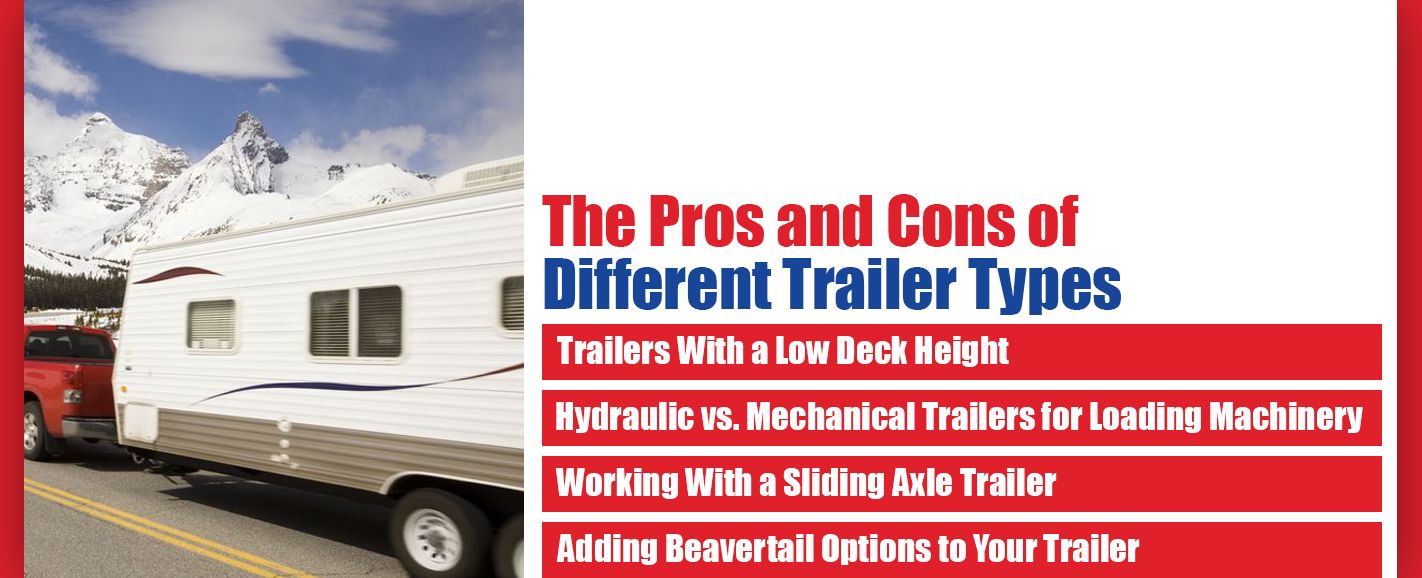 Best Practices for Hauling Heavy Equipment
Now it's time to get down to the details of hauling equipment with trailers. As with many things in life, there is a before, during and after phase — and it holds for carrying heavy machinery to each job site.
1. Before Loading Your Machines
Before placing your equipment onto the trailer, adjust what you need according to the next few phases:
Make sure your vehicle's gross vehicle weight rating is in line with what you're hauling. Anything that exceeds the truck's weight limit can cause accidents.
Find out if you will need a permit for over-width or over-sized equipment.
Refer to any loading guidelines for your engines such as brakes, locking pins, transmission gear, deck wideners and outriggers.
Figure out where you will place the heavy equipment on the transport trailer to distribute the weight as evenly as possible.
Check your equipment's specified securement points to ensure there is no damage.
Friction devices may be necessary if there will be low friction between your vehicle and the machine, such as metal crawlers on a metal deck.
2. During Loading
Driving your machines onto a trailer is a straightforward process when you consider the following:
Only operate equipment you're familiar with and know how to work safely.
If applicable, place your machines against the vehicle structure to prevent forward shifting unless the weight distribution doesn't allow.
Be aware of hydraulic or brake hoses and cylinders when attaching your securement system to keep each component intact.
Install edge protection to your trailer to keep your equipment and tie downs in excellent condition.
Follow the equipment manufacturer's attachment point suggestions.
Adhere to the manufacturer's recommendations when it comes to securing your heavy machinery.
Work with the appropriate attachment points that are strong and suitable to withstand specific levels of weight.
Use chains if you can as they are the preferred tie-down method for heavy machinery.
Always use direct tie downs when possible.
To prevent your trailer, as well as the equipment, from rolling away, use chocks, wedges, cradles or other tools to prevent the system from shifting.
3. After You Set Your Equipment
Once you have your engines in place, take one more sweeping look at your load to ensure safe, reliable and efficient transportation:
Lower every mobile accessory of your heavy equipment such as plows, hydraulic shovels, booms and crane arms.
Secure each to the trailer using tie downs as necessary. If the accessory has a locking pin to prevent extra movement, it doesn't need additional securement.
Lock the machinery to prevent articulation if it has components such as a pivot or hinge.
Secure other items that aren't attached to the equipment to the trailer by adhering to cargo securement rules.
Confirm the final height and width of the towing vehicle and trailer.
Inspect your trailer and truck to make sure they conform to towing regulations.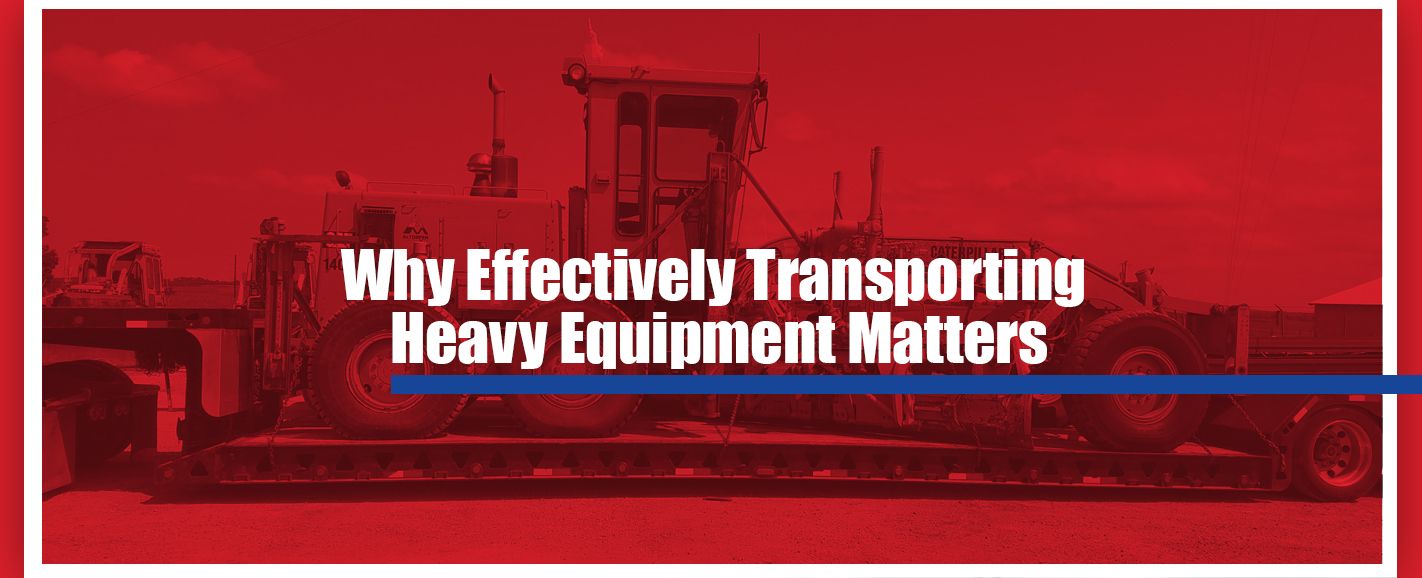 Different Tie-Down Requirements
Sometimes you may wish you could throw a rope around your load and call it a day. Maybe a few ratchet straps at the front and a few at the back. Although it sounds like an easy solution, tie-down systems are the epitome of a safe haul. Without the right tools and technique, you and your equipment could be in for a rough ride.
You need at least four tie-down points to prevent side-to-side movement as well as vertical, forward and rearward movement, especially if your trailer has wheels or crawler tracks.
A single tie down, which is an indirect method, includes one that goes through an anchor point and attaches to both sides of the trailer.
You can use a chain to count as two tie downs if you attach it to two anchor points with two binders and slack in the middle.
The total working load limits of the tie down scheme must be at least 50 percent of the cargo weight.
Tie downs are either as close as possible to the rear or front of the equipment or at the proper mounting points on your machinery.
As you can see, there is a method to all the madness. When you conform to the proper tie-down procedures, you can rest assured that your machinery is in place and ready for the trip.
Why Effectively Transporting Heavy Equipment Matters
Instead of crossing your fingers and hoping for the best — while breaking a few laws at the same time — secure your heavy equipment the right way to maximize efficiency as well as increase safety. Adhering to our short guideline can simplify the moving process between job sites. Fleet safety is a combination between man and machine where both are essential.
You have to know the weight of your machine, how much the trailer can handle, how much your truck can pull and other workings such as how to load various cargos, how to put the equipment on the trailer, facts about load distribution and how to chain your engines.
Driver training is also an essential piece of the puzzle. Everything from securement training, keeping the right distance between other vehicles, operating around hazardous objects such as bridges and wires and communicating with your escorts makes the perfect combination for a safe haul. Drivers need to review and update their truck-driving skills each year, and they may require extra training before taking on large projects. Always make sure you and your operators are aware of safety rules and regulations.
One of the essential parts of undertaking a heavy equipment haul is making sure your load is secure. The second is how to haul your trailer. Over the years, technology has made it easier with GPS, hydraulics and even truck ergonomics for a fast and efficient process.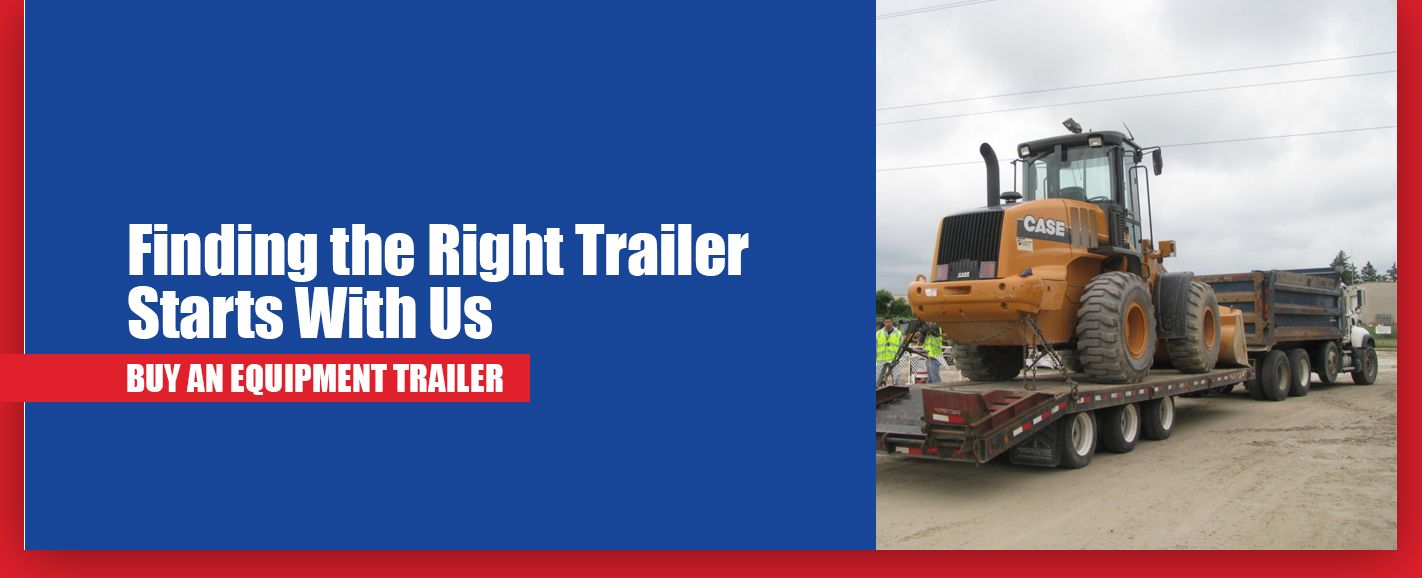 Finding the Right Trailer Starts With Us
Now that you know the best way to haul your heavy equipment without damaging a trailer or your machines, it's time to consider which solution is best for your application and budget. Trailers for heavy equipment aren't one-type fits all deal. All Pro Trailer Superstore is here to help you buy an equipment trailer that suits your hauling needs.
As one of the essential components in transporting equipment, the right trailer has to meet your precise requirements. You will want to make sure to consider the various axle and trailer types and how each can benefit you.
Trailer Superstore is a full-service trailer center that offers extended equipment for everything from hauling stone and transporting cars to moving heavy machinery for those who work in construction. Our team of professionals is here to support you in finding a trailer that fits your budget and application. We are also here to help you learn the best and safest loading and hauling practices.
On top of our massive inventory of trailers, All Pro Trailer Superstore also provides 10 additional services including trade-ins, financing, customization and delivery. We are a leader in the industry, and our knowledgeable sales force is committed, educated and dedicated to being a customer-service-driven team.