Tips for Loading Your Enclosed Cargo Trailer
May 23, 2017
Last Updated on November 16, 2021 by allprotrailersuperstore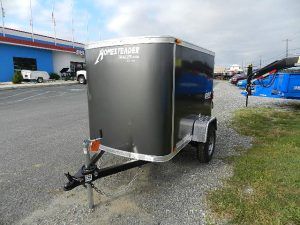 If you are noticing that your enclosed cargo trailer is swaying more than you like, you might have a problem with how you are loading the trailer. There are a number of ways you can be safer on the roads when you move your haul, and one of those ways is by balancing the load.
One of the first things to consider when loading your trailer is tongue weight. Many people who are having issues with swaying trailers do not have enough trailer tongue weight in comparison to the total gross trailer weight. When we refer to tongue trailer weight, we mean the downward force that the tongue of the trailer applies to the towing vehicle's hitch.
When the tongue weight is too light, this could cause trailer sway. When the tongue weight is too high, experts caution that it could affect the steering. They recommend a trailer's tongue weight to be between 10% and 15% of the total gross trailer weight. This article provides good information on how to calculate the trailer's tongue weight and ways to adjust it. One easy way to mitigate trailer sway is to put heavier items at the front of the trailer.
In addition to that, you should tie down your load to prevent significant cargo movement. Heavier items should be loaded first as they will require a more complex plan to remain tied down. The last thing you would want is for the cargo to fall over if you need to make a quick turn. You should load 60% of your total cargo over the front half of the trailer.
Also, keep in mind that towing vehicle squatting can be a major problem that could create a bumpy ride, or worse, cause your vehicle to bottom out. One of the easiest ways to eliminate squat is by evenly distributing the weight on both sides of the trailer. These tips are in addition to staying within the weight limits of your trailer, checking your vehicle's and trailer's tires before you haul a load, inspecting the brakes, and testing the lights. All of these tips will help you stay safe while out on the road with your enclosed cargo trailer.
And remember, if you're looking at cargo trailers, our team at All-Pro Trailer Superstore can help you find the best cargo trailer for the application and your budget. We hope to see you soon!