What Is Hotshot Trucking?
Sep 25, 2023
Last Updated on September 25, 2023 by allprotrailersuperstore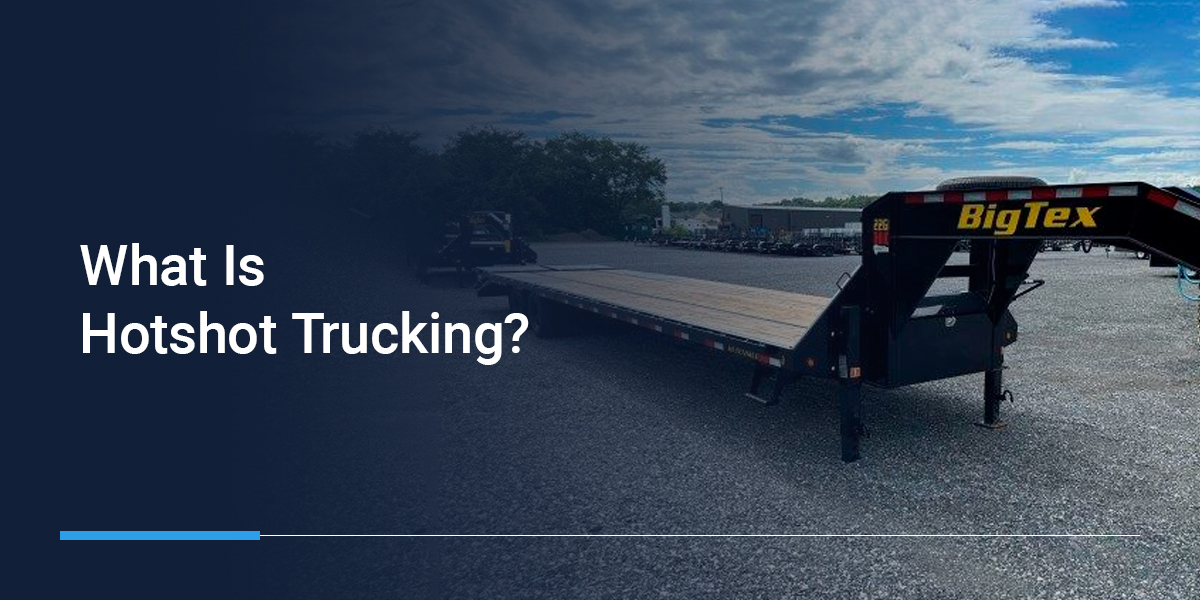 Hotshot trucking is a great entry point into the world of truck driving and hauling, offering an on-demand form of load delivery. It can also be a lucrative side gig for anyone with a good truck and a trailer. If you're interested in this kind of work, stick around for our guide to hotshot trucking. We'll go over everything you need to know about hotshotting and how to get the right kind of equipment.
What Is Hotshotting?
Hotshotting or hotshot trucking is similar to an expedited shipping service but for large or heavy loads. For example, if a construction company runs out of lumber for a project, it may hire a hotshot driver to bring new materials over as quickly as possible. Without those materials, construction stops, creating significant costs and delays for the company, so they're usually willing to pay top dollar to get the materials ASAP.
Instead of arranging freight with a trucking company or using an owned fleet, a company seeking a hotshot delivery would post the job on a load board. There, hotshot drivers — who may or may not have professional experience — can snag the jobs that appeal to them. Some drivers do it full-time, while others use it as a side gig to supplement their income.
Hotshot loads can be relatively small when compared to commercial trucking loads. Some examples of the things you might haul include:
Construction and agricultural equipment
Less-than-truckload (LTL) items
Heavy machinery
Raw materials
Who Uses Hotshotting?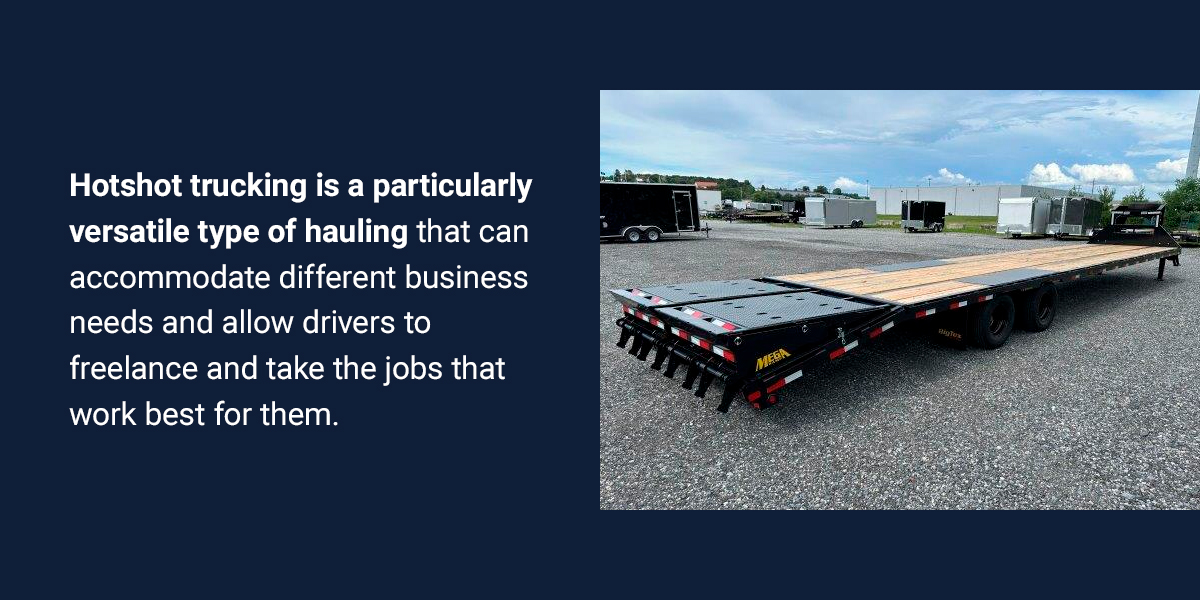 The companies that use hotshot services vary widely, from farmers and construction companies to industrial businesses and retail stores. Anyone who needs something hauled quickly can hire a hotshot driver.
Some hotshot drivers are professional drivers who use hotshotting as an extra money-making gig or as their full-time job. Other hotshotters are nonprofessionals who might use it to earn money on the side or try their hand at driving as a career. If you own the right truck, you already have some of the equipment.
Hotshot trucking is a particularly versatile type of hauling that can accommodate different business needs and allow drivers to freelance and take the jobs that work best for them.
Why Do Hotshot Trucking?
Hotshot trucking can be an excellent way to make money if you like driving. With so much control, you can make it into the job you want. Some of the benefits of hotshot trucking include:
Competitive pay: Since most hotshot jobs are expedited and occur on short notice, you can usually expect good rates. While your overall income will depend on various factors, you get to choose which jobs you take and sometimes even set your rates. If you have more experience, specialized equipment or work in a high-demand area, you might be able to increase your rates.
Low upfront investment: Hotshot trucking doesn't require a huge semi or the expensive insurance that comes with it. Many people can get started with just a pickup and a trailer.
More time at home: Most hotshot jobs are short-haul, so drivers don't need to go as far. They often get to spend more time at home.
Building experience: If you're interested in professional trucking as a career, hotshot jobs can help you build up your experience. You can learn more about the field and get more hours under your belt.
Trailers Used for Hotshot Trucking
Most hotshot trailers are designed for certain types of loads. Here are some popular trailers used for hotshotting:
Gooseneck trailers: Gooseneck trailers are a versatile option offering a tighter turn radius than other types of trailers. They feature a piece that extends over the back of the vehicle, such as a truck bed. You will need a ball hitch to attach a gooseneck trailer to a truck. These trailers are exceptionally stable and can carry heavier loads. They also come in enclosed and dump styles.
Bumper pull trailers: Although affordable, bumper pull trailers are shorter and don't pull as much material or weight as other options. They're typically limited to loads under 10,001 pounds and can lose stability with heavier loads. Still, they're easy to use, so they can be suitable for light jobs.
Tilt deck trailers: As the name implies, these trailers tilt at an angle to help with loading and unloading. They go flat during transport. Since they use hydraulic systems, tilt deck trailers require more maintenance than other trailer styles. They need regular filter and oil changes and oiling to prevent rust.
Dovetail trailers: A dovetail trailer is designed for transporting cars or wheeled equipment. It has two ramps that flip up for security in transit and flip down to create wheel tracks when loading. The back of the trailer hangs low, so it can be difficult to avoid dragging on steep inclines.
Lowboy trailers: Lowboy trailers dip low to the ground, offering a better center of gravity for heavy loads. They can also help you avoid height restrictions for tall loads. Unfortunately, they don't provide much deck space and can limit your capacity.
These trailers can attach to many kinds of vehicles, including Class 3, 4 and 5 medium-duty trucks.
How to Start Hotshot Trucking
Before you can begin hotshot trucking, you must complete some administrative work. Follow these steps to start hotshot trucking:
1. Obtain Your CDL or Driver's License
If you plan to haul loads under 10,000 pounds, you can get by with just a Class D driver's license. This is the standard license that most citizens get. If you want to haul heavier loads, you'll need a commercial driver's license (CDL). You'll significantly limit which jobs you can take without it.
2. Get Medical Clearance
All commercial drivers need a medical exam from a Department of Transportation (DOT) examiner. During this physical, they will assess your general health and mental and emotional well-being. The exam is valid for 24 months.
3. Get Insurance
Commercial driver's insurance can be costly, so shop around for a premium that fits your budget. Your insurance should cover several areas, including liability, physical damage and cargo.
4. Get Your USDOT and MC Numbers
Most hotshot drivers will need a United States Department of Transportation (USDOT) Number and a Motor Carrier (MC) number. You'll need a USDOT Number if you cross state lines while driving. You'll also need an MC number if you transport regulated commodities.
5. Register With Your State
Registering your new business with your state gives you a federal tax ID or employer identification number (EIN). This step helps formalize your business and lets you open a bank account and hire employees.
6. Understand Regulations
The Federal Motor Carrier Safety Administration (FMCSA) has many regulations for drivers to abide by. Spend some time learning about these requirements, such as hours of service limitations and load securing processes.
7. Buy Your Equipment
Choose the equipment that works best for your preferred jobs. A gooseneck trailer is a great choice for versatility and can help you accept more loads.
8. Find Jobs
Finally, you can head to the job boards. You can find hotshot trucking boards online with various jobs to choose from.
Gooseneck Trailers for Sale at All Pro Trailer Superstore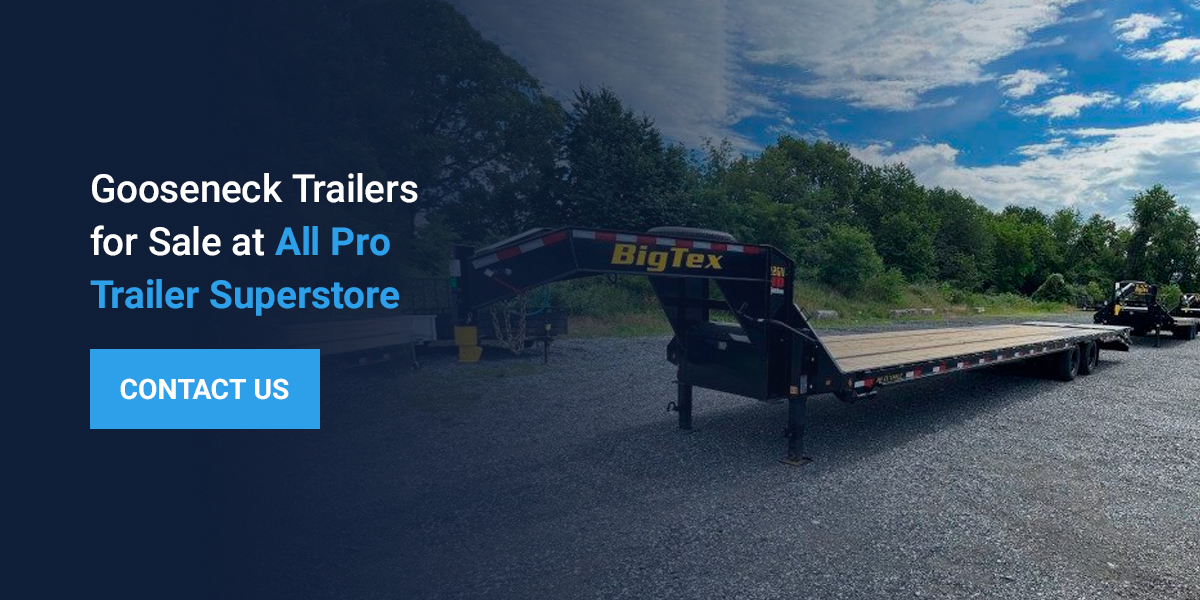 If hotshot trucking sounds like a good fit for you, you'll need the right equipment. A gooseneck trailer is a flexible option with easier turning, which can help reduce the learning curve of commercial driving. At All Pro Trailer Superstore, we carry a wide range of gooseneck trailers to fit your budget and can deliver them nationwide. We also offer many services, like licensing and registration, financing and customization.
On the other hand, if you started hotshotting and want to move on to something else, we also have a trade-in program to help you sell your trailer.
Explore our gooseneck trailers today, or send us details on your trailer to get a trade-in estimate. Interested in selling your trailer instead? We can handle that too!
Linked sources: