What to Look For in Dump Trailers for Sale
Jul 14, 2014
Last Updated on September 30, 2021 by allprotrailersuperstore
A dump trailer is one of the most useful kinds of trailers you can have, but it's also a much more complex design than a standard trailer. Dump trailers are essentially a flat trailer flame with a hydraulic rig to raise a strong but lightweight gondola. Any time the engineering gets complex, you'll find a huge range of quality in what's available on the market.
Checklist for Purchasing a Dump Trailer
So what should you look for in dump trailers? Here's our checklist: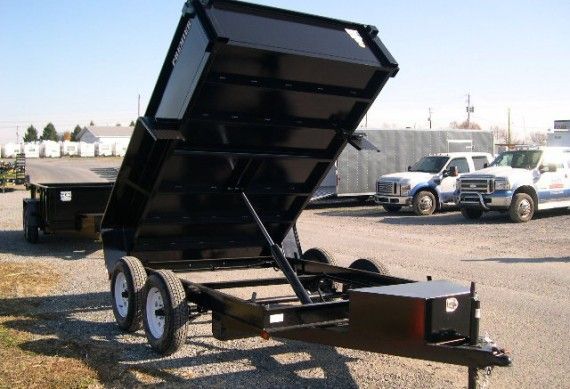 Light duty or heavy duty: This is the first question you need to ask yourself, possibly before you even start looking at dump trailers for sale. Remember, your dump trailer will be built with its intended load in mind, and it's a lot tougher to demand more out of weak hydraulics or a flimsy trailer bed than it is to underutilize a heavy duty one. Heavy duty dump trailers often have two axels, high gauge bed and trailer walls, and impressive hydraulics. They are built for gravel, sand and soil. Light duty dump trailers are more for grass and hay, or light loads of denser materials.
Durability: In many ways this goes hand in hand with the above but sometimes it doesn't. Even within heavy duty dump trailers for sale you will find a variety of quality, and if you're getting a light duty one you want the strongest one you can buy. In particular, look at the trailer brand name and check their history: do their hydraulics or axels wear out?
Removable sides: Now we're starting to get into real perks. Removable sides may not sound like a big deal, but they can totally transform a job. This is especially true if you either need to spread your load of dirt over a large area (removable sides let you spread off the sides) or carry other loads that may not fit in your dump bed.
Slide out ramps: Most dump trailer gates hinge at the top, not the bottom—but don't think you'll never wish you had a rear ramp.
Lock-in accessories: It'll happen eventually. You'll raise the dump trailer and then realize you still had tools in there—which are now barriers. Lock in tool trays and chests prevent this.
These are just the first things to consider when looking at dump trailers for sale, but there are many other factors too. What do you look for in a dump trailer?