What to Look for in a Landscaping Trailer | All Pro
Jul 17, 2014
Last Updated on November 17, 2022 by allprotrailersuperstore
Landscaping trailers come in all different shapes and types. If you need a good, reliable landscaping trailer it's important that you get one that's going to work for you. A trailer that isn't designed for your kind of work can create a lot more work, limit your load size and even make hauling dangerous.
Tips for Picking Out a Landscaping Trailer
So what should you look for in landscaping trailer? Here's our short list of tips: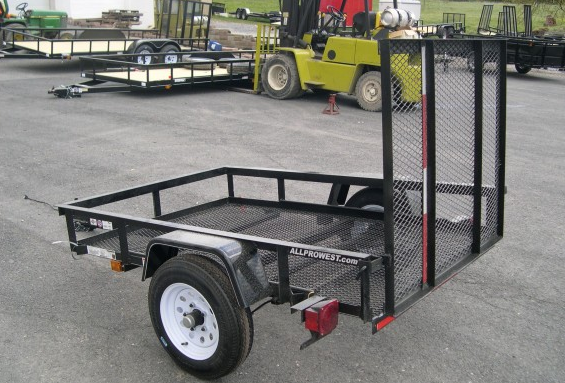 Size: This seems obvious but so many people end up skimping on size to save money, only to find out later that they have a hard time fitting everything they planned to use their trailer for. Obviously, you don't want to go too big or you'll be depleting gas faster than you need to, but within your desired size range for the high end. Leaving a trailer half full is a lot easier than overfilling it.
Number of axels: For most landscaping trailers you'll see just one axel, but if you're looking at the large end—about 12 feet in length—consider going up to a two-axel model. This will create more support under the load and give you a more stable platform.
Enclosure: What kinds of side walls does the trailer have? Some landscaping trailers for sale are mostly open air, with low railings around the side. Some have metal mesh sidewalls. And some have solid sidewalls. Choose the one that will work best with your typical load.
Split gate: This won't always be available, but it's a nice plus if you can get it. A split gate can be surprisingly handy, allowing you to lower one side as a ramp will leaving the other up as a gate.
Condition: If you're buying a used landscaping trailer you can expect that it will have been through some wear and tear, but there are certain things that are not acceptable. In particular pay attention to any signs of rust along the side walls—or welding that is coming loose. If it has a wooden floor make sure the planks are not rotted and are all firmly attached. And last, check that the brake lights work.
Of course, these are just a few of the things to look for when perusing landscaping trailers. What do you look for in landscaping trailers?