A Case for Enclosed Trailers
Jun 13, 2019
Last Updated on November 17, 2022 by allprotrailersuperstore

Why buy an enclosed trailer? If you regularly haul heavy equipment or large amounts of cargo, a trailer could be one of your most vital assets. Enclosed trailers keep cargo safe and secure across great distances on the road.
Table of Contents
What Are Enclosed Trailers?
An enclosed trailer is an unpowered vehicle that attaches to a car or truck and is used for additional hauling space. It's distinguished by its closed structure, which seals in hauling contents. Whereas an open trailer leaves contents on display, an enclosed trailer serves as a roof and barrier for any large objects or property that you wish to carry across great distances.
Enclosed trailers are often used to haul furnishings and appliances between different houses and apartments during a move. An enclosed trailer could also be used to haul camping equipment out to the woods during a summer trip. Depending on the length, width and height of the enclosed trailer, you could even use it to haul a vehicle from one location to another. If you have a vehicle that's currently inoperable, you could simply load it into an enclosed trailer and haul it off to a garage or storage space.

What Are the Benefits of Enclosed Trailers vs. Open Trailers?
Successfully purchasing an enclosed trailer requires knowledge of the options at hand. Depending on your intended use, an enclosed model may or may not be your best option. Enclosed trailers and open trailers both have their own advantages in the following categories.
1. Security
One of the biggest advantages of enclosed trailers is the security they offer to the contents in tow on a given trip. With an enclosed trailer, the contents are protected from wind, rain and the elements across the length of a ride. Whether you haul a load across town or over state lines, the contents will be protected wherever you go.
What's more, with an enclosed trailer, no one will know what you have inside. If you use it to haul a high-priced piece of furniture or art, it won't attract the eyes of potential thieves. Moreover, you can use the enclosed trailer as an indefinite storage space once you arrive at your destination.
An open trailer is more suitable for hauls on camping trips and during moves. If you're taking a pair of motorcycles out to the tracks for some weekend fun, an open trailer could serve as a convenient vehicle on which to load and unload the bikes. Likewise, if you're hauling crates of empty bottles and cans out to a recycling center, an open trailer will make it easy to reach over, lift and carry the crates to the drop-off site.
2. Flexibility
When it comes to flexibility, enclosed trailers and open trailers both have their strengths. In an enclosed trailer, you can store all kinds of different items in various compartments. While you might reserve the main floor space for vehicles or large stationary objects, you could also have drawers and cabinets to store smaller items like tools, silverware and other small belongings.
With an open trailer, you'll generally have more height allowance for the items in tow because you won't be limited to the dimensions of the trailer. If you need to haul an item with a part that exceeds 10 feet in height, you could easily tow the item in an open trailer. There's also a little more leeway for width in open trailers. If you need to carry an item with sections that exceed the width of most enclosed trailers, an open trailer could serve as an alternative, providing the object is not too wide for the roadways.
3. Brand Promotion
One of the unique benefits of enclosed trailers is how the outer sides and back can be used for signs and decals. If you run a business, you could use an enclosed trailer as a big traveling billboard sign. Regardless of the market you serve, if you have a business logo, it could be emblazoned on the sides of an enclosed trailer, complete with your business contact information and a website URL. Wherever you travel, your brand name could make hundreds of daily impressions on the people that see the trailer.
Granted, you could also place a logo on an open trailer, but you'd be more limited as far as the size and dimensions of the sign are concerned. If your logo is horizontal, you could have a cutout sign affixed to the bars along the sides of an open trailer. That said, you're unlikely to make as many impressions with such a sign because it won't have a solid background to help it stand out visually.
Additional Enclosed Trailer Benefits
Here is a case for enclosed trailers on this infographic.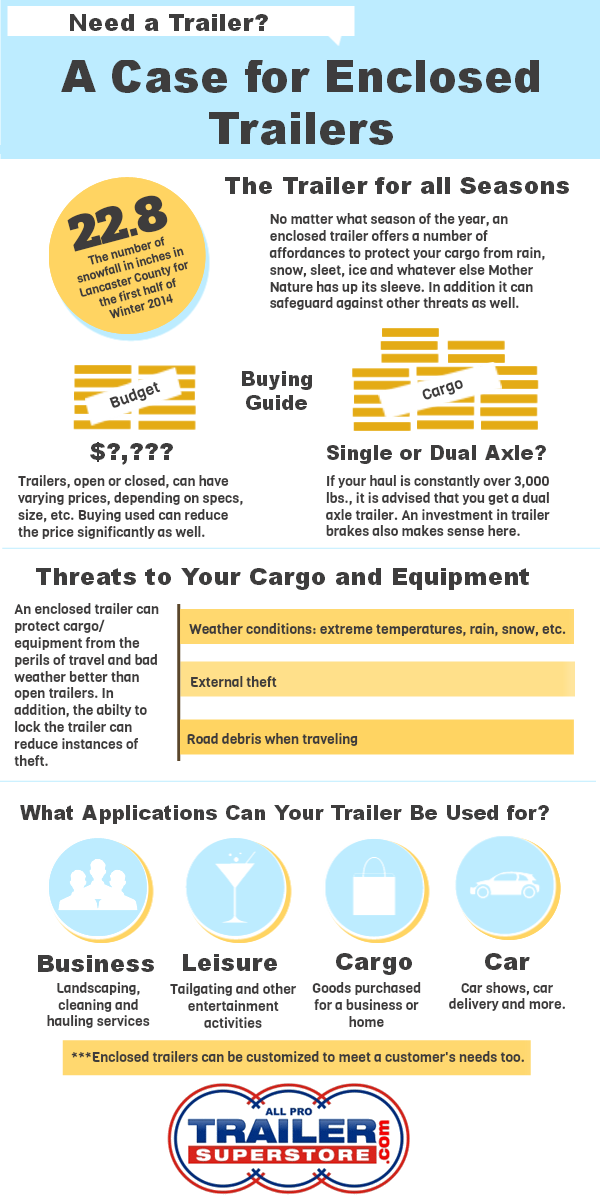 What's the Difference Between Single- and Dual-Axle Enclosed Trailers?
Enclosed trailers are generally equipped with either one or two axles. On a single-axle trailer, the axle is placed across the underside at the center, providing the trailer with two wheels. On a dual-axle trailer — alternately known as a tandem-axle trailer — two axles are placed side-by-side at the center of the trailer's underside, providing the trailer with four wheels. Each type of trailer has its own advantages and disadvantages.
1. Pros and Cons of Single-Axle Trailers
Single-axle enclosed trailers weigh less than tandem axles and therefore offer greater fuel economy. On trips that involve narrow roads, sharp angles and parking lots, single-axle trailers make it easier to change lanes, navigate turns and slide into parking spots. Since there are only two tires on a single-axle trailer, the cost of maintenance is lower because there are fewer tires to replace on a periodic basis. Moreover, single-axle trailers generally sell for less than tandem-axle models.
On the downside, single-axle enclosed trailers are incapable of carrying as much payload as dual-axle models. If you regularly load a single-axle trailer to its limit, the tires are liable to wear down more rapidly than they would if a second axle were present. Since there's no suspension on a single-axle trailer, you could have a rockier ride with one in tow if you drive on gravelly roads and over speed bumps.
2. Pros and Cons of Dual-Axle Trailers
Dual-axle enclosed trailers are generally safer to haul thanks to the increased stability that four tires provide on high-speed roadways. When you drive over cobblestone streets and bumps, a dual-axle trailer will ride smoother due to the enhanced suspension. Larger tandem-axle trailers are usually equipped with brakes, giving increased safety on hauling trips. If you have a flat tire, it won't necessarily sideline the trailer like it would on a single-axle model. In fact, you could possibly change the tire without using a jack. Overall, dual-axle trailers offer a more balanced, sway-free ride.
On the downside, dual-axle enclosed trailers weigh more than single-axle models, resulting in a weaker fuel economy. When it comes to maintenance, a dual-axle trailer will generally require attention on a more frequent basis, since you'll have four tires to replace at any given time instead of two.

How Do Enclosed Trailers Protect Cargo/Equipment?
Enclosed trailers offer superior protection because the contents within are protected from the elements throughout the course of a given trip. In an open trailer, your cargo could be exposed to rain and kicked-up roadside debris.
Depending on the types of items that you tow, exposure could be problematic under inclement weather. For example, if you need to take a piano or a sofa from one house to another, you wouldn't want those items exposed to rain along the way. Likewise, if you carry food or paper products, they would need to be covered if you tow them on days where rain is either expected or possible.
In an enclosed trailer, there are more ways to stabilize your load. Straps can be placed along the interior walls to brace down your cargo and prevent it from swaying or shaking in response to turbulence along roadways.
What Applications Can Enclosed Trailers Be Used For?
Enclosed trailers can be used for a range of utilitarian, recreational and business purposes, including the following:
Moving: If you need to move your belongings into a new house or apartment, an enclosed trailer could serve as an alternative to a U-Haul rental truck. Instead of paying some high rental-truck fee, you could use your own trailer to move your furnishings, appliances and other belongings.
Camping: If you plan to go camping, an enclosed trailer would be the perfect vehicle in which to carry your tent, burners, sleeping bags, coolers and other equipment. Alternately, you could use the trailer as a tent. An enclosed trailer will provide you with a safer way to stay warm and comfortable during overnights away from civilization.
Mobile office: In an enclosed trailer, you could set up wireless computer equipment and use the space as a mobile office. If you run a one-person business that requires you to travel from town-to-town, the trailer could serve as your portable workspace, complete with a desk, computer and power generator.
Storage: An enclosed trailer could serve as extra storage space during times when you run out of other options. If you're currently in a living situation where space is at a premium, you could use the trailer to store old boxes that might otherwise go in an attic or basement. You could also use the trailer to store your essentials until you find a more suitable place.
Landscaping: If you run a landscaping business, an enclosed trailer could give you ample space for all the tools and machinery you need to haul from one location to another. Unlike most vans or trucks, an enclosed trailer can easily accommodate a wheelbarrow, a lawnmower and other big landscaping tools.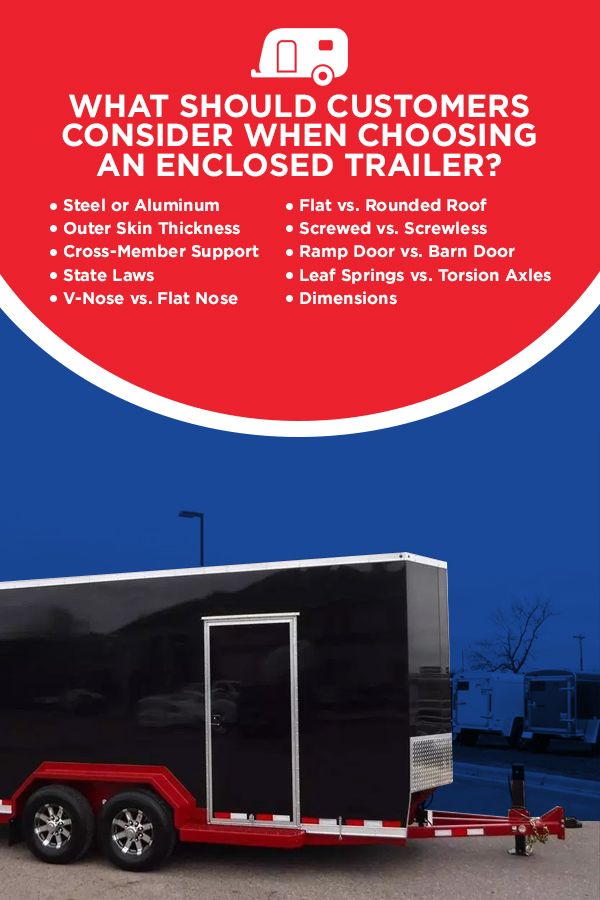 What Should Customers Consider When Choosing an Enclosed Trailer?
You should always know what to look for before buying an enclosed trailer to ensure that your final choice will meet your needs as a user. Consider the following factors.
1. Steel or Aluminum
Steel and aluminum both have their benefits when it comes to trailer bodies. Steel is a stronger metal and generally lasts longer, though it's susceptible to rust if it's exposed directly to water. If coated, steel can withstand water and avoid rust. However, a layer of coating can get damaged if scratched, leaving the surface vulnerable to water exposure. Once rust takes hold, it can spread rapidly and damage the body of a trailer, causing holes to form on some of the more heavily affected areas.
An aluminum trailer enclosure will generally weigh less, allowing you to go easier on your wheels and fuel. However, aluminum is a weaker metal that can easily get damaged if it's subjected to blunt force. The greatest advantage of aluminum is its rust-proof quality. It has natural anodes that regenerate and resist the effects of rust and corrosion.
2. Outer Skin Thickness
Enclosed trailers are manufactured with different levels of skin thickness. For the casual user, a basic thickness of .024 will generally suffice. If you plan to use the trailer for business and heavy-duty purposes, an outer-skin with a thickness of .030 would be the ideal option. Another thing to consider is the color of the skin. If the trailer is black or dark-colored, temperature changes could cause the skin to warp between the hot and cold seasons.
3. Cross-Member Support
Enclosed trailers usually feature 24" on center. If you buy a dual-axle center, you could boost its support by upgrading to 16" on center. If you intend to haul heavy equipment for business purposes, 12" could be a useful upgrade. If you do upgrade the cross-member support, you'll also need to upgrade the trailer floor with thicker plating.
4. State Laws
In certain states, any vehicle that exceeds a gross vehicle weight rating of 26,001 pounds is required to have a special driver's license. Check the laws in your state to find out whether this requirement will apply to you. Depending on your type of vehicle, you might also be required to upgrade your registration if you add a trailer.
5. V-Nose vs. Flat Nose
The nose shape of an enclosed trailer makes no difference in terms of fuel economy, so this feature is a stylistic choice. Choose the style you prefer from an aesthetic standpoint.
6. Flat vs. Rounded Roof
Both types of roofs require periodic maintenance, but the rounded roof offers several unique benefits. An enclosed trailer with a rounded roof is more resilient during times of rain and snowfall, which slides off without puddles or buildup. A rounded roof can also add up to 6 inches of additional headroom.
7. Screwed vs. Screwless
As long as the enclosed trailer is securely fastened, it won't matter whether the enclosure is screwed or screwless. The difference is simply a matter of aesthetic preference.
8. Ramp Door vs. Barn Door
A ramp door is necessary if you plan to drive vehicles into the trailer, but not if you plan to use the enclosure for hauling merchandise or supplies for a mobile business. A ramp door can also require up to 6 feet of additional space, whereas a barn door can be opened in tighter spaces.
9. Leaf Springs vs. Torsion Axles
Leaf springs are stronger and more supportive of heavy payloads but also heavier to tow. Torsion axles are made of rubber and are therefore lighter yet don't offer sufficient support for maximum payloads. Your best option could all come down to how you use your trailer.
10. Dimensions
Enclosed trailers are generally between 5 and 8.5 feet wide. As far as length, enclosed trailers can be anywhere from 8 to 32 feet. For custom-built models, height increases are restricted to 6-foot increments. Ideally, an enclosed trailer should not exceed the height of your truck.
11. Vehicle Hauling the Trailer
Each vehicle has its towing limits. Look at the manufacturer's booklet or check online for yours.

Buy an Enclosed Trailer From All Pro Trailer Superstore
At All Pro Trailer Superstore, we have enclosed trailers for sale in a range of dimensions and designs. Explore our pages on enclosed trailers for more information about particular models.