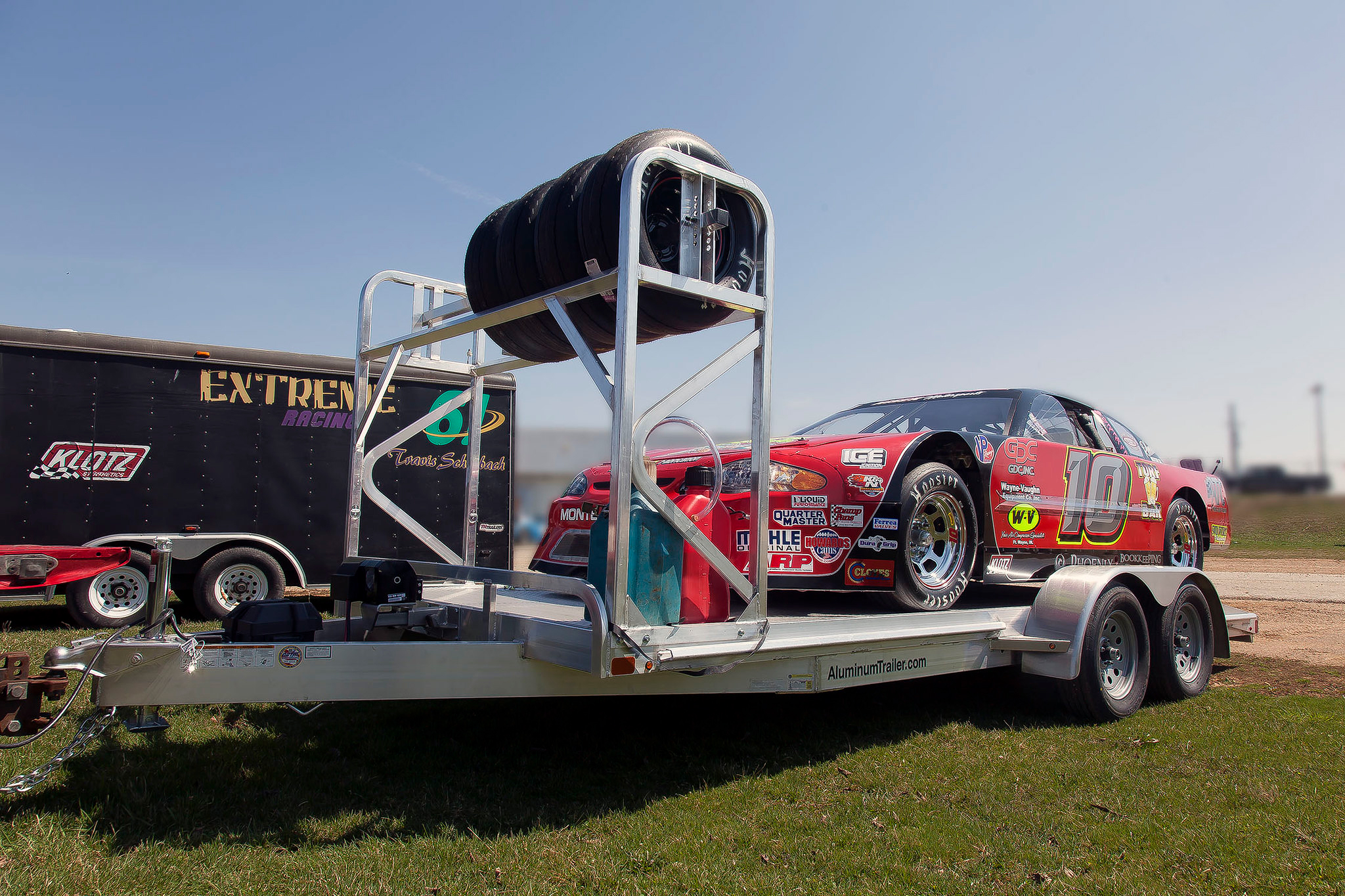 When you're involved in the racing industry either professionally or just as a hobby, you may need to transport race cars while also guaranteeing their safety and security while in transit. That's why race car trailers are so important. But not just any race car trailer will get the job done — you need a tough trailer that can securely carry heavy loads.
Find the best race car trailers for sale at All Pro Trailer Superstore. Our trailers for race cars come with many options. All Pro stocks complete customized racing trailers to stock units that can be configured to meet your specifications. We offer affordable 20′ race car trailers to heavy-duty gooseneck racing trailers at our Trailer Superstore. Race car trailers are available by top-of-the-line brands such as Car Mate Trailers, American Hauler Trailers and ATC Aluminum Trailers.
We have many trailer accessories available to customize your race or sprint car trailer or sit down with one of our trailer sales professionals and design your trailer to your exact specs. We will have your trailer built to fit your needs. Find the perfect option when you choose to shop race car trailers online with All Pro Trailer Superstore.
Trailers for Sale
Having the right trailer makes life so much easier, whether you need a trailer for work or for leisure. But what type fits your needs? At Trailer Superstore, we have a huge selection of trailers for sale, one that gives you options and lets you identify the perfect solution.
We offer a wide range of different types of trailers for sale, and you'll find new, used and customized options available as well. We also want to ensure our customers always get the quality they want and expect from an investment in a trailer, which is why we offer products made by the best trailer manufacturers in the world.
When you value selection and when you want only the best equipment, choose to buy trailers online from Trailer Superstore, where you'll find only the best options to meet your requirements.
Serving You With Selection
You need selection when it's time to shop race car trailers online. Selection means you can consider different options and features and that you can find a product that matches what you need. At All Pro Trailer Superstore, our selection includes more than 1,000 trailers at any given time — including a wide range of the best race car trailers for sale. Make sure you get the selection you need when you choose to shop race car trailers online with us.
Trailer Superstore not only offers fantastic prices on a huge collection of new and used trailers for sale, but we also help our clients build the perfect customized racing car trailers to meet their needs and fulfill even the wildest of their dreams. Just about anything that you could envision for your customized trailer, we can install for you and make it look and function just as you planned.
Quality Above All Else
Not just any product will do when you need to shop race car trailers online. You need a trailer that is going to keep race cars safe, and you need a product that can do heavy lifting day in and day out. At All Pro Trailer Superstore, we offer only products from the best race car trailer manufacturers. Because we've curated a selection that includes only quality products, you can count on getting the toughness, durability, performance and value out of an investment in the best race car trailers for sale.
Style Options for Customized Race Car Trailers
In terms of style, one of the most sought after features of customized racing car trailers will be upgraded flooring. A popular choice is checkerboard flooring, which is an instant boost to any trailer's appearance. Diamond plate flooring looks great and is rugged, and a variety of other materials or designs are available as well. We can also paint and offer designs and graphics for the exterior of the trailer, the interior walls, or both.
Functionality for Customized Race Car Trailers
For customized racing car trailers though, you'll also need real functionality. That's why we can install all kinds of components that make your trailer into a portable garage, outfitted with everything you need, wherever you're going. This includes mounted cabinets on the walls, and larger floor standing cabinets to hold all of your tools and accessories.
Smaller toolboxes can be placed on the floor as well and designed to match your flooring. You can also choose to install trailer shelving, which is useful to have tools and other items accessible during usage, as opposed to safekeeping or storage during transportation.
In addition, bike chocks, wheel chocks and tie downs of all sizes and shapes are available for installation. You'll also need the right lighting systems in place, so you can see what you're doing back there.
Beyond that, the Trailer Superstore can turn your customized racing car trailers into technologically advanced hangouts or portable "man caves". We can install televisions, stereo equipment and other electronics, and even find space for a couch or a few recliner chairs if that's what you're looking for.
For All Your Trailer Needs
There's much more to what we do than just selling trailers. At All Pro Trailer Superstore, we offer a huge selection of the best race car trailers for sale, but we also offer financing, repairs, storage, tags, titles, graphics and much more. When you rely on trailers for work or for play, choose All Pro Trailer Superstore as your one-stop shop. You won't find a more comprehensive array of products and services, and you won't find a team more dedicated to meeting your needs.
Committed to Meeting Your Needs
You're never alone when you choose to shop race car trailers online with All Pro Trailer Superstore. You enjoy access to a huge selection of the best race car trailers for sale, but you also enjoy access to a team that's focused on customer service and helping you find exactly what you need.
Our customers often have questions as they browse through our selection of race car trailers for sale and they sometimes need advice and guidance as they compare options and evaluate models. In either case, feel free to get in touch with us. One of our customer service representatives can provide the answers or guidance that you need.