Reasons To Buy A Utility Trailer
Mar 31, 2016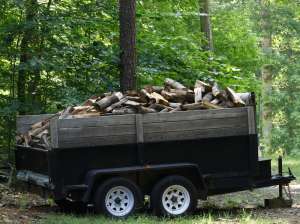 If you are looking to haul large bulky items on a frequent or not so frequent basis, than you might be in the market for a utility trailer! A utility trailer is a versatile resource that'll allow you to transport much more than just what you can pack in the trunk or bed of your truck! It will keep the towing vehicle empty so you can transport passengers and have room to spread out. Additionally, using a utility trailer will prevent damage to the interior of your vehicle because you won't have to play Tetris by loading up your vehicle. Plus, you can avoid the hassles and expenses that come with renting a trailer.
Another great reason to buy Big Tex trailers is that once you own one, it is yours for life and there is virtually no expense when it comes to maintenance or upkeep! For instance, the only thing you will really have to do is check the tread on the tires, the air pressure, grease the wheel bearings and make sure the lights are properly illuminating. Besides that and occasionally checking on the suspension, the maintenance is super easy and practically costs nothing.
An added reason to purchase a trailer is that you won't have to buy additional insurance in most cases. Generally speaking, most auto insurance policies cover the trailer when it's being towed unless it's being used commercially. On top of that, licensing the trailer is easy because you can typically attain a "permanent license" for the trailer at the local Motor Vehicle Commission. Just be sure to check with your specific state laws and auto insurance policies before towing a trailer.
Furthermore, looking at trailers for sale is like looking at cars for sale…there are numerous brands, models and sizes to choose from. Whether you want an enclosed trailer, a gooseneck trailer or a regular utility trailer, the options are really limitless. On top of that, you can choose a size that fits your needs – if you're a weekend warrior that likes to take on small or medium sized hauling projects, look at open trailers sized 5 feet by 10 feet. If you like to tackle larger jobs, pick one that's larger. Additionally, certain utility trailers can be towed by sedans and small crossovers/SUVs, so don't think that you are limited because you don't own a truck or large SUV.
After all of those considerations, a utility trailer may be your best bet when you have to haul large items or you simply want more interior space in your vehicle!