Do a Small Car and Cargo Trailer Go Together? You Bet They Do!
May 30, 2012
Last Updated on November 17, 2022 by allprotrailersuperstore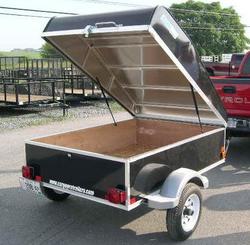 I drive a VW Beetle AND I own a summer lake house 5 hours from my home. Like many Americans, I decided to downsize from a Minivan to a Bug in order to have a more fuel-efficient vehicle. And I am glad I did! With gas prices expected to peaking at $5 some summers, a small vehicle will continue to make sense for me. However, I gave up a ton of storage space and every year I wrestle with how to get my "stuff" back and forth from lake, without taking multiple trips or spending loads of money on renting trailers. Then it dawned on me: buy a cargo trailer! These lightweight, enclosed trailers are designed to be towed by smaller vehicles and have comparable storage capacity as trailers towed by larger vehicles such as trucks or SUVs.
Benefits of Cargo Trailers
Cargo trailers allow you to haul as much as a larger vehicle without the constant drain on your gas tank. These units can easily carry such items as:
Golf Clubs
Bicycles
Camping Gear
Suitcases
Coolers
Beach Chairs
Electric Scooters
And much more!
Enclosed Cargo Trailers for Recreational Hauling
An enclosed cargo trailer is a much better choice than a hitch mounted cargo basket, bike rack, or top luggage rack — all which are hard to access, load, unload, and leave the cargo exposed to the elements and possible theft. Cargo trailers are easy to maneuver by hand and because they are compact (4′ x 6′), they are easily positioned in parking lots and stored in home garages. Custom cargo trailers can come with single, double, or ramp rear doors, side cargo doors, and/or pop-up lids. These type of trailers are ideal for:
Weekend warriors who love to golf and go to the lake
Outdoor enthusiasts who enjoy camping
Small business owners who need to show and demonstrate their products to clients or go to trade shows
Transportation of mobility devices, such as a wheelchair or scooter
"By owning a versatile, compact cargo trailer — that can handle all your storage and cargo needs when traveling, consumers can now opt to drive a more fuel-efficient car on a daily basis and save money," said Tammy Smith, Marketing Director at Trailer Superstore. A small cargo trailer makes sense, even for me, a VW Beetle owner. What about you? Call Trailer Superstore at (800) 622-7003 to learn more about their cargo trailers for sale! Don't delay, buy one today!