Snow Removal Tips
Nov 08, 2022
Last Updated on December 13, 2022 by allprotrailersuperstore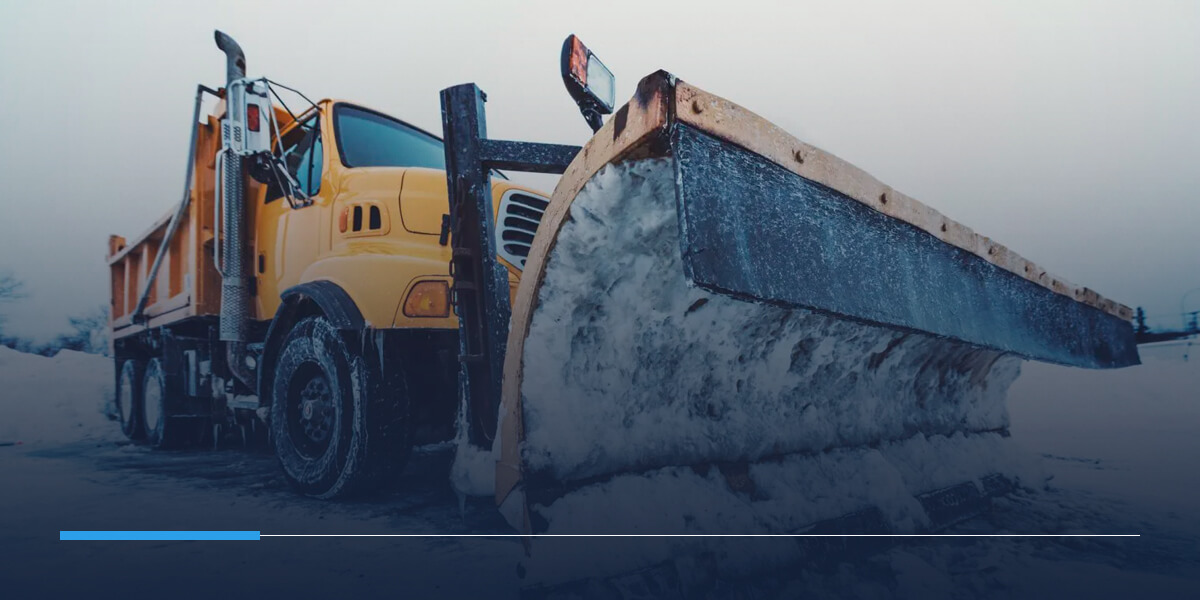 Snow heralds the holidays, winter breaks and snow fun. For many, snow also presents a new set of winter challenges. Snow and ice can create dangerous conditions for people walking and driving. Snow removal must be a priority for everyone living in winter regions. Whether you stick to your trusty snow shovel or invest in snow removal equipment, here are a few snow removal tips to guide you.
Table of Contents
Choosing the Right Snow Removal Method
Snow removal makes travel more accessible and safer for pedestrians and drivers. Choosing how to remove snow can be tricky, even for people who have always lived in winter regions. There are many different ways to remove snow, so a way that suits you is essential.
The most important consideration is how much snow your area gets. Clearing it with a shovel and some salt is relatively easy if you get only a few inches of snow at a time. Next, think about how big an area you need to clear. You can clear short driveways and walkways by hand, but if you are removing snow from a parking lot or a mile-long driveway, you might consider investing in larger snow removal equipment.
Finally, consider your health and safety. Are you physically able to shovel snow? People with preexisting heart conditions, physical disabilities and the elderly should consider using equipment to reduce the risk of injuring themselves while clearing snow. If necessary, contact a snow removal company or find out if your city offers snow removal assistance for those who need help.
Top Three Snow Removal Methods
There are many ways to remove snow, but how do you know what is right for you? Here is a breakdown of how to remove snow:
Shoveling: The cheapest and most straightforward of the snow removal methods only requires a shovel. It is essential to use a proper snow shovel with an ergonomic design that is light enough for you to use for a long time. You can also have multiple shovels for different types of shoveling. Steel shovels work well for heavy, wet snow, while plastic shovels are an excellent option for light snow.
Snowblowers: Snowblowers are perfect for large areas, saving you back-breaking hours of work. There are two main categories of snow blowers — single-stage and double-stage blowers. Single-stage blowers have one auger that picks up the snow and blows it out a short distance away. Double-stage blowers have an auger for picking up snow and a separate blower, letting them blow snow further away from you.
Snowplows and salt spreaders: These are the largest pieces of equipment for snow removal. They make snow removal easy for large areas such as parking lots, long driveways and roads. Snowplows and salt spreaders require more knowledge and skill than the other methods. Be sure you choose the right snow plow or salt spreader for your needs.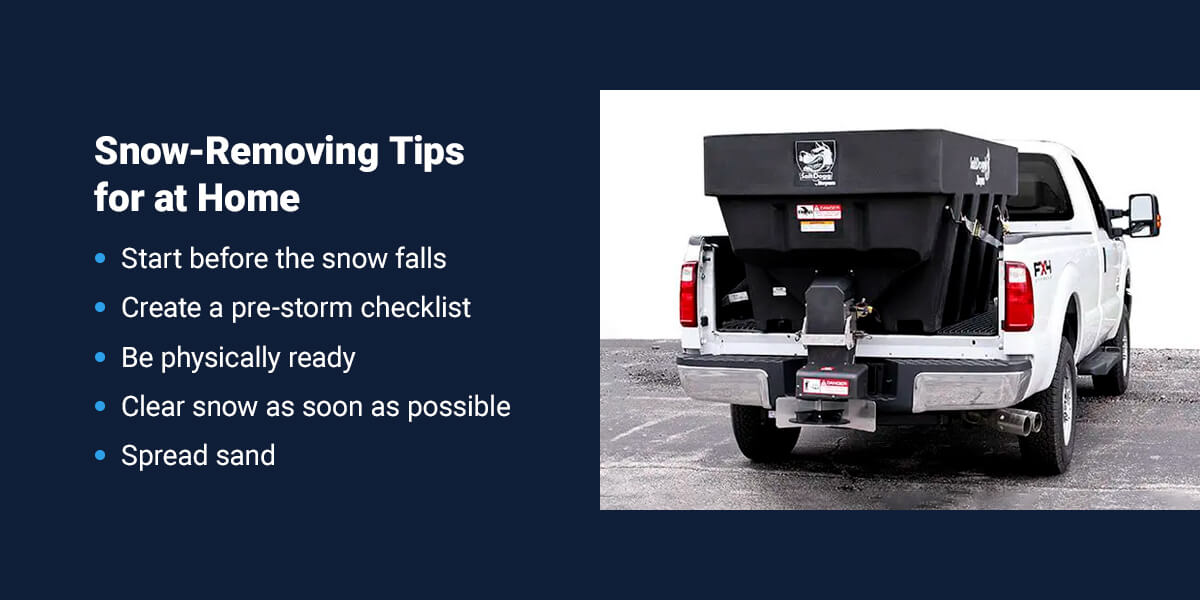 Snow-Removing Tips for at Home
Once the temperatures start dropping below freezing, it's only a matter of time before a snowstorm hits your city. If you aren't sure where to start after the snow falls, read these snow-removing tips to prepare your home:
Start before the snow falls: Using ice melt before snow hits can help prevent ice from forming and make removing snow easier.
Create a pre-storm checklist: This can include trimming branches that might fall, marking driveways or walkways so they are easier to see after a storm and ensuring your roof drains and gutters are clear.
Be physically ready: Removing snow is a physical activity, and you must prepare for it properly. Stretching and warming up before you shovel can help prevent injuries. Make sure you layer your clothing so it's easy to remove or add clothes as you need.
Clear snow as soon as possible: Walking or driving on snow makes it more compact and harder to move, especially if you use a shovel to clear it. Start clearing snow as soon as you can to prevent it from compacting.
Spread sand: Spread sand or other gritty materials on the areas you have cleared of snow to provide extra traction and prevent people from slipping.
Snow Removal Business Tips
If you run a snow removal company, you want to ensure you have the best equipment for the job.
Choose the right equipment: While a snow plow is the most obvious choice for a snow removal business, you may also want other equipment, such as snow blowers, shovels and salt spreaders. Having various equipment will help you remove snow from anywhere. Remember that your workload will dictate the size and type of snow plow you choose.
Keep up on maintenance: Snow removal equipment needs regular maintenance for your team's safety and the performance of your business. Make sure you plan for maintenance and work with a reputable repair company. Try to buy quality equipment that requires less maintenance and downtime for your business.
Pick a professional equipment dealer: Investing in snow removal equipment is a big step for your business. The right dealer can help guide you when choosing equipment. They should also provide additional services such as repairs and maintenance.
Snow Removal Safety
Snow removal is not without its risks. Whether you have a snow removal business or are a homeowner clearing your snowy driveway, you need to take care of yourself while removing snow.
Here are some safety tips for individuals:
Wear the appropriate clothes.
If using machinery, keep your hands away from moving parts.
Always switch off equipment if it jams.
Don't remove obstructions from equipment with your hands under any circumstance. Use a broom handle or a stick instead.
Let your friends, family and neighbors know you are out shoveling snow.
Businesses have different safety requirements for snow removal. Ensuring every employee undergoes training to use the equipment correctly is crucial. They also need the correct protective gear, such as waterproof and slip-proof boots, thermally protective clothing and high-visibility vests. If driving a snow plow or salt spreader, keep your seatbelt on at all times, drive slowly and always remember to look behind you when reversing.
You must take breaks while removing snow. Being out in the cold is dangerous, and getting into the warmth can help prevent colds and illnesses.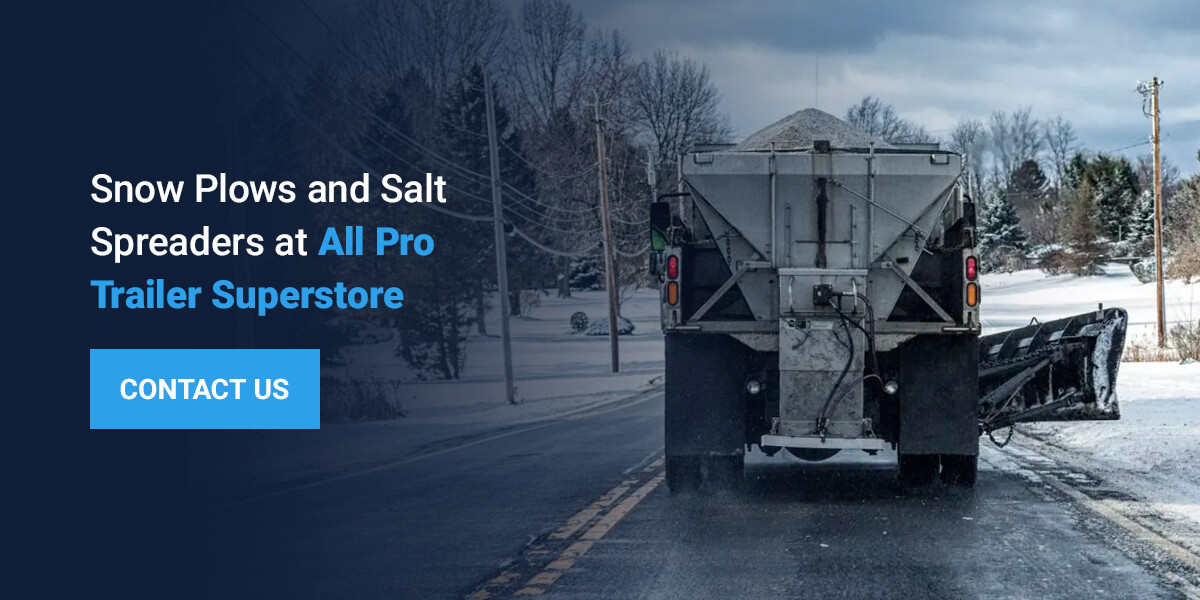 Snow Plows and Salt Spreaders at All Pro Trailer Superstore
Many people think snow is one of the best things about winter. It offers different ways to play in it and is a symbol of the holidays for many. Everyone in a snowy area understands how snow can impact our lives in other ways. Driving and walking on iced-up and slippery pathways can be dangerous, causing many to stay indoors.
Our All Pro Trailer Superstore team understands that you want to continue going out and enjoying life in all weather conditions. We offer our customers a range of high-quality snow plows and salt spreaders. If you need help deciding on what snow removal equipment you need, get in touch with our team of knowledgeable representatives who are on hand to help you online and in-store!