Fun Ways to Use an Enclosed Trailer for Your Business or Home
Mar 28, 2014
Last Updated on September 24, 2021 by allprotrailersuperstore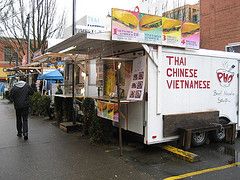 If you thought that the only thing you could use your trailer for was to transport goods from place to place, you're in for a happy surprise. The truth of the matter is that your enclosed trailer can be used for a wide variety of applications that can benefit your business or home. Trailers are highly customizable to meet an individual's needs. Here are some things we have seen over the years:
Use Your Trailer as a Marketing Tool
Are you on the road a lot transporting goods from place to place? Why not use this to your advantage by turning your trailer into your own little billboard. There are many different ways to go about this, including using vinyl wrapping or a custom paint job. You can include your name, contact info, logo, and brand colors to really make your trailer stand out and serve as a marketing tool as you use it.
Turn It into an Office
Some people who are in the market for enclosed trailers for sale will never ever take their trailers out on the road. Rather, instead, they will use the trailer for an office. An enclosed trailer can be customized to include air conditioning, lighting, electric outlets and other amenities that make any office comfortable. What's more, it is a much cheaper option than renting office space.
Turn It into a Restaurant
Food trucks have come a long way. Some of the finest food you can try will come from food trucks as budding chefs not ready to take on the overhead of a restaurant are using food trucks to get their names and food in the door. A food truck trailer, therefore, offers an even more affordable option than the standard food truck if you are looking for a way to take advantage of this bourgeoning market.
Create Your Own Entertainment Space
Don't want to make an addition to your home because of the time and money involved? Purchase an enclosed trailer. Just as you can turn your trailer into an office, you can also turn it into a living room or entertainment space. Customize your trailer to include lighting, air conditioning, custom painted walls, a booming sound system and more for an awesome space to entertain or hang out.
The appeal of the enclosed trailer for many lies in its versatility of uses. What are some ways you have seen enclosed trailers used in your experience?