3 Tips for Reducing Clutter in Your Storage Spaces
Jul 21, 2014
Last Updated on November 21, 2022 by allprotrailersuperstore
After a harsh winter and a stormy spring, people are more than ready to start enjoying summer. People all over the country are setting up their patio furniture, cleaning out their grills, filling up their kiddie pools and setting up slip and slides. Well, they would be doing all of that if they could find everything in their cluttered garages and sheds.
How many of you opened up your garage or shed and were amazed that you had managed to fill it up over the winter? It's amazing how fast you can accumulate clutter, and dealing with it can take more than few Saturday and Sunday afternoons. So many of our clients here at All Pro Trailer SuperStore run landscaping, lawncare, and other businesses that require a lot of equipment and even more space to store it in. They know how to keep their things organized and their spaces clean, and we've picked up some of their tips. If you want to keep your garage, sheds, and other outdoor storage areas clean, follow these tips.
Clear Out Storage Spaces
Your storage spaces are filled to the brim with things you probably haven't used in years. If you want to reduce clutter, think about the items you can remember using in the past year. There's no reason to keep five beat up rakes and one good one when it only took three of them to finish your usual yard work. If you have a lot of junk, you may want to consider looking for dump and utility trailers to help you get rid of it. There are plenty of good dump trailers for sale on our site, and plenty of utility trailers you can use for the task.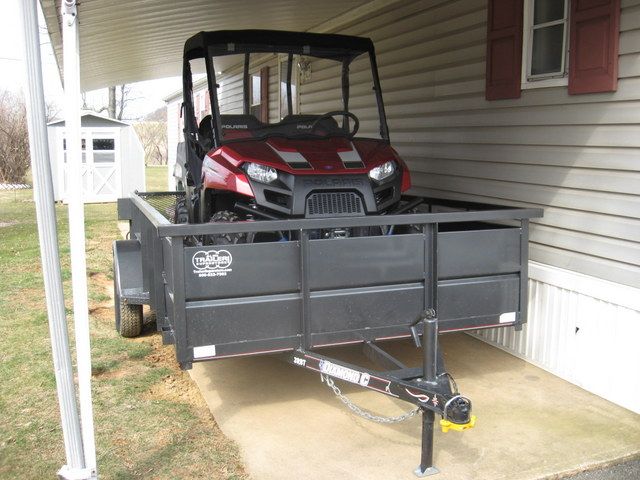 Invest in New Storage Solutions
You don't need to have your leaf blower taking up space in your garage when you only use it for a few months during the year, and your Christmas decorations don't have to take up half of your shed. If you have more things than you know what do with, you should consider renting a small self-storage space. You can use the space to store the items you only need a few times during the year, and your utility trailer can make the move much easier. Simply load everything you need on it, and leave it in your storage space until you need it again.
Invest in Shelves
If you feel like you don't have enough space in your garage or shed, a few shelves can help solve your storage problems and may even help you keep things better organized. If you feel like you can't fit a regular shelf in your storage space, wall shelves can help give you the space that you need. If you don't want to use shelves as your main storage option, a few re-enforced hooks could do the trick. You could hang some of your tools and tool belts on your back wall.