Avoiding Homer Simpson's Mistakes When Operating a Snowplow
Dec 12, 2013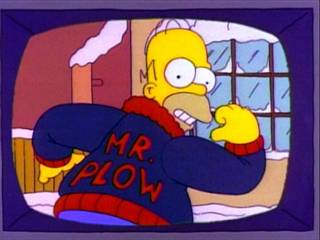 One of the most memorable episodes of The Simpsons is the episode where Homer Simpson becomes Mr. Plow, a renegade plow driver with a very catchy jingle. However funny the episode is, we wouldn't recommend watching the episode for any educational purposes. As we approach the holiday season and colder weather conditions, those who are looking to make extra cash may look into snowplowing as an option. Snowplowing is certainly a viable option to earn extra money and ensure a safe local neighborhood for your family and others, but it does require some know-how.
Choosing the Right Snowplow
It begins with buying a quality snowplow. In addition to cargo trailers, utility trailers and motorcycle trailers, you can also find a steady supply of snowplows here at the Trailer Superstore. With a wide variety of snow plows from leading manufacturers like SnowDogg, SaltDogg and Hiniker, there's no doubt that you'll find a quality snow plow at the Trailer Superstore that's also affordable.
Tips for Safely Operating a Snowplow
However, what should you know in regard to the operation of a snow plow? Here are a few things to keep in mind:
Ease off the Gas, Speed Demon: When operating your snow plow, remember that you are in control of a very large vehicle that is being used on less than stellar conditions. You should never go over 40 when you're transporting a plow, and if you're operating one, 15 miles per hour is the maximum you should be going.
Positioning the Plow: Another mistake novice snowplow drivers make is the position that they transport the plow. Always make sure to position the plow, so it doesn't impede vision in any way. In addition, try to avoid blocking too much airflow to the radiator. A common problem faced by plow operators is overheating of the engine due to lack of air flow and putting the transmission into overdrive.
Wear a seatbelt: This is a given. Always remember to buckle before you turn on the ignition.
Don't rely on mirrors alone: Mirrors are not enough when backing up with your snow plow. Always remember to look back when backing up to avoid any obstacles or potential hazards.
Shop Snowplows at Trailer Superstore
With these and other basic snowplow practices, you should be well on your way to becoming a successful snow plow operator this holiday season and the rest of winter. Visit the Trailer Superstore for more questions and to look at our selection of snow plows.