Benefit From Our Trailers for Sale in 2 Ways: Quick Delivery or Discounted Pick-Up
Oct 10, 2012
Last Updated on November 17, 2022 by allprotrailersuperstore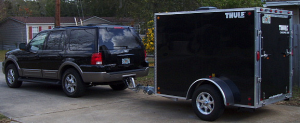 The Trailer Superstore is located in Mechanicsburg, PA, but our great selection of trailers for sale is accessible to customers up and down the east coast, and really across the country. That's because we offer two fantastic options, either quick and convenient delivery anywhere across the continental United States – and special arrangements can be made for shipping out of the country – as well as a special pickup discount for out of state customers who want to drive their new trailer home on their own.
How to Pick Up Your Trailer
Our physical store location, with over two acres of property stocked with trailers and a 14,000 square foot facility, is conveniently accessible from a number of states. Our trailers for sale can be picked up easily from customers in New York, New Jersey, Maryland, Delaware, Washington D.C., Virginia and even Ohio and New England.
We'll reward you for your efforts though, of course. So when you come to the Trailer Superstore and check out our huge collection of trailers for sale and ultimately decide to bring one home and drive it off for yourself, you can take advantage of our pickup discount. We call it the Travelers Discount, and it's our way of saying thanks for coming out and making a purchase!
You'll save us from needing to arrange delivery and shipment, and you'll save money, so everyone is a winner. Plus, you'll gain the added peace of mind and convenience of driving it home on your own and having it immediately at your disposal.
Trailer Delivery Services at All Pro Trailer Superstore
Our delivery services though are still a fantastic choice. This includes for individuals who live across the country and out of reach of a quick visit to the Trailer Superstore, as well as those who live closer by but don't want to or aren't able to drive their trailer home on their own.
New and used trailers from the Trailer Superstore have been delivered all across the Midwest, up and down the east coast, out to California, down to Texas and everywhere in between. That means that no matter where you are, we can get you one of our great trailers at an unbeatable price with no hassle, headache or stress at all.
Learn More About Trailer Delivery & Pick Up Options
Take a look around our latest arrivals, clearance trailers and the complete selection to find exactly what you've been searching for. Then give us a call toll free at 800.622.7003 or contact us and we'll guide you through the process and go over the details of both of these great options.