What Else Do We Do Besides Offer Trailers for Sale?
Aug 26, 2013
Do you already have a serviceable trailer or can't afford a new or used one right now? In addition to selling a wide variety of enclosed and open car trailers, we offer some of the best trailer repair services in all of the state of Pennsylvania. Whether you need a new axle or some work on your brake system, our trailer repair technicians can diagnose the problem and repair it at an affordable rate. If you live in Pennsylvania or anywhere in the Mid-Atlantic and are in need of diagnostic and repair services, the Trailer Superstore can provide the service you need to get your trailer back on the road.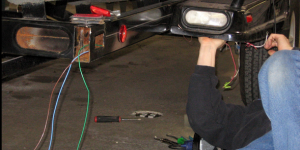 Trailer Repair & Inspection Services in Central PA
Besides repairs, though, one aspect of owning a trailer in Pennsylvania that is often overlooked is the fact that it needs to be inspected by a certified inspector. This is to make sure that the recreational and utility vehicles are fit to be on Pennsylvania. It's similar to taking your personal vehicle for inspection, but an owner must take it to a certified inspector yearly. While you can view all of the guidelines for inspection, here are a few things to keep in mind:
Your suspension must be in operating order to avoid a malfunction.
It must also have a working brake system for safety reasons.
The trailer must have the following lamps for illumination: parking lamps, stop lamps, turn signal lamps and hazard warning lamps.
If the trailer frame is not in solid condition, it could be rejected.
Call to Schedule Trailer Maintenance at Trailer Superstore
We here at the Trailer Superstore will inspect and repair your trailer if needed, so your trailer will be ready for whatever you need it for. Just as we offer fantastic prices on all of our trailers for sale, you'll find a great deal on all repair services when you come to the Trailer Superstore. View our full suite of trailer services or call us at (800) 622-7003 to get started.